Believe in yourself

Greetings to my esteemed friends on the Cent commumity and the entire hive blockchain. It's another day and time to share with you tips that'll help you move faster up to the ladder of greatness and sustain you their. It's your friend @faquan saying hello from this part of the world.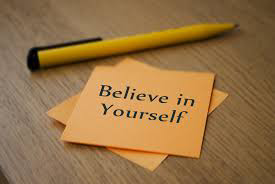 Source
Apart from our mind that can limit us from breaking forth into our next level in life and achievements, not believing in yourself is also dangerous. It has numerous pitfalls that accompanies it.
Believing in yourself simply gives the opportunity to face obstacles that'll come your way and gives you enough strength to conquer them.
The first obstacle to conquer in your life is fear followed by inferiority complex. These two can cripple a man or woman with great potentials.
Benefits of believing in yourself
it helps you build self-esteem and confidence. Everyone needs the requisite amount of self-esteem to face life's journey squarely, so having the adequate amount of self-confidence, gives you edge over others.
it opens up unseen opportunities to you. Opportunities that ordinarily you would not have seen will become visible to you.
it makes you fight for what life had withheld from you.
it helps you to become great with little capital or income through proper planning.
it makes you see failures as stepping stones and not obstacles.
---
---