Let's talk about vexPOLYCUB - Buy POLYCUB, stake it as xPOLYCUB, then lock it as vexPOLYCUB and earn a 20% fixed yield.
Greetings to my esteemed Lions on the LeoFinance ecosystem and the entire hive blockchain. It's another day and time to share with you guys the importance of investing in LeoFinance Multi-Token Bridges and it's ability to take you to that desired financial freedom you dream of. It's your friend @faquan, saying hello from this part of the world.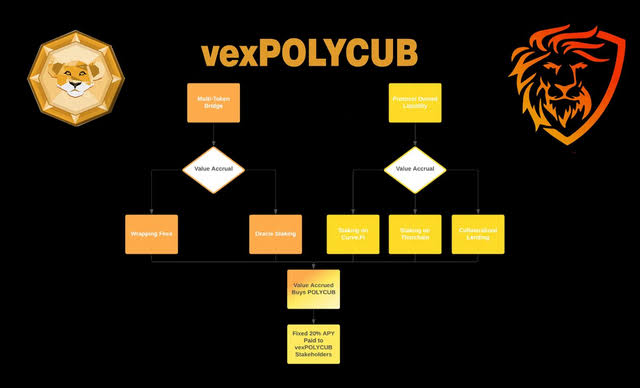 Source
Strategically, vexPOLYCUB is one of the best LeoFinance project that retains it's APR whether PolyCUB is moving in an upward or downward trends.
A quick reminder to those who have forgotten about vexPOLYCUB, it's a LeoFinance redemption plan to help PolyCUB to become more sustainable and durable.
vexPOLYCUB or what's known as Voting Escrow xPolyCub is a two years project that helps you lock your xPolyCub holdings for 2 years period in exchange for 20% APY for your investment.
In most recent times, I've found most of the PolyCUB MTB dwindling in terms of APRs (pHBD-USDC - 7.7% APR, pHIVE-POLYCUB - 12.33% APR, pSPS-POLYCUB - 11.14% APR). I don't really know what's the cause of the dwindling APRs, but I certainly know that those who migrated their xPolycub holdings to vexPolyCub are not regretting their decisions at this point in time.
For the past 3 months, vexPolyCub yield has remained in 20% APY and this is owed to its buyback strategy. One of unique features of vexPolyCub is the buyback strategy it adopted for the PolyCUB protocol.
As the POLYCUB price goes up, the amount of POLYCUB purchased from the market (in terms of tokens) decreases while the amount of $$ needed to purchase POLYCUB increases.
As the POLYCUB price goes down, the amount of POLYCUB purchased from the market (in terms of tokens) increases.
This creates a sort of self-equalizing system for POLYCUB. When price is high, less POLYCUB is bought and removed from the liquid supply.Source
Owing to the advice, vexPolyCub will continue to meet up with it's target of raising the 20% APY for every holder of xPolyCub who locked it vexPOLYCUB.
What you just need to do is, buy PolyCUB, stake as xPolyCub and lock it as vexPOLYCUB to earn 20% APY. vexPOLYCUB is still open to the general public to invest and earn a fixed yield for the next one year and nine months.
I'll conclude by saying, irrespective of the current price of PolyCub and the dwindling APRs, it still remains the future of LeoFinance ecosystem and a reliable source of passive income.
Thanks!
Grace and peace to you all
Posted Using LeoFinance Beta
---
---