Nigeria can be safe again

Hey lovelies on hive Naija,
Thank God it's another week and am excited to participate in this contest.
Before I proceed, I would have love anyone reading this post should stand for a minute silence for the souls of those that were massacred last week at the church in owo of Ondo State. Shi.....may the souls of the departed rest in peace. Amen.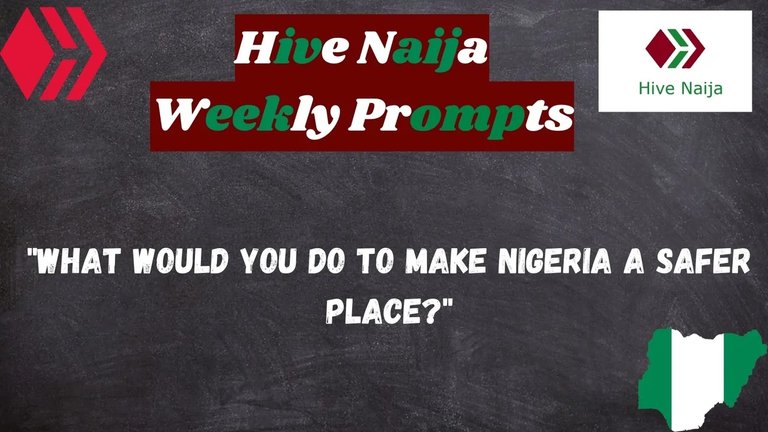 Source
I know Nigeria has gone through a lot of turbulence this season and lots had been wasted across all regions such as that as it stands now no where is safe for the citizens.
The problem is obvious and I here to bring the way forward that will revamp and make Nigeria safer again.
What would you do to make Nigeria safer?
I believe in Nigeria. As I said, I will share quickly what I would do to make Naija better.
1 Prayer
I believe safety is of God though man has his own responsibility. The first thing I will do is to engage all the religious bodies into one week prayers across all worship centres. I know God will hear such prayers.
2 Peace keep summit
I will summoned for peace keeping summit. Expertise from both international and local will be used as facilitator in order to educate the citizens on conflict resolution and sustaining peace. This summit will expose the learner to how to relate and stay in harmony with one another.
3 Station security personnel
There is need to enforce the law and strategies for coexistence hence this will be achieved through security operatives. I will station across borders and towns of each state. I will ensure that their salaries are paid promptly. I will also constitute some local security group like vigilante groups etc to watch community and report to appropriate unit.
CONCLUSION
Everyone must be security conscious. To make Nigeria safer again, the citizens must take responsibility in order to achieve this.
I see a new and safer Nigeria. Join in this movement.
Thanks
@fasacity
---
---