Free of classes in my Rising Star career + CARD GIVEAWAY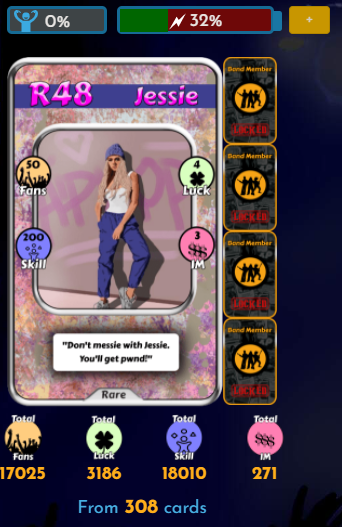 Coming back
Done! No more music classes for a while in the Rising Star crypto game. My skill is finally above my fanbase, so my ego has been reduced back to 0. Nothing beats pride and confidence! Besides, I've also reached 35, which unlocks... Absolutely nothing! That's right. The next mission, "Record a Demo", requires level 40 - a huge 10 levels gap. It's not that bad, only five levels away. But since we've spoiled with a new mission every 5 levels, it kind of took me by surprise when I realized it.
Have you noticed? I've changed my band member to Jessie. I like her girly-girly design. It's certainly a lot more attractive to look at than Sonny. I don't like his pre-vintage style. Thinking about cards made me think about my ultimate goal: being a Rising Star millionaire. Now that I'm only 15 levels away, should I be preparing? Because I'm certain I'll have to buy at least 500k STARBITS once I reach level 50. Maybe now's a good time to start saving up.
Being a millionaire and having its mission unlocked seems worth the effort because it only takes an hour to complete. That's a guaranteed pack purchase every day, as soon as I wake up. The thought of it is tingly. But I'm worried if it's a fixed 10k or if my fanbase affects how much I'm going to get from this mission. Because having 100k fans should already earn me nearly 10k STARBITS in a handful of missions anyway, so is the millionaire mission meaningful at all? I'll have to look it up to be sure.
---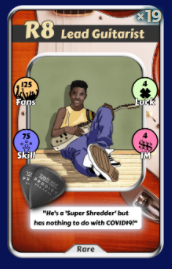 Card giveaway
The moment you were waiting for! I think a lead guitarist is pretty good. 204 stats total. Picked up a dozen of them for 3 HIVE each I think? No regrets. One of them is joining you guys today. All you have to do to participate, as usual, is leave me a message in the comment section below. Good luck, everyone!
---
---