General Sloan urges you into battle - Monsters to use with him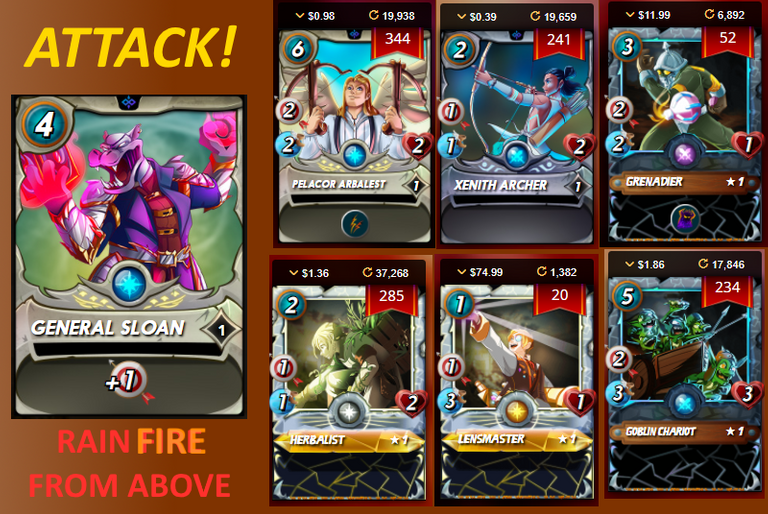 We're talking ideal mana cost-efficiency combinations for General Sloan while considering only Untamed Dice and Chaos Legion cards. You'll quickly realize they're all cheap on the mana usage. General Sloan has a lot of trouble being effective at high leagues because he lacks good high-mana synergy monsters he can be used with. That said, the following cards are great if you're in the middle of a sub-20 match:
Pelacor Arbalest. Double Strike means he gets double the benefits from Sloan. Shred through those Shield tanks.
Xenith Archer. Impossibly low mana, highly efficient, specially in reverse speed matches.
Grenadier. It's always an amazing card, so it's a good option when you're focusing on ranged attacks already.
Herbalist. Another 2 mana monster you can boost offensively! What once was only a defensive monster is now aggressive.
Lensmaster. We'd never guess he'd actually synergize with anything, but here we are. That's the one card that can really make Sloan shine.
Goblin Chariot. A simple, high speed monster that fires heavy bolts. Sloan is simple, and so are these goblins. It's the best high-speed option you can get.
---
Don't forget your tank
While building a Sloan team, remember to protect your fort. Because your team is centered around glass cannons, you must rely on a really strong defensive monster on the first position. A card like Shieldbreaker is ideal, keeping your enemy at bay thanks to its Taunt skill, while leaving enough mana to bring the pain, even in sub-25 mana battles.
Of course cards like Prismologist are good picks, but they're good regardless of your choice of summoner, so I've limited my suggestions to cards that would otherwise be mostly useless without Sloan. That's why they're not mentioned.
From the recent reward cards, Silvershield Sheriff really stands out. Evangelist is all right, but her Inspire ability isn't quite what Sloan expects.
---
---