Rising Stars #22 + CARD GIVEAWAY
Start playing the Rising Stars crypto idle game now!
---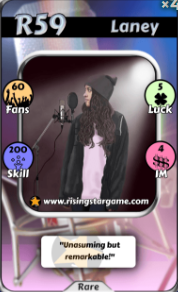 A few words
I'm so glad I'm keeping up with the pace I want to run now. My energy is constantly near 0%, even after using pizzas. Coming back to Rising Stars, now that it's my focus again, is really easy. The level up bar fills like there's no tomorrow! @menzo asked me how long does it take to reach level 50. If you can play Rising Stars several times a day, then music lessons (once unlocked) can take you the rest of the way in three weeks or less.
Reporting for duty
In Rising Stars, my current goal is leveling up all the way to 50 so I can start the millionaire quest once a day which earns me 10k starbits. I already have the million starbits I need.
Strategy: I am focusing on music lessons non-stop all the way to level 50, because that's what earns me the most XP.
Earnings: I am not earning any STARBITS as I focus on getting to level 50 through nothing but music lessons. I am earning through posts meanwhile.
Starbits to goal: 1,000,000 / 1,000,000.
Level goal: 50. Currently level 44, 1643 / 2200 xp
Fans: 16851
Luck: 3062
Skill: 30308
IM: 269
Giveaway goal: Make giveaways for Laney. 3/4
---
Leave a comment if you want to join this giveaway, for the card in this post's image!
---
---