Today, I've purchased 102 chaos legion packs. Read how it turned out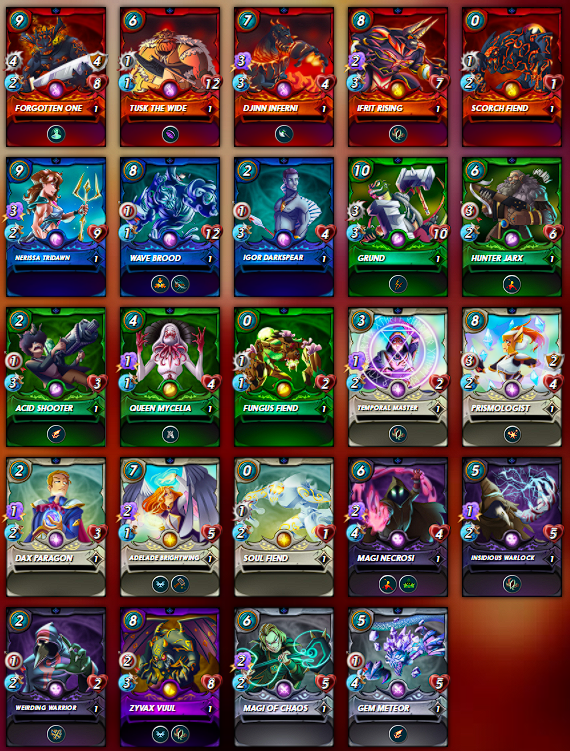 In my experience, opening booster packs from Splinterlands is not so reliant on luck. Market prices are quite accurate most of the time, unless it's something that just released. So if you buy a bunch of packs, you'll seldomly lose more than 10%. Whatever I get usually evens out - which happened to be the case with my 102 chaos legion packs.
I got very unlucky with gold foils. No summoner gold foils, yet again no legendary gold foils, but that's kind of taken for granted I guess, and generally lots of regular common cards. More than I usually get. STILL! I got pretty much the exact value I invested. Yes, let me explain.
As soon as I was done opening (using double potions, of course), peakmonsters told me the total value of my cards. Considering I'm selling them for 1% less than market prices and that I'm losing 5% as market fees... It came down to the exact same USD value I paid for! Down to the dollar! Haha.
I didn't sell all of them, though, but most are gone. Right now, I'm delegating a few cards to a friend who's playing and splitting the money with me. He has pretty much nothing except my cards, but he's having fun, because Splinterlands is a fun game. After telling him about Axie and Splinterlands, I suggested he'd have more fun with Splinterlands, which he agreed. He's been playing for over a month, craving for more.
In the image at the beginning of this post, you can see the cards I've delegated to him. Oh, I'm sure you thought for a moment those were the entirety of my booster pack drops, but nope. Posts look better with an image at the beginning, you know!
---
---