[ENG-ESP] What I think about HIVE's graph and statistics
Saludos estimados Hivers
Bienvenidos a mi Blog
Greetings dear Hivers

Welcome to my Blog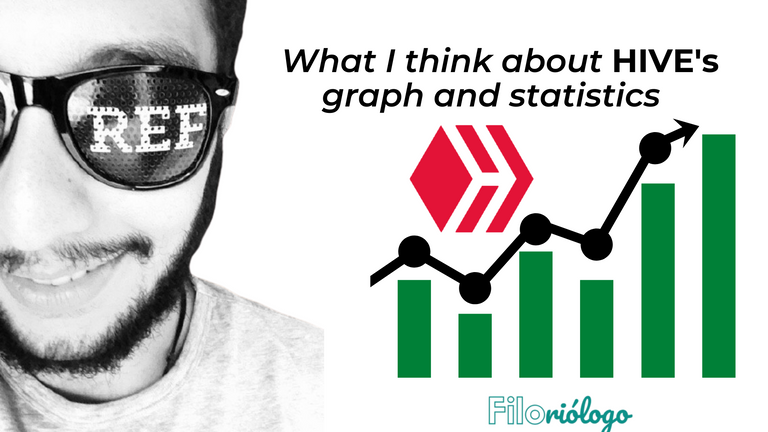 This image edited in Canva
Hoy quiero compartir con ustedes un poco sobre lo que pienso acerca del movimiento de Hive estos últimos días, y haré haciendo un poco de retrospección a nivel personal con respecto a HIVE. Hace poco, el #Hive se posicionó a $1 alcanzando su máximo histórico, fue un ascenso muy muy rápido.
Today I want to share with you a little bit about what I think about Hive's movement these past few days, and I will do a little bit of retrospection on a personal level regarding HIVE. Recently, the #Hive was positioned at $1 reaching its all-time high, it was a very very fast rise.

Recuerdo que todos celebramos ese día, twitter era una locura. La emoción era incontenible. Y justo pensaba, ¿Por cuánto tiempo se mantendrá allí? No fue mucho, luego bajo y desde entonces, si no me equivoco no ha vuelto a llegar a un dólar.
I remember we all celebrated that day, twitter was crazy. The excitement was uncontainable. And I was just thinking, how long will it stay there? It wasn't long, then it went down and since then, if I'm not mistaken it hasn't hit a dollar again.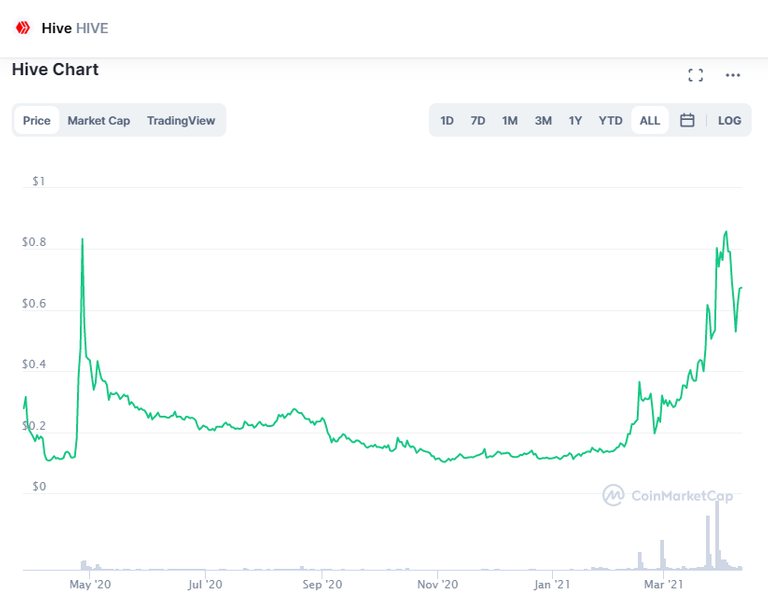 Graph taken from coinmarketcap.com
Estos últimos días, se ha mantenido entre $0.6 y $0.7 y de hecho creo que estará en esa zona un poco más, antes de llegar a $1 nuevamente. Creo que estará en la zona actual por un par de meses más, quizás en algún momento suba sobre los $0.7 o este brevemente por debajo de los $0.6 pero, en general apuesto porque se mantenga en esta zona.
These last few days, it has stayed between $0.6 and $0.7 and in fact I think it will stay in that zone for a little while longer, before it goes to $1 again. I think it will stay in the current zone for a couple more months, maybe at some point it will go up above $0.7 or briefly below $0.6 but, in general I am betting on it staying in this zone.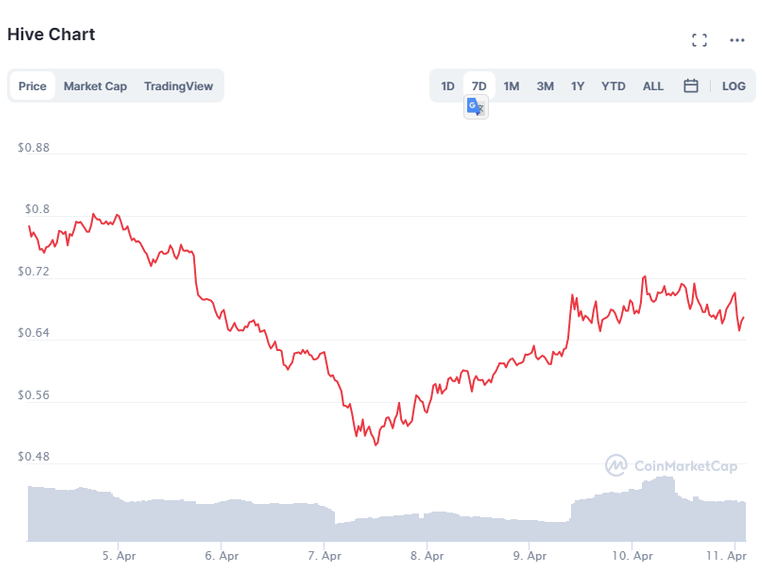 Gráfica de los ultimos 7 días tomada de coinmarketcap.com
Ahora bien, deseo creer que, al volver llegar a un dólar, se mantendrá por mucho mas tiempo que la vez anterior, y espero no baje nuevamente a los niveles actuales, creo que al volver a llegar a $1 será nuestro piso. Y seguramente comenzará un camino de ascenso indetenible.
Now, I want to believe that, when we get back to a dollar, it will remain for much longer than the previous time, and I hope it will not go down again to the current levels, I think that when we get back to $1 it will be our floor. And it will surely begin a path of unstoppable ascent.

No soy un experto, esto no es más que una mera opinión personal, tampoco pretende ser un consejo financiero, personalmente creo que sea buen idea invertir en #HIVE, me lo digo a diario. Siento que en un futuro no muy lejano su próximo gran hito será $3, creo que costará un poco, pero al sobrepasar esa barrera, será pan comido llegar a los $5 por Hive.
I am not an expert, this is nothing more than a mere personal opinion, it is not meant to be financial advice either, I personally think it is a good idea to invest in #HIVE, I tell myself that on a daily basis. I feel that in the not too distant future their next big milestone will be $3, I think it will cost a little bit, but as it surpasses that barrier, it will be a piece of cake to get to $5 per Hive.
Gracias por leer y pasar por mi blog
Thanks for reading and visiting my blog

Translated with www.DeepL.com/Translator (free version)
Posted Using LeoFinance Beta
---
---