All You Need To Know About Coindesk's Social Token $DESK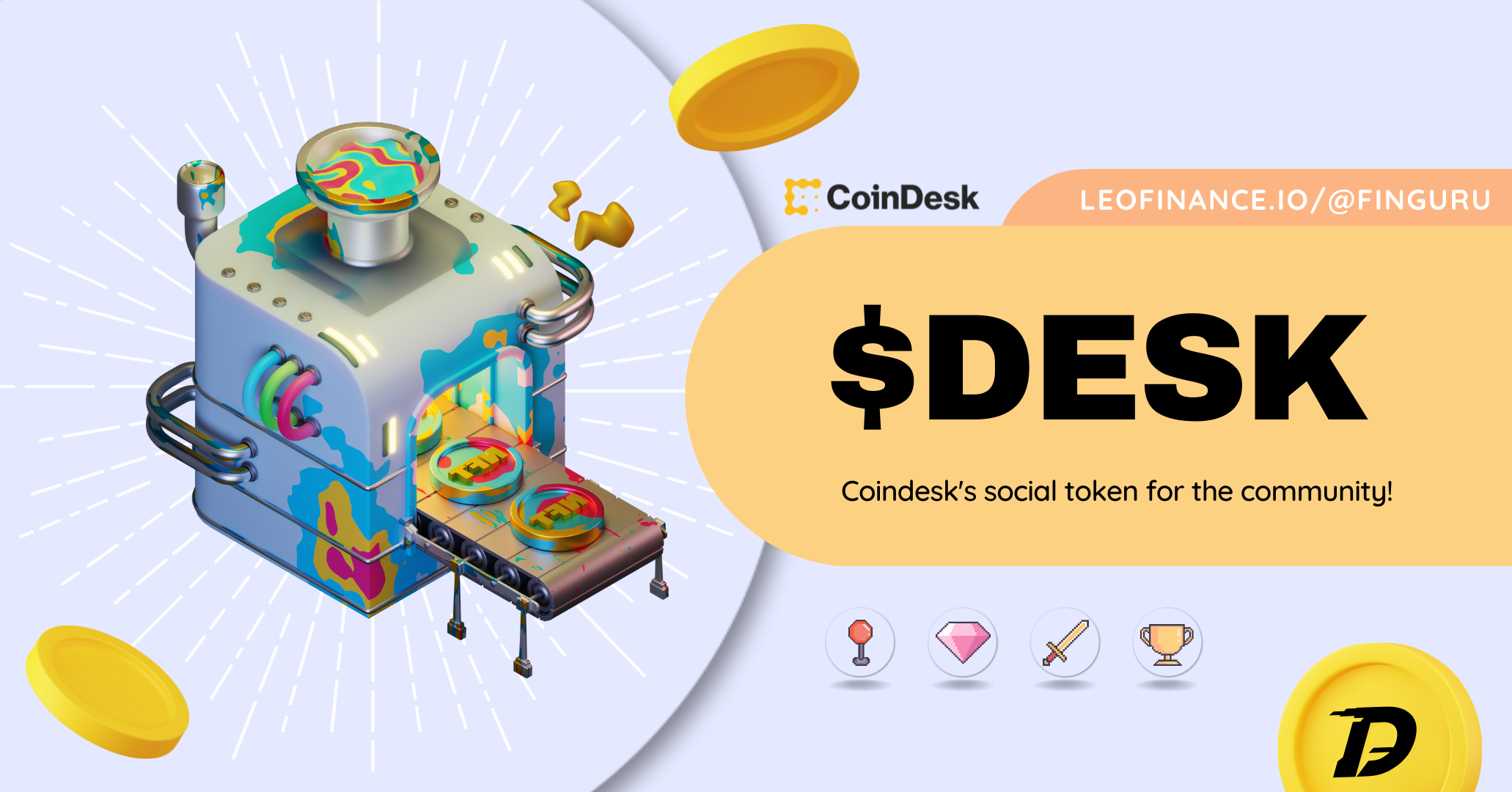 ---
If you have spent a few years in the crypto space, you must have read at least one article from Coindesk. It's one of the most popular crypto news/blog platforms run by in-house journalists, experts, and outside contributors from all over the world. They publish news, research reports, newsletter, videos, and podcasts about Cryptocurrency & Blockchain Technology. As we all know - Crypto is here to stay, rather it is going mainstream. That is why CoinDesk is not going anywhere and it will become a major source of knowledge transmission in the years to come. With the help of content, we can easily guide people through this complex space of technical mumbo jumbo and keep them updated with the latest information. According to me, Coindesk is one of the few crypto media publishing houses out there that do this job very well. Recently I got to know that they have relaunched their social token $DESK to become an integral part of this system. So in this blog, we are going to cover DESK Token and what are its uses cases as planned by CoinDesk.
Introducing Social Token $DESK
Coindesk did a soft launch of this Token back in Consensus 2021. Consensus is a festival-style event that Coindesk hosts offline and online during Covid-19 restrictions. Speakers from the industry come and give talks. New Web3 startups showcase their ideas and products to the world. Similar to conference events but on a larger scale. During the conference in 2021, Coindesk distributed tokens among the participants for various contests and activities like getting singing up for the event, attending virtual events, networking with others, etc. They partnered with Unifity to launch $DESK on Rinkeby, an Ethereum-based testnet.
Now they have relaunched $DESK on ERC-20 standards in partnership with Coinvise, Flexa, and NFTify. It will live on the Polygon Blockchain which is the best L2 scaling solution. It has low fees and provides a better user experience than Ethereum.
$DESK Use Cases
First of all, $DESK is not a declared as financial product by Coindesk. It will never be sold to raise funds but utilized as a reward mechanism for their community members. It's not a currency but similar to reward points you get in your food app which can be redeemed for discounts and perks.
NFTify is developing an NFT marketplace where $DESK holders can use the token to claim NFTs
Flexa's digital payment solution will be used for in-conference payments
Coinvise will create a minting contract for $DESK on Polygon
Source: https://www.coindesk.com/tech/2022/06/06/the-story-of-desk-how-coindesk-built-its-social-token/
Apart from this, you can have access to events and products or get discounts. DESK holders can use their tokens within the coindesk ecosystem. They will not have any value outside.
Using Tokenomics To Build A Loyal Community
Tokenization is a great way for any business or initiative to reward its existing community members. Such use cases of crypto and blockchain are so underrated and not many are doing it. For Coindesk, their community is the key. Hence they are experimenting with the same technology they write and publish about every day. If you have a product, you can allow select few users to try them out using your own crypto social tokens and distribute the initial Tokens. Then reward frequent users with discounts on their next month's subscription fees! I similar ways celebrities and sports personalities can also launch their own social tokens. This would increase participation among their fans and they get the chance to get special attention. Best companies take time to understand their customer psyche and develop their product. Through social tokens you can get direct involvement & feedback from the users and in return you give them discounts and early access.
What do you guys think? Comment below!
---
Follow: https://leofinance.io/@finguru
Twitter: https://twitter.com/finguru6
Discord: finguru#4062
---
Not financial advice. For infotainment purposes only.
Posted Using LeoFinance Beta
---
---