Biggest Comment Giveway On Leo Finance!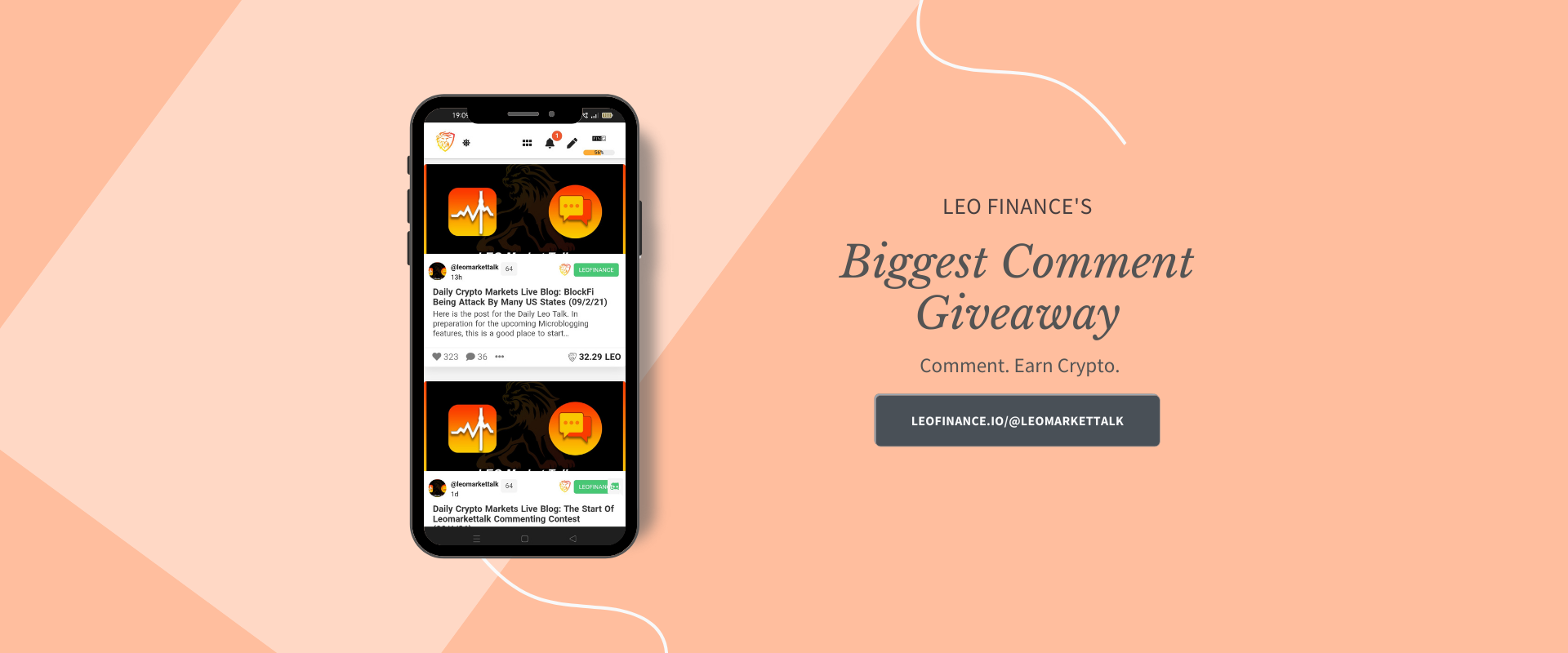 Hello Leo Finance Community,
Welcome to the month of September. It comes with the good news of course. Hive & Leo prices are rising. 😁 Another good news is that a few days ago @taskmaster4450 announced the biggest comment giveaway on Leo Finance has ever seen. Thanks to Task for launching this and I hope you guys checked it out. What you need to do is pretty simple:
Comment on @leomarkettalk's daily thread.
At the end of the month, the top 3 folks with the most no. of comments will be rewarded with Liquid LEO which @leomarkettalk gets daily via upvotes.
Interesting, right? Just check out the wallet too: https://leofinance.io/@leomarkettalk/wallet 🤑 If this is not a good enough reason for you to participate, then read on. There's more to it.
What Is Leo Market Talk?
Leo Market Talk (@leomarkettalk) is a daily chat thread initiative by @taskmaster4450le which is open 24x7x365. It was started to prepare for the upcoming #ProjectBlank (Twitter-like Application on Hive) from the Leo Finance team. One can posts charts, memes, trades, or anything else that comes to mind to boost the engagement rate on the platform.
Anyone who is using Leo Finance's front end is welcome to join these free-flowing chats & contribute. Every day around 5:00 pm Pacific Time (PT) a new post is created and at the end of each day, a report is published by @amr008 which helps us to understand the amount of activity that was generated inside the thread of @leomarkettalk. It has been a pioneer of engagement on Leo Finance and most of the activity on the website is due to its members socializing with each other daily on an array of topics.
Giveaway Terms
A total of 10K comments should be posted in the whole of September on all @leomarkettalk threads combined. Otherwise, the prize money will be forwarded to the next month. So on average, a total of 334 comments should be done every day. We have done this before so it shouldn't be a huge task. We already have many people who engage themselves in daily.
No spam or bots allowed. No shitty - 'thank you', 'nice one dear' comments allowed.
Once September ends, a report will be generated by @amr008 to see who did the most comments and of course some other data to showcase what we did during the month.
Rewards
Apart from LEO Rewards 🤑, all HBD rewards 🤑 will also be distributed among winners:
Top Commenter - 50% of Total Bounty 🤑
Second - 30% 🤑
Third - 20% 🤑
The top commenter will also get all of the HP delegated to them. 🤑
4 Reasons Why You Should Participate
If you are a newbie on Leo Finance, I would like to stress on this a bit - It's the best opportunity for you to rise up the ranks and make some decent money in the process. If I had to go back in time, I would to 1000x comments more than what I did. Let me tell you a few good reasons why:
Rewards: I don't need to mention anything for this point. NGL, money is the biggest motivator of all. It's true for most people out there.
Visibility: @leomarkettalk is often visited by various whales and good folks from the community. When you are new, you don't know what to do exactly or where to start because nobody knows how good of a creator you are. Leo Market Talk is an awesome place to make yourself visible. Imagine the number of eyeballs you are going to get from 1 month of commenting. Stop imagining and start doing, maybe? Just remember, visibility is directly tied to your growth on any social media platform out there.
Knowledge & Fun: On @leomarkettalk, one can learn about the latest news about Crypto, Blockchain, Tech, Games, Entertainment & Beyond. We also share other Leo Finance/Hive posts that are interesting and add value to the whole ecosystem. It helps us to find amazing creators & reward them for their effort. Mostly we have fun while learning new things everyday. It's the best job that pays!
Friends: Making friends on a social media platform who support you is as important as creating good content. They both go hand in hand. LMT deals with various topics so you can basically talk about anything you like. In the process, you will make some precious friends probably for life who will support you and provide you their valuable suggestions.
See, even you don't win, it's a WIN. You just need to participate. That's all. If you are reading this, I welcome you with open hands and hope to see you on @leomarkettalk. ✌ Also, if you do not want to participate, you can support by upvoting good comments and the daily LMT post to increase the amount of the bounty. Share it with someone you know who could benefit from this. ;)
---

https://leofinance.io/@finguru

https://twitter.com/finguru6

finguru#4062
Posted Using LeoFinance Beta
---
---