Blockchain Technology's Promise To Save Free Speech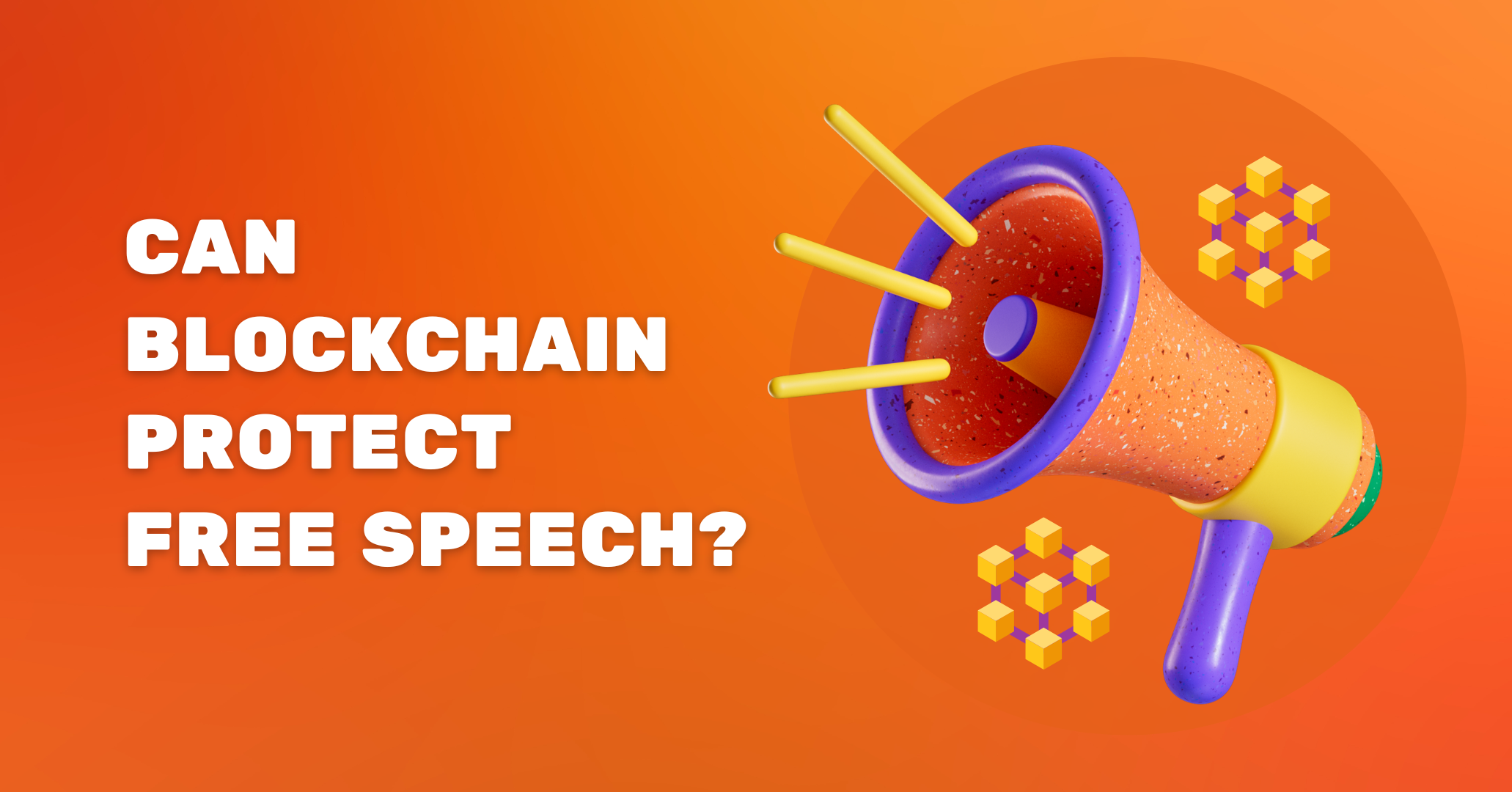 ---
The Internet has changed the way we communicate and do business. It has made us more connected, but also more vulnerable to censorship, surveillance and manipulation. This can lead to an unhealthy situation where free speech is stifled or eliminated altogether.
In this article, I will explain how blockchain promises to protect freedom of speech in a digital world that is increasingly under threat by authoritarian regimes, fake news, online censorship, and financial blockades.
Authoritarian Regime
The first thing to note here is that blockchain is a decentralized system. It does not have a single point of failure, which means that it cannot be controlled by any one entity or government. That's why some people say that blockchain is the ultimate democratizer because it gives everyone equal access to information and products without having to worry about censorship or suppression from other parties controlling those resources. This kind of system would allow anyone who wants to post their opinion online without fearing they will get arrested or censored for speaking out against their government's policies and practices.
The second way that blockchain could help protect freedom of speech is through its decentralized database structure. This means there are no centralized servers where all data must be stored, read/written from, and communicated through; instead, every node has its own copy which allows faster processing speeds than traditional centralized databases (for example: SQL). This makes it nearly impossible for someone who doesn't have access rights on your personal device but wants control over what gets written into your database - because if they try editing something then all other nodes will reject those changes! And if someone tries tampering with this process then we have several copies spread over the world to verify from. This makes hacking attempts nearly impossible.
Fake News
The problem of fake news is going to get worse before it gets better. In the past few years, fake news has played a huge role in politics and other major events around the world. With blockchain technology, we can create a digital ledger that records facts in an immutably verifiable way. This will help us identify what is real and what is not so we can avoid making decisions based on lies or misinformation.
If you don't know what blockchain is yet, don't worry; it's not important for this article because we are focusing on how it can protect freedom of speech (and explain why I think it does). But do understand that in an open and free world, fake news gets busted before it goes mainstream. And people who spread the truth cannot be censored while people who lie can be called out on the basis of facts.
Online Censorship
Online censorship & shadowbanning is a big issue. The internet is a big part of our lives and it's easy to access because it's so easy to access.
It's easy for governments, companies and individuals to censor content online. It's also relatively simple for us as users to self-censor ourselves on the web by limiting our online activity. If we don't like what we see or don't want our information shared with others, we can choose not to interact with certain websites or platforms altogether; this could mean refraining from posting anything at all on social media or even unplugging from these services altogether. But that doesn't mean you are not under surveillance. Your data can be used without your authority and can be altered without your own will.
The problem becomes more complex when large corporations start censoring material that has already been published online. When these companies ban certain opinions in order to protect their reputation and also to make sure they're "in good standing" with the local law enforcement agencies who monitor extremist content posted by their users. Those may have different definitions of "extremist" than other governments around the world do. It puts our freedom at risk while giving those same law enforcement agencies more power over us all over again.
Financial Blockade
The financial blockade is another form of economic censorship, which is used by governments to pressurize their citizens or other governments. This is done by restricting access to the country's economy and preventing a person or an entity to the transfer of money in and out of their wallet.
Financial blockades are usually used for political purposes. They are often imposed by Western governments on countries that oppose their foreign policy and/or human rights record. For example, the sanctions made against Russia and its citizens after the Ukraine war. People who have nothing to do with politics are suffering for no reason.
The Internet As We Know It Is Threatening Free Speech
By "the internet," I don't mean just your browser. The Internet is also a network of servers, cables, routers, and other infrastructure that makes up the backbone of our digital world.
The problem with this physical infrastructure is that its current state leaves no room for free speech. In fact, it can actively harm users who wish to speak freely online – especially those who are already marginalized because of their beliefs or identities.
The root cause lies in how we build our systems. We use centralized architecture in which all information flows through central points of control. These have been used for centuries in similar contexts (like telephone calls), but they do not work well here because they create single points where things can go wrong. And when they do so often enough (as they did recently with Facebook's data privacy breach), massive damage can be done before anyone notices there was an issue at all!
Conclusion
The Internet has made it easy for anyone to publish anything online and reach a huge audience of readers or viewers. The problem is, that not everyone has the same values when it comes to freedom of speech. Authoritarian governments have used the Internet as an excuse to crackdown on dissenting voices, while organizations like Facebook and Twitter have censored content that they deem offensive or dangerous. These actions threaten our freedom of speech as human beings. Blockchain Technology can tackle these problems at the code level and provide full ownership of your speech. So that no one can shut you up for speaking up about something they don't like or agree with.
---
Follow: https://leofinance.io/@finguru
Twitter: https://twitter.com/finguru6
Discord: finguru#4062
---
Posted Using LeoFinance Beta
---
---