How To Find Free Images For Your Blogs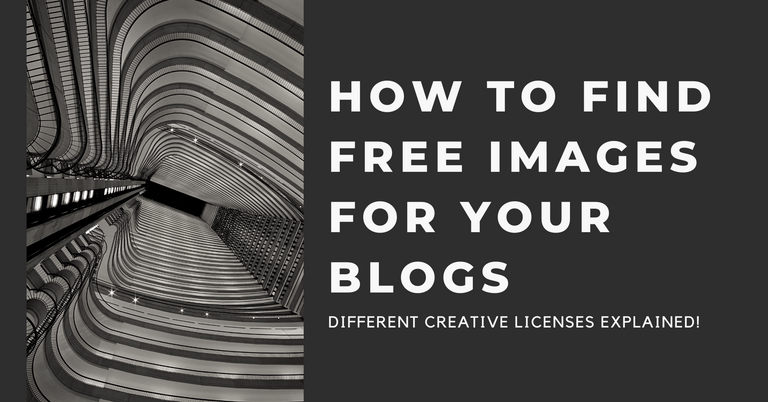 ---
While roaming within the Hive Learners discord server last night, I saw @burlarj asking a question about using celebrity pictures in his blog.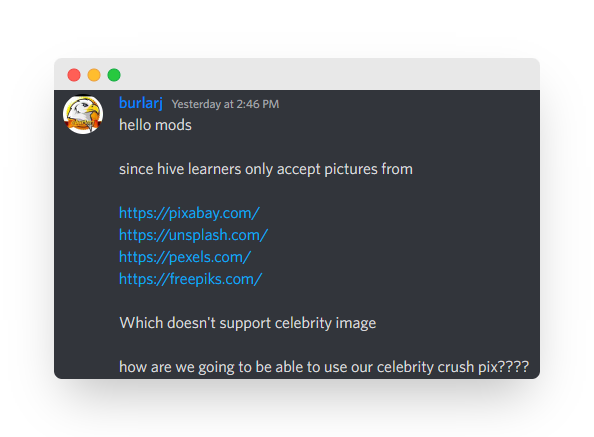 One of the MODs (Mr. Peter Parker 🕸️) quickly cleared the confusion. The four websites mentioned in the screenshot above are recommendations from the Hive Learners community mods. That means you can use any copyright-free image website or simply pick them using google image search.
At that moment I realized a lot of newbies on Hive struggle to find copyright-free pictures for their blogs. Moreover, many people don't even know how to use pictures with different kinds of IP (Intellectual Property) licenses without paying or without getting into legal trouble. In this blog, I will tell you ways to find copyright-free images for your blogs. But, first, let's cover some basic terms that you need to keep in mind before using them:
Copyright-Free: These images are without any copyright. So obviously you can use them freely in your blogs.
Royalty-Free: Royalty free is a license that gives you the right to use a work in your own projects but doesn't require you to pay royalties on those projects. You can get such images for free or are required to pay a subscription or one-time fee to access the database. Creator may or may not make them copyright-free.
Public Domain: Public domain licenses allow people to adapt and use the work in any way they want, including for commercial purposes. They can modify it, redistribute it, or even sell their own version of it. These are mostly old pictures where copyright ownership has been waived off. Copyright free!
Creative Commons: They are also public licenses. Using 6 different types, the artist can set the terms of their use - CC BY, CC BY-SA, CC BY-NC, CC BY-ND, CC BY-NC-SA, CC BY-NC-ND. There is another one known as CC0 which is only a declaration that you waive off any legal right to be recognized as the creator of the image. This infographic will help you understand all the terms for various CC licenses.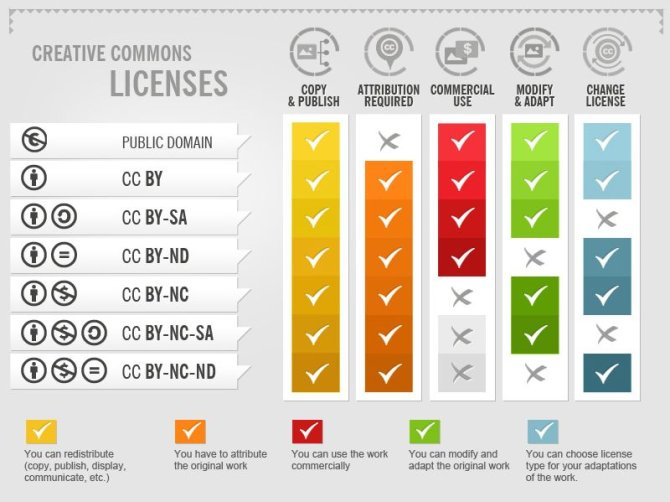 Creative Commons licenses by Foter (CC-BY-SA)
I hope it's clear now that you can use all public domain images freely with no restrictions. Also, some creative commons images for your blogs by following their conditions (attribution and/or commercial use) as per different license types. Even if they are not copyright free. Not all royalty-free images are free. As mentioned above, you might have to pay a one-time fee or a subscription fee.
How To Find Free Images Without Copyright Issue
Free Stock Image Websites
There are many different stock image websites out there that provide you with free images to be used for your own projects around various categories. Pexels and Pixabay are two of my favorites. Check out more than 30 options for free stock image websites options by Hootsuite.
Google Search
Do an image search on google. Select "Creative Commons Licenses" under the "Tools" option as shown below: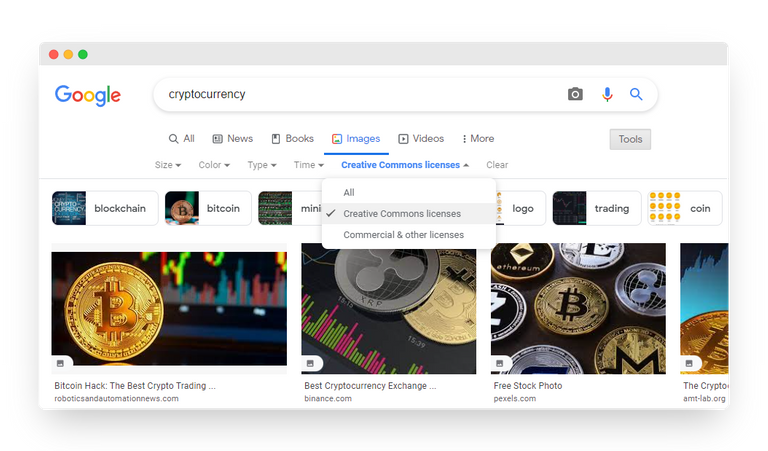 Apart from CC0 all other Creative licenses require attribution at min. So it's a good practice to always provide the source of the image if you are picking any image from the search results. I generally find celebrity images this way that can be freely used in our blogs without any legal issues.
Wikipedia/Wikimedia
Wikimedia is a sea of images that are mostly under public domain or creative commons licenses. You can use those images however you like. Once again, make sure you follow the license's terms for attribution and usage.
Canva
Canva is a freemium tool design tool that has collaborated with stock image websites to provide a huge database of copyright-free images. If you purchase their subscription, the number of options increases substantially. Moreover, you get a full-fledged design tool with extra features that could change your content creation game.
Hope this helps! Please drop your questions, thoughts and feedback in the comment section below. 🔥
---
Follow: https://leofinance.io/@finguru
Twitter: https://twitter.com/finguru6
Discord: finguru#4062
---
---
---