How To Get A Job In WEB3 As A Non-Dev?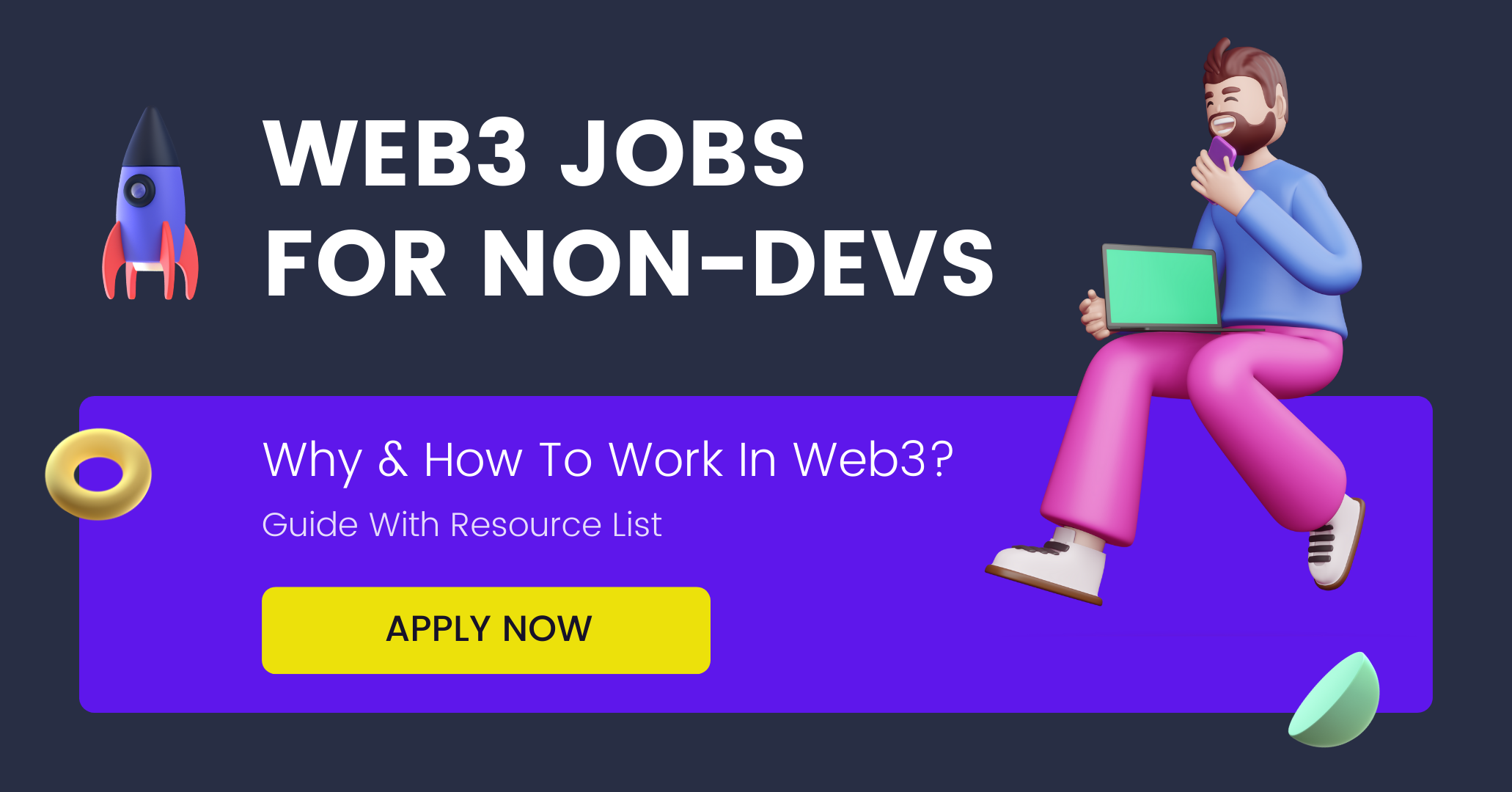 ---
Not A Techie?
Still, want to work and build in Web3?
Not a problem! Although Developers are high in demand, WEB3 is full of opportunities for everyone. It doesn't discriminate and knows no boundaries. If you have a skill that solves a problem, you are a perfect fit because WEB3 has so many problems to solve. We are still early and the ecosystem is growing exponentially every year. So far in 2022, more than $4 Billion has been poured into WEB3 Startups. This is probably the best time to start building in WEB3.
Story Time
I am pretty active on Crypto Twitter. Recently a recruiter from a Web3 media firm (from Dubai) approached me via DM and asked if I am willing to write Twitter Threads for them on a part-time basis. Topics would be Crypto, DeFi & NFTs! At first, I thought it was a scam and wondered why they chose me. I have published like 3 or maybe 4 Twitter threads in my entire life. I am in no way an expert in crypto or in writing. Don't have a huge following either to prove that my Tweets perform well. 😂 But in the end everything checked out.
She saw my comment done under a tweet by a well-known crypto influencer in India. It got a bit of activity in terms of likes and replies. The first thing she looked at in my profile was THE PINNED TWEET xD It was a thread calling out crypto content writers and explaining to them why Leo Finance is the best place to write and earn crypto.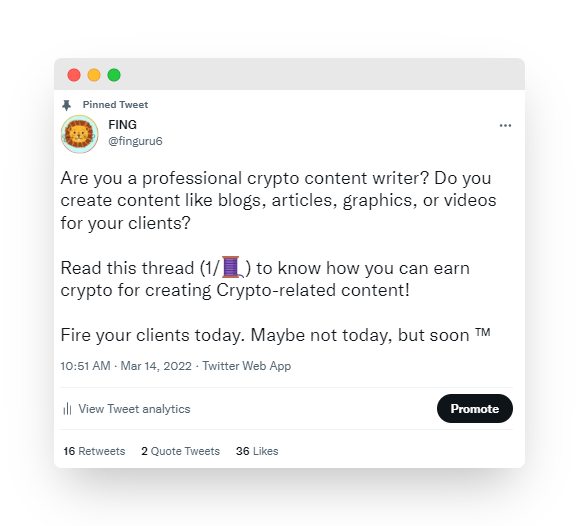 I got my first assignment, it was about NFT Yield Farming and Lending. Delivered it in 24 hours. Got paid in crypto!
No interviews
No paperwork
No bullshit
The firm doesn't even know my real name. In Web3, your work is your resume. Recruiters are constantly looking for talent all around. You just need to pick a skill, master it and start getting active in the WEB3 space. Creating content around your niche on social media is the biggest way to attract those recruiters to you. They will throw work and money in exchange for your time and skill. I got the job simply because of my knowledge of crypto & ability to write Twitter threads.
Why To Work In Web3?
There are a few good reasons why you should consider working in a Web3 setup as opposed to Web2:
Fastest growing space
Remote work
More opportunities, fewer builders
Flexibility & Freedom
Learn as you move up the ladder
Higher compensation as compared to Web2
Get paid in crypto
Global setup
Work as an anon
We are still relatively early
Web3 Opportunities For A Non-Dev
Most of the crypto startups & web3 projects are looking for driven folks from all kinds of industries. They need more talent than any other space out there. Folks are leaving their high-paying jobs at the biggest of firms to build on Web3. You can go for the following non-dev roles that are high in demand currently:
UI/UX Designer
Video Editor
Graphic Designer
Digital Artist
Tech/Non-Tech Writer
Product Manager
Project Manager
Community Manager
Data Analyst
Business Developer
Don't limit yourself to this list. You can even create a new job title for yourself. 🔥 If someone finds it a fit for their business, they might get you on board.
How To Land A Job As A Non-Dev?
You are set with your work portfolio and chose the kind of work you are looking for. The million-dollar question is - Where to look? I have compiled a list of resources that you can use to find a good job depending upon your skills, thank me later:
Twitter: The most underrated place to find jobs. Social media is a great reach out to clients and recruiters who are looking for talent. You just need to be actively looking out for them. If you see a problem that needs solving, solve it or at least offer a viable solution. Follow and engage with the startup or project you want to work with. They might notice your relentlessness. 😂 Twitter account for Web3 Jobs: https://twitter.com/CryptoJobsList. Not just Twitter, you can try LinkedIn & Facebook too.
Job Boards: A lot of Web3 communities and influencers are running their Job Boards and they keep updating them with fresh jobs. List of top Job Boards: https://twitter.com/FusePass/status/1527866676598947846
Freelance Websites: Laborx is a website for freelancers where you can get paid in crypto. It's new so very few job listings are there but hopefully, it will grow with time. There are several Web2 freelance websites where you can get the chance to work with web3 startups as well. Upwork and Fiverr are the most famous ones.
Discord: That's where most crypto communities operate from. Get active in your favorite Web3 projects and start adding value using your skills. These communities are looking for managers & mods to help them run the server. You can also pitch in to fill the gaps you think need filling.
Web3 Social Media: If you want to learn and work in Web3 without having a client then you can become a content creator. Web3 social media monetized your activity and you can also find people who are looking for someone like you. Just like Twitter.
It's a wrap. Now get yo ass moving and get working. xD Would you like to work in Web3 or have any plans to do it? Comment below!
---
Follow: https://leofinance.io/@finguru
Twitter: https://twitter.com/finguru6
Discord: finguru#4062
---
Not financial advice. For infotainment purposes only.
Posted Using LeoFinance Beta
---
---