How To Write Sexy Twitter Threads?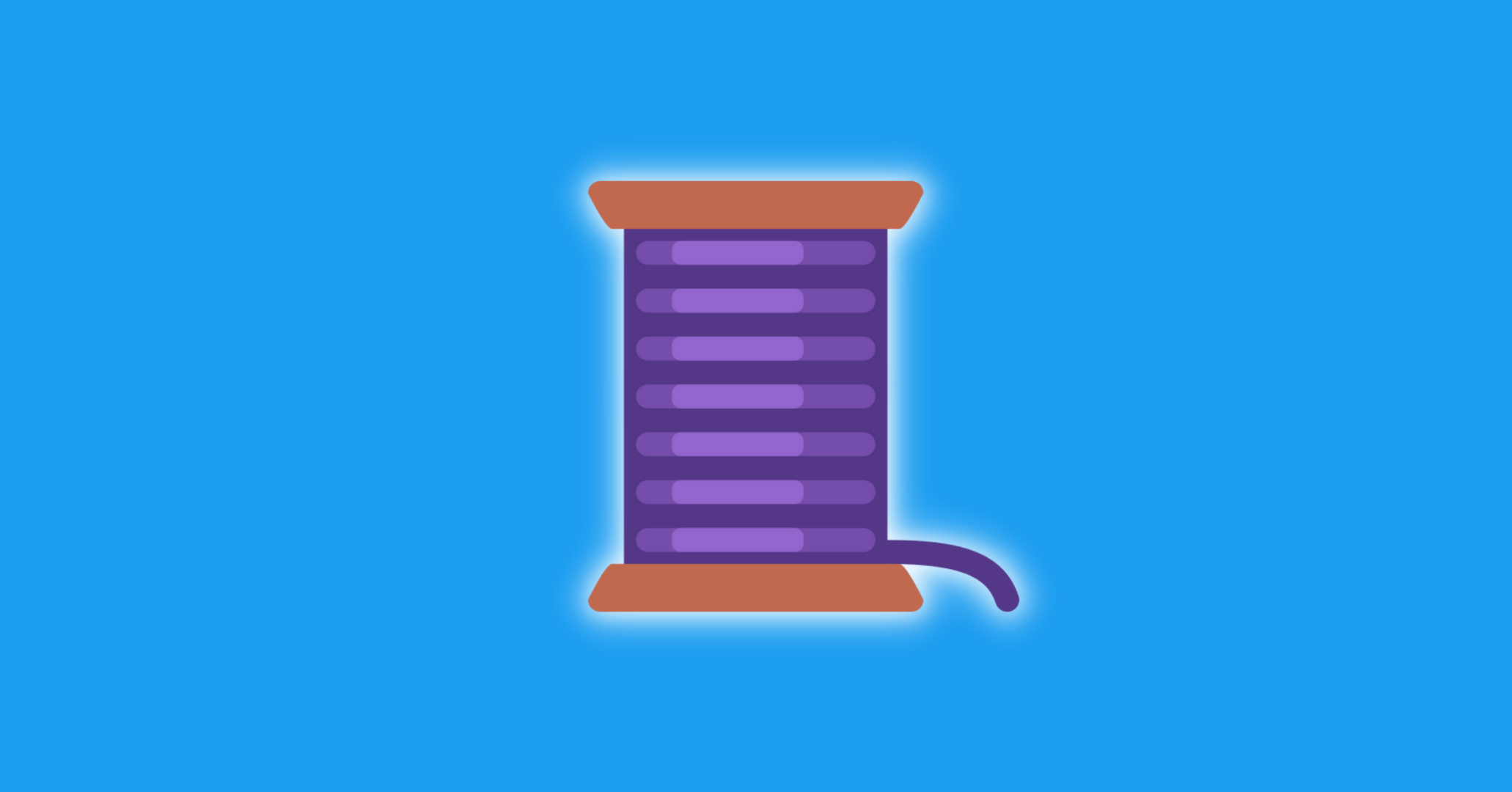 ---
The text content of a Tweet can contain up to 280 characters. That's the limit! Sometimes you want to convey a little more. Not all stories can be told in one single tweet. 'Twitter Thread' is your answer to that problem. It is one of the most interesting and interactive ways to engage with your followers.
Twitter is one of the most popular social media websites out there with over 200+ Million Daily Active Users from all over the world. Crypto Twitter is full of opportunities for a content creator because most of the crypto and blockchain community lives there. Building an audience there is beneficial in the long term since you can funnel them to your choice of WEB3 social media platform.
Why Twitter Threads?
Creating Twitter threads might not seem easy but there are a bunch of things you can achieve by doing so:
Break The Word Limit
Tell A Story
Explain A Concept
Start A Conversation
Boost Engagement
Visibility To A Wider Audience
Brand Building
Showcase Your Knowledge
Help People
How To Write Impactful Twitter Threads?
Composing tweets is an art! Telling a story with a series of Tweets is an extension of it. Taking it to another level. If you want to become a great writer in life then you can learn on Twitter by engaging with people, grabbing an audience, and helping them out with your content. Threads will serve as a great tool for you to express what you know. There are a few things you can keep in mind while composing your thread. If you are in a habit to write blogs, then these tips should be easy to understand & implement:
Use A Tool: Twitter doesn't provide a way to save your drafts from its web app. Personally, I don't like using mobile for lengthy tasks. Using a web tool like typefully to compose your tweet will help you save them and share them with others for feedback. You can even schedule your threads in advance.
Break It Down: Breaking down your topic into smaller topics will help you tell your story or explain a concept in a better manner. You can mention the list of subtopics before going deeper into them. That way, readers can navigate themselves and read whatever they want to without spending time connecting the dots.
Use Bullet Points: Bullet points draw attention to important information. Use them for lists, facts, comparison & giving instructions.
Tag People: In order to get attention to your Twitter threads, you need to give shoutouts to other influencers you like. Especially the ones who have more following than you. An RT/Like or a comment from them on your thread would do wonders.
Use Multiple Hashtags: Before doing it, please note that you don't need to overdo it. You can plug at least one hashtag per tweet to help twitter categorize them. Your tweets will be shown in the relevant searches which might improve your impressions and CTR.
Think Like A Copywriter: A good copywriter is attention-grabbing and persuasive. They help the reader see clearly through simplification and personalization.
Finish Each Tweet: It's important to complete all your tweets and still compel readers to go through the next tweet. It's not a hard rule and sometimes you can break it but try not to.
Use Examples: Using examples of what you explain is the best way to showcase how it's actually done. It also back up the statements you make throughout your thread.
Share resources: Apart from examples, you need to share resources that can help readers learn more about the topic or simply apply their knowledge via a tool.
Genuinely Help People: This is a no-brainer. If you genuinely help people solve their problems then they will definitely return the favor and might start supporting your content.
Thread Maker Tool
Typefully is a great Twitter Thread Maker & Analytics tool. Write, schedule, and publish great Twitter tweets & threads. Grow your following on Twitter with analytics and metrics about your account. Simply go to their website, connect your Twitter account and start writing threads on your desktop or laptop: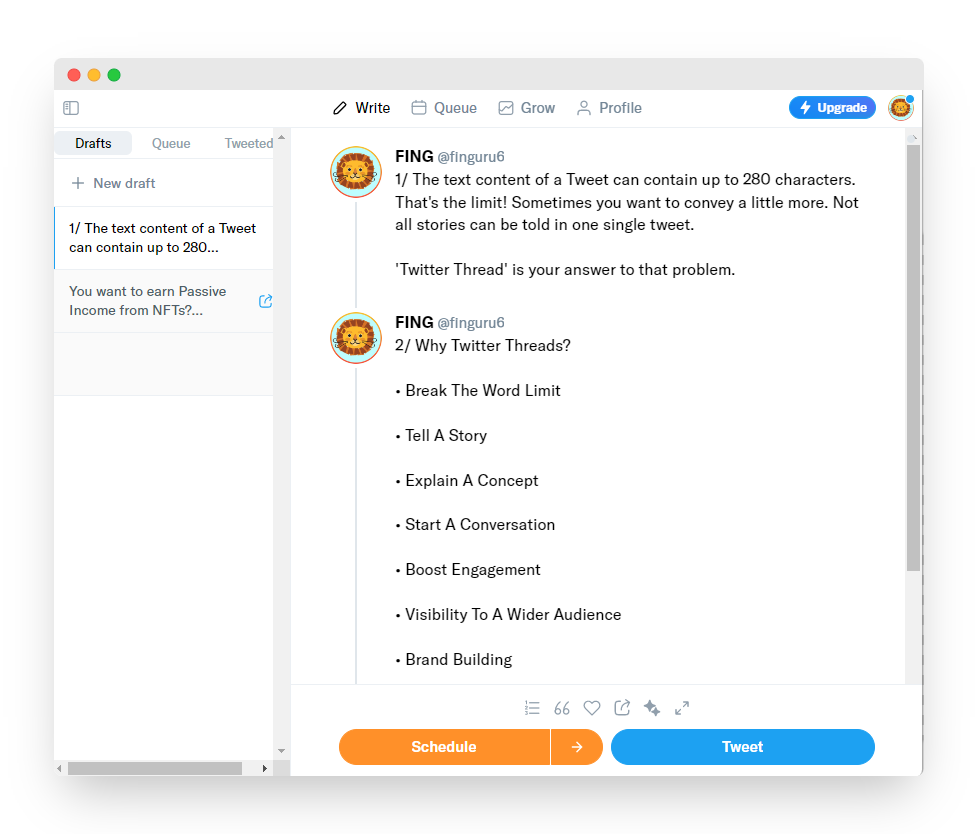 Composing and scheduling are free but some features are paid. You can use my referral link if you want to go ahead and buy their subscription. I love this tool and it's a personal choice but there are literally hundreds of them out there. Go ahead and find what's best for you.
My Top Twitter Threads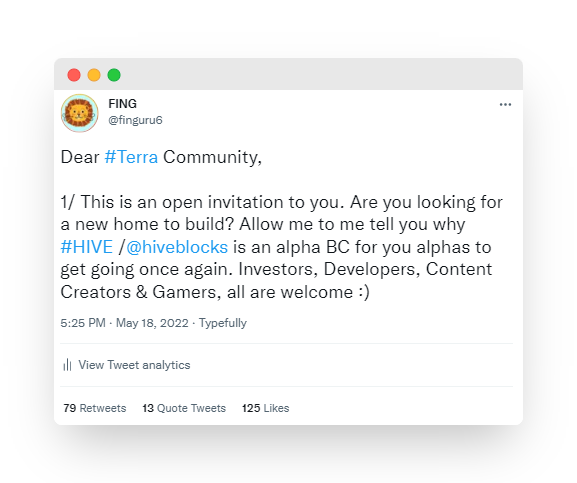 Blog Format: https://typefully.com/finguru6/why-hive-blockchain-is-the-best-in-the-business-QQUB9DJ
Twitter: https://twitter.com/finguru6/status/1526894332103385090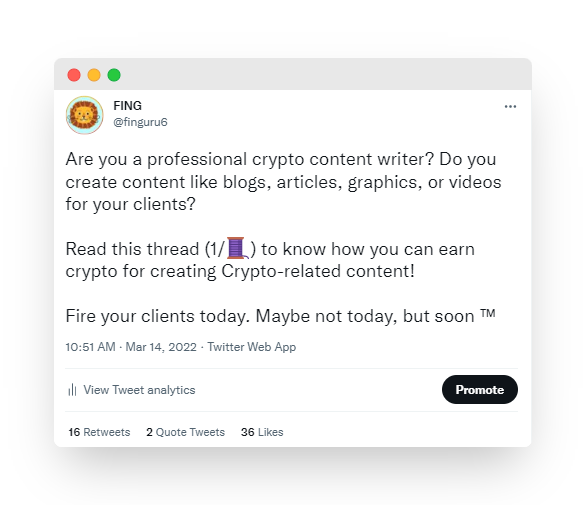 Blog Format: https://typefully.com/finguru6/how-to-earn-crypto-for-creating-crypto-related-EJwgec6
Twitter:https://twitter.com/finguru6/status/1503239885704302592
I will try to write more threads on general crypto topics since the above threads are only Hive-related. Most of my Twitter followers are from Hive so it makes sense. You can use them as examples and try on your own. I hope this blog helped you in some way. Please comment below with your thoughts or suggestions. 🚀🔥
---
Follow: https://leofinance.io/@finguru
Twitter: https://twitter.com/finguru6
Discord: finguru#4062
---
Not financial advice. For infotainment purposes only.
This blog is spammed with referral links 😝
Posted Using LeoFinance Beta
---
---