Is Crypto A Scam?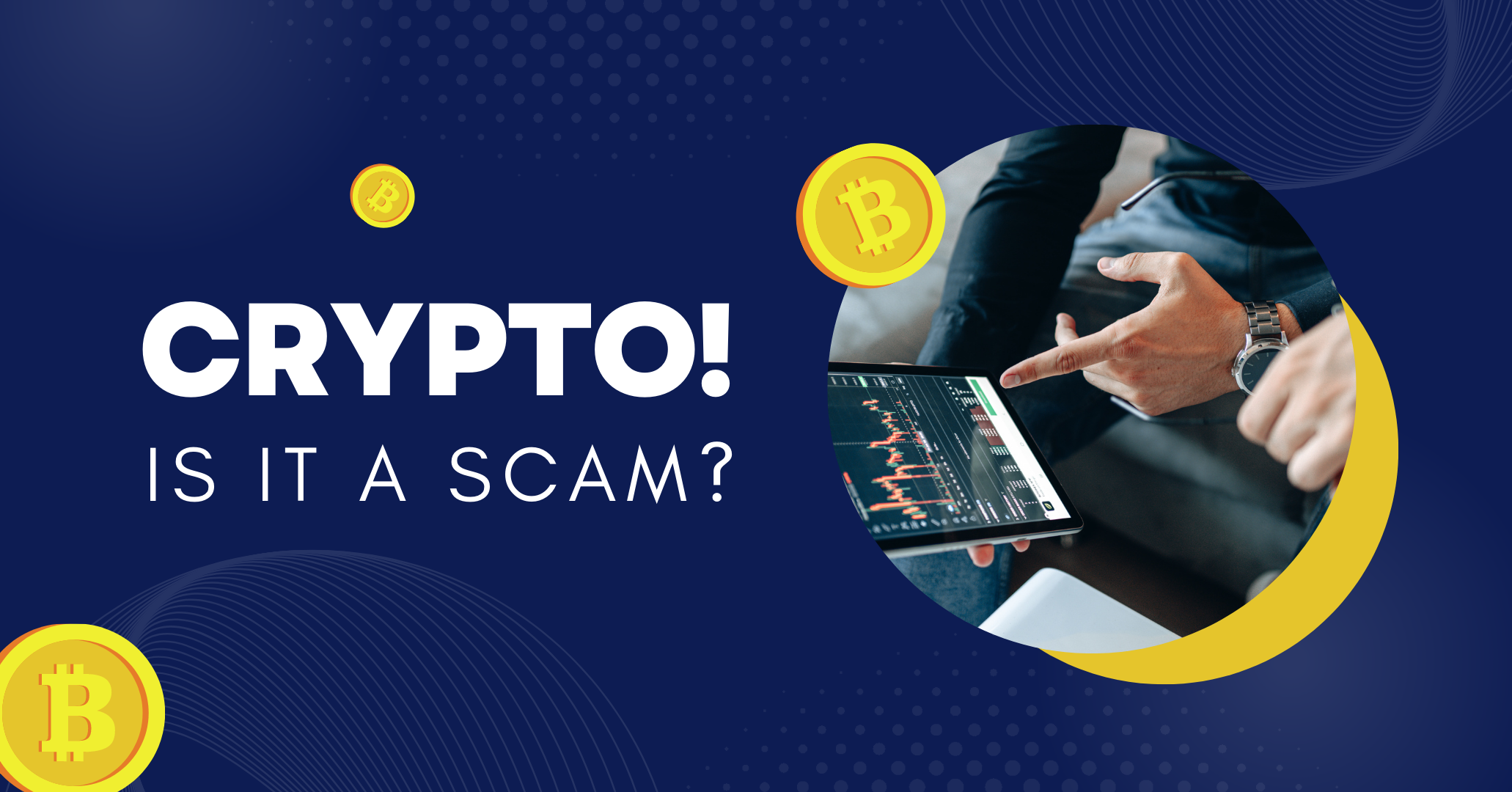 ---
It's a question that has been asked over and over again: Is crypto a scam? While no one can say for sure, there is definitely some truth to the allegations. The truth is that cryptocurrencies are still very new, and they do have their risks. But as we've seen over the past decade or so, they also have huge potential and will likely change how we live our lives forever.
Yes, there are scammers in the crypto space
A scam is when someone tries to take your money or identity. It's a way for people to steal from others, and it hurts everyone involved. Now tell me if scams don't exist in the fiat world. Well, the reality is that they do. Scammers are everywhere. You just need to learn how to avoid them
How do you spot a scammer?
The best way to avoid getting scammed is by being careful about where you send your money and who you trust with it (or anything else). You can also ask yourself: "Is this person telling me the truth?" If an investment sounds too good to be true, it probably is! Look at investments carefully before making any decision. Never ever click any link you get from random people in the DMs or on social media websites. Also, keep in mind that some people will try to trick you into giving them money by offering free coins or tokens; these offers are usually scams!
What should I do if I've been targeted?
If someone has tried to scam you, just block that motherfucker. Also, do a complaint to your local cyber cell and try to stop them from scamming others.
Scammers abound on the internet and in real life too! But just because a scam exists does not mean that all crypto is a scam or even that most of it is. In fact, if you've read this far, you're probably more interested than confused about how to use cryptocurrency safely and properly for yourself or for your business!
Yes, you can lose money trading and investing
The answer is yes. You can lose money. The word "can" is the key here, because there are many ways to lose money in this world of ours. You can lose your wallet on a bus and never see it again, you can drop your phone in the toilet, you could hit your head on something and forget who you are - the possibilities are endless! You could also get sick with a chronic illness like diabetes or cancer that requires expensive treatment for years or decades to come.
All jokes aside (I hope), crypto is an incredibly volatile market which means that there will be times when prices go up and down rapidly within short periods of time—and if you don't pay attention and sell at the right time...well...
Yes, crypto is unregulated.
There's a reason why crypto is unregulated and that is because it is very difficult for governments to keep up with the fast-paced development happening in this space. This means that if you buy bitcoin or any other cryptocurrency, there is no one to complain to if your funds are lost or stolen by a hacker. You can try but it would only waste your time and money and mental peace.
In addition, since crypto doesn't rely on any single entity or institution for its value—and because most cryptocurrencies aren't backed by real assets or utilities — the price of these currencies can be extremely volatile compared to their fiat counterparts (like the dollar). That's why many people feel like using cryptocurrency is gambling rather than investing in something with true value. Does that mean decentralization of power & money is wrong?
No, there's nothing inherently wrong about decentralization.
It's a core feature of cryptocurrencies and has many benefits. Decentralization is a way to reduce the risk of a single point of failure, censorship, and fraud. If you're familiar with the internet, then you know that it's decentralized by design. This means things like DNS (Domain Name System) servers are distributed all over the world instead of having one central server that could be easily targeted by hackers or governments.
No, Bitcoin is not a Ponzi scheme.
Bitcoin is not a Ponzi scheme. A Ponzi scheme is an investment fraud that involves the payment of purported returns to existing investors from funds contributed by new investors.
Bitcoin is not a pyramid scheme. A pyramid scheme is a business model that recruits members via a promise of payments or services for enrolling others into the network, rather than supplying investments or sale of products or services.
Bitcoin is not a scam. Scams are frauds in which people are deceived and their money lost, while scams involve deceitful practices intended to deceive others into giving up something of value but without actually delivering anything in return.
Bitcoin is not fraudulent. It doesn't involve any deception when it comes to its actual capabilities and uses; however, some people may try to deliberately misrepresent themselves as being associated with Bitcoin when they aren't (e.g., by sending out spammy emails). This isn't necessarily illegal but it's certainly unethical!
If you're still wondering if cryptocurrencies are a scam, the answer is no. Not all cryptocurrencies are scams or ponzi schemes or pyramid schemes. Cryptocurrencies are digital currencies that are used like cash online and offline. With cryptocurrencies like bitcoin (BTC) and ethereum (ETH), it's possible to send money around the world almost instantly—without paying high transfer fees or using an intermediary such as PayPal or Western Union; this has led some people to call crypto "the Internet of finance."
Due to its decentralized nature, meaning that no one entity controls it, many investors believe crypto will change the way we think about money forever. That's been enough for some people who have made millions from investing in bitcoin at early stages when prices were much lower than they are now; however, others see them as little more than tulip mania 2.0 or worse: Ponzi schemes with no real underlying value.
Conclusion
Crypto has lots of benefits and could be the future of money. They are not just an alternative to fiat money, they're a better alternative. Much like how blockchain technology has changed so many industries, cryptocurrency will change the way we think about money for decades to come. It's important to remember that cryptocurrencies are still in their infancy and are subject to a lot of hype. And this hype can lead people astray. But that doesn't mean that crypto is bad or evil or anything like that; it just means there will always be thieves out there trying to take advantage of others who don't know what they're doing. That's why it's so important for anyone who wants to get into the space (and especially those who want to invest money) to learn all about how things work before jumping into anything blindly!
---
Follow: https://leofinance.io/@finguru
Twitter: https://twitter.com/finguru6
Discord: finguru#4062
---
Not financial advice. For infotainment purposes only.
Posted Using LeoFinance Beta
---
---