Should You Invest In pSPS-POLYCUB Farm?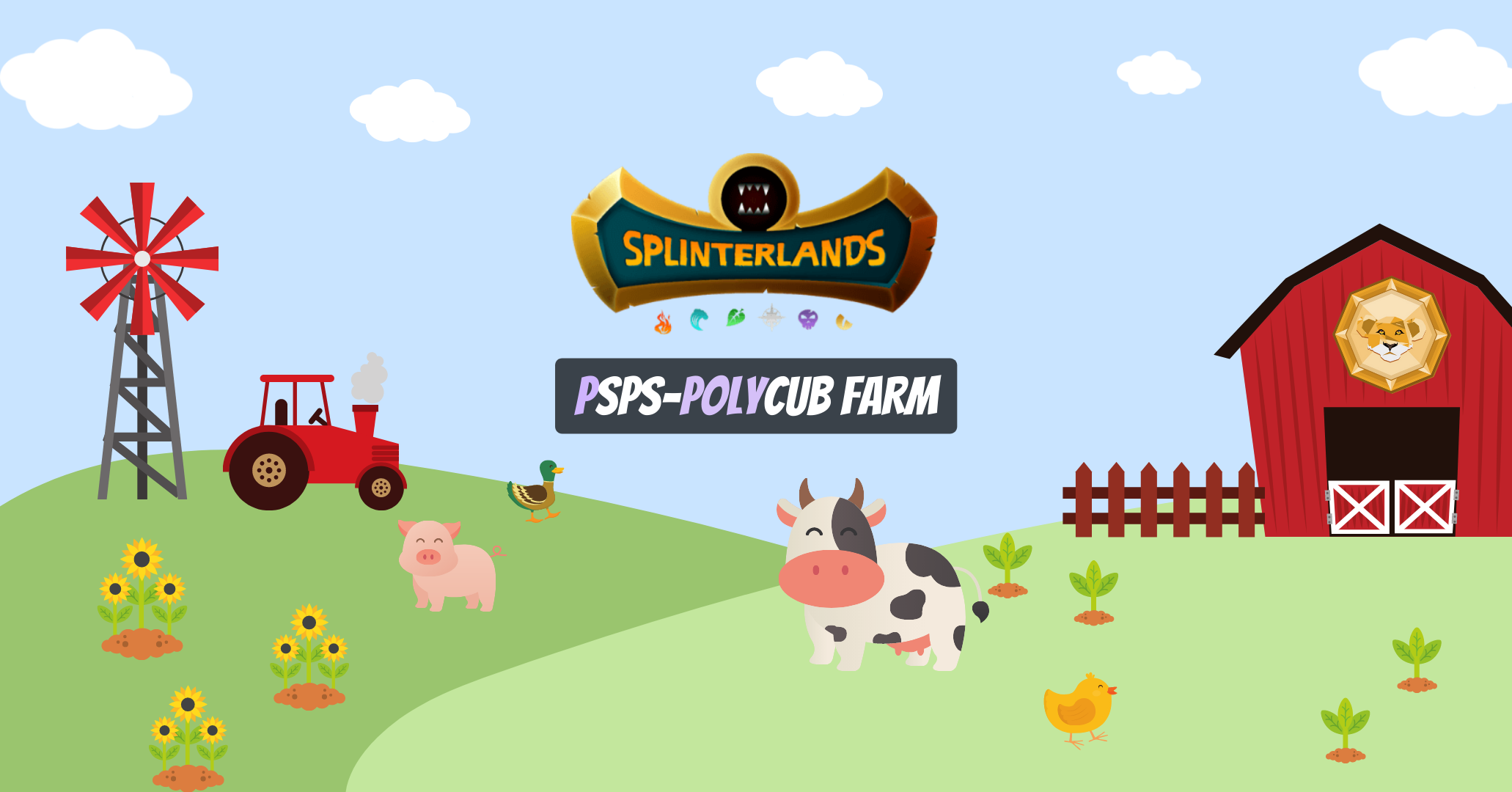 ---
SPS (Splinterlands Shards) is one of my favorite tokens on Hive and I try to acquire more and more of them. According to me, it's the main asset of the game that gets all the value back from other assets and opportunities that Splinterlands offers. I believe that it can easily hit $1. Has done it in the past and looking at the Splinterlands Roadmap, I am more convinced that it's going to hit that mark once again & probably go even higher in long term. The fact that makes me so sad is that the SPS Airdrop will end soon (in about 69 days). After that, the only way to earn SPS would be to stake it within the game and other pools out there on Hive & BSC.
SPS Staking Opportunities
Currently, we have the following DeFi opportunities where we can stake SPS and earn yields:
Splinterlands Game: Currently it is giving out 57% APR but it keeps on changing. Last week it was around 25%. It totally depends on how much capital is staked in the pool.
Tribaldex Diesel Pools: I was blown away by the no. of SPS pools I saw on Tribaldex. There are so many cool options to choose from. My favorite ones are SWAP.HIVE:SPS and DEC:SPS because both of them have different LP Rewards.
Beeswap: Tribaldex and Beeswap are similar in the no. of pool offerings but I find Beeswap way better.
Cub Finance: All of the above are Hive-based Staking pools while Cub Finance is on BSC. It has an SPS-BNB Pool that is giving approx. 58% APY.
If you hold SPS in any of them, you are getting the LP rewards. The APY and the reward token can help you decide to find a better opportunity for yourself. Also, it depends on what tokens you want to hold in your LPs apart from SPS or you can go for the single staking within the game.
Splinterverse is excited about SPS Validator nodes & license presale and gearing up towards it. Right now the validator software is going through an internal testing phase. Will be open for public testing within the next few months, with the "mainnet" planned to launch in Q4 of 2022. I am sure many of you are planning to buy them and earn more SPS on autopilot for running those nodes. There's great news for those who want to maximize the earnings on their SPS stake in the meanwhile and beyond. Apart from the options listed above, we now have pSPS - PolyCUB Farm on Polygon.
Introducing pSPS
pSPS is a wrapped version of SPS on Polygon Network launched by Leo Finance team. You can wrap SPS to pSPS and vice versa using this link: https://wleo.io/sps/. In order to stake pSPS in pSPS-PolyCUB farm, which is a V2 farm on PolyCUB, you need to follow the instructions in the announcement post. I have listed down the benefits for both SPS and PolyCUB Hodlers so that you guys can decide for yourself whether you should invest or not:
What's in it for SPS Hodlers?
SPS Liquidity on Polygon Network and increase in trading volume across chains
Options to diversify SPS staking portfolio
Arbitrage opportunities between native SPS on Polygon (when it comes) and the derivative SPS in the form of pSPS
High APRs on PolyCUB which can be compounded back to farm for more yields or can be staked in xPolyCUB
What's in it for PolyCUB Hodlers?
There are five different value accrual mechanisms for PolyCUB PoL via SPS V2 vault:
pSPS held as 1:1 collateral for the wrapped equivalent - staked on native platforms (i.e. SPS staking on splinterlands.com)
0.25% wrapping and unwrapping fee
Cross-chain arbitrage
Utility for people to buy POLYCUB to LP against their pSPS
pSPS-POLYCUB holders need to buy more POLYCUB to stake as xPOLYCUB to control governance and drive the vault yield higher
When Splinterlands launches SPS on Polygon, a Kingdom (like CUB) will be created on PolyCUB that would add another layer of value.
What are your thoughts guys? Please comment below!
---

https://leofinance.io/@finguru

https://twitter.com/finguru6

finguru#4062
---

Not financial advice. For infotainment purposes only.
Posted Using LeoFinance Beta
---
---