Top 7 Staking Coins To Invest In 2021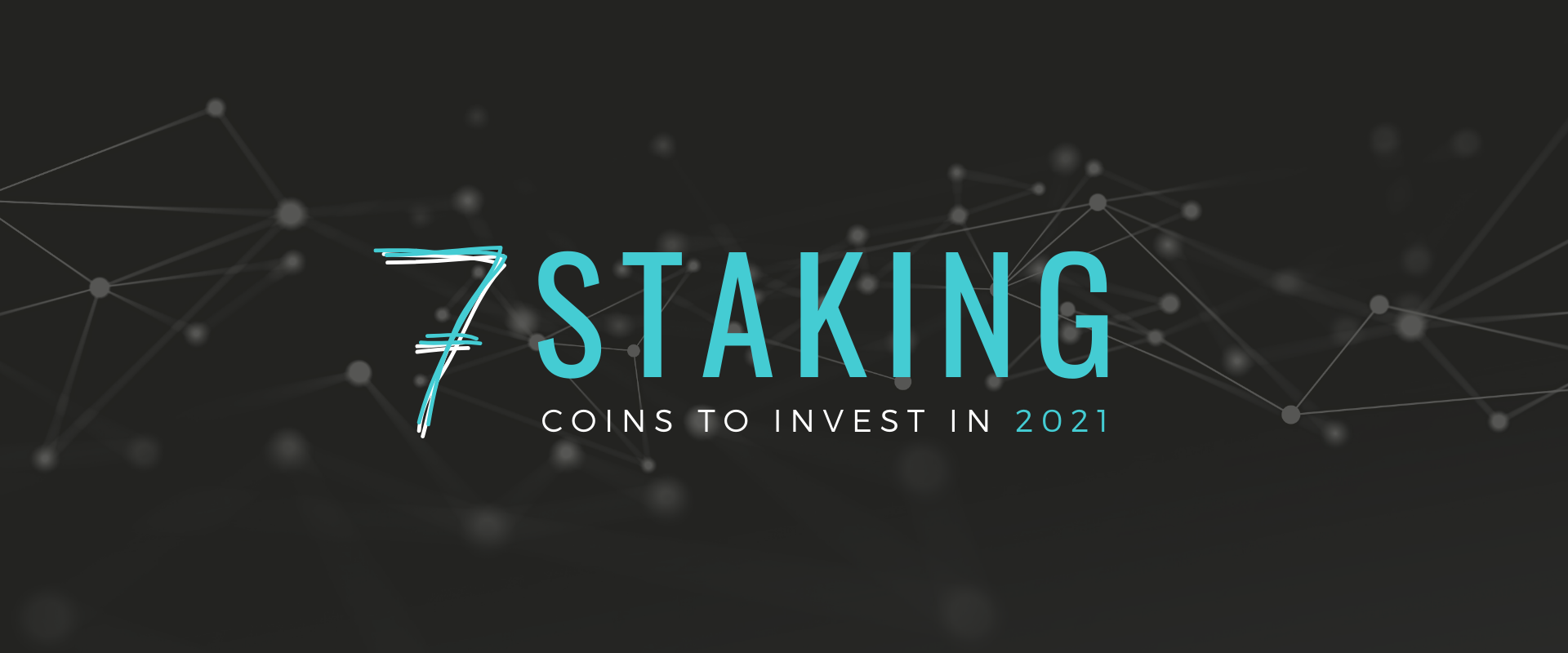 ---
Who doesn't like Passive income, right? Crypto provides various opportunities for everyone to make money. Let's face it, trading is not everyone's cup of tea. It's tough to find the right buying opportunity so that you can sell at a profit later. If you do not know the technicalities of trading or you don't know how to read charts, Crypto Staking is best for you.
In fact, if you want to build a long-term crypto investment portfolio then you should have a look at some of these Staking Coins which I am listing later in the blog.
What Is Crypto Staking?
Staking is the process of holding or locking your crypto to earn rewards or yields over time in the same or other cryptocurrencies. In blockchain technology, staking is required to validate the blocks by the miners. So basically anyone who is staking their crypto on the blockchain, they are participating in the consensus process. This is quite important to keep the chain alive and active for everyone to perform various operations. For an investor, it is quite similar to depositing the cash in your savings bank account where you might earn interest depending upon the bank rates. In crypto staking, yields are better and you can choose to have true ownership of your funds. It's one of the best ways to earn passive income in crypto.
Staking Coins To Invest In 2021
Now let's have a look at the top staking coins you must checkout in 2021 if you are new to the world of Staking and DeFi. Please note that these coins are listed in no particular order and all of them have their pros and cons:
1. Cardano (ADA)
Cardano staking comes with an amazing feature where you can delegate your ADA stake to "Stake Pools" and earn a passive income in the form of ADA coins. You can also run a full node via Daedalus Wallet. If you do not have the good gear to operate a full node, you can participate in Stake Pools using Yoroi wallet. You can also stake Cardano on exchanges and other DeFi platforms. Even though Cardano is hovering around the $3 mark which is quite high, it's a good time to STAKE some ADA to get constant yields. Investors are buying ADA in anticipation of its upcoming Alonzo Hard Fork. You can reinvest and compound your earnings over time.
2. Terra USD (UST)
Terra is a very cool stablecoin protocol that uses LUNA (the native coin of Terra) to achieve the stability of the tokens built on Terra. On Anchor protocol, you can get 20% stable yields on staking Terra USD (UST) which is pegged to United States Dollar (USD). There is no other stablecoin know to mankind that provides such great returns constantly. The best part is that you can always safeguard your investment from market swings by investing in a stablecoin. Check out this basic guide on Terra (LUNA) and its ecosystem of Stablecoins to know more.
3. Ethereum (ETH)
Ethereum is a very well know blockchain platform and the second most popular currency after Bitcoin. Due to DeFi & NFT boom, it has been considered as the king of smart contracts. After Ethereum 2.0, node operators have to stake Ethereum to participate in the block generation process as per the new PoS consensus. You can stake also stake Ethereum on various centralized exchanges & DeFi platforms inside liquidity pools.
4. Solana (SOL)
Did you see the SOL's price chart recently? $1.84 on January 1st and today it is at $144.33. SOL token holders can earn rewards and help secure the network by staking tokens to the available validators on Solana Network. You will need to have a stake-supporting wallet like SOLFLARE which is a non-custodial wallet on Solana. To know more about Solana and how it works, please check out this basic guide.
5. Pancakeswap (CAKE)
Pancakeswap is the best DEX & DeFi platform on Binance Smart Chain (BSC) which has captured the DeFi market quickly after its launch. As an alternative to Uniswap, it provides a great user experience, low gas fees as compared to Ethereum, and faster transaction times. You can easily buy and invest Cake via Pancakeswap. You need to configure BSC in your metamask and then buy CAKE from Pancakeswap in exchange for BNB tokens or any other crypto on BSC. Once you have CAKE in your wallet, stake that into the auto staking pool available here: https://pancakeswap.finance/pools that will give you CAKE and reinvests it back into the pool automatically.
6. Hive (HIVE & HBD)
Hive is a fast, feeless, and highly scalable blockchain for web 3.0. It is uses Delegated Proof of Stake consensus which is far superior to POS. You can stake Hive to make it Hive Power (HP) which can be used to upvote content that is published on the blockchain. With each upvote, you can reward authors and earn 50% curation rewards. It's one of the most unique use cases of crypto staking. Is it passive income? Well, you can set your upvotes on auto and earn curation rewards without really doing anything or you can delegate your Hive Power to other projects for ROI with full ownership to your original funds. Hive Power increases at an APR of approximately 3%. You can also stake HBD (Hive Backed Dollar) in Hive Savings to earn 10% APR. Not many stablecoins provide that kind of yield on a stablecoin. Deep dive into Hive Blockchain and its ever-growing ecosystem of DApps through this basic guide.
7. Cub Finance (CUB)
Cub Finance is a leading DEX & DeFi platform built on Binance Smart Chain (BSC) built by Leo Finance. The team developing the platform has a solid 2-year track record of building blockchain-based applications. You can stake the platform's native token CUB in various auto-compounding farms called Kingdoms. For example, staking CUB solo in the CUB Kingdom will give you CUB yields in return and they will be reinvested back into your original investment. The CUB Kingdom alone is giving 88.93% APY which is quite amazing.
I hope this list would help you find a suitable staking opportunity for yourself. You can immensely grow your crypto portfolio by realizing and exercising the power of staking. Please let me know if you already own some of these coins and tell me if you are staking them too. Also, you can mention other Staking coins which you think are worth looking into this year. Comment below!
---

https://leofinance.io/@finguru

https://twitter.com/finguru6

finguru#4062
---

Not financial advice. For infotainment purposes only.
Posted Using LeoFinance Beta
---
---