Bitcoin Price Analysis 29-11-2021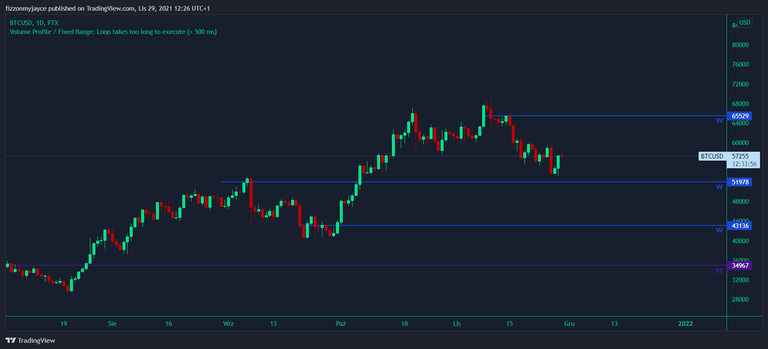 Hello everybody, the price of Bitcoin consolidated in the zone $54000-$55000 during the weekend. Then the price broke above $55000 level and encountered resistance around point of control. Currently, we may notice a slight pullback caused mainly by traders exiting from long positions.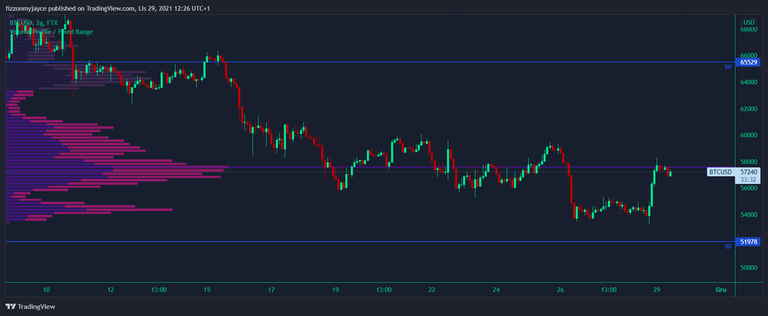 Level to watch:
Weekly support level at $52000
Weekly resistance level at $65500
Point of control (from 250 bars) at $57500 (resistance)
Point of control from the previous day at $54200 (support)
Open Interest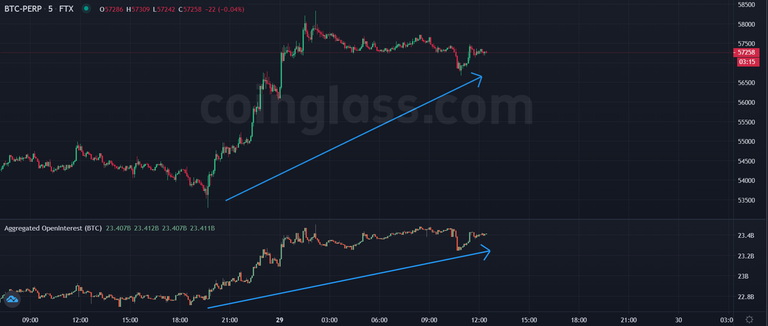 In the short-term w see that Open Interest is stable and price decreasing slightly. For me, it means that traders are getting out of long positions, but all the time you can see new long positions coming in. Overall volume is increasing same as Price and Open Interest. This indicates that price will continue to rise.
Initial Balance
High Volume in the first hour of the session indicates a rangebound session. High range in the first hour of the session also means a rangebound session. Daily open is near IB Low and participants drove the price up on open which indicates a higher probability of an up-trending session.
Overall, in the short term, we should consolidate around $57500 level(POC). If we maintain this level, we should surpass the psychological level of $60000 in the next few days. Otherwise, I expect price to back to the weekend range ($54000-$55000). Long-term we are still bullish as long as we are above the weekly level at $52200.
You can find me also here
Twitter ➜ LINK
Disclaimer: Not financial advice. Please be careful when trading this channel is just my opinion and perspective of what the charts look like in my opinion. This is to be used ALONGside your technical analysis and to give you things think about that you might have missed. You have to make your own decisions investing is risky. Don't invest what you can't afford to lose.
Hope you found today's article helpful. Have a nice day :)
Posted Using LeoFinance Beta
---
---