We Are Alive - Big Tribe News
In this post I share some big tribe news relating to our weekly payouts of dividends, the great APR of our miner token, and also that the new affiliate program from Noise.cash has been added to Start Earning Today, enjoy!
---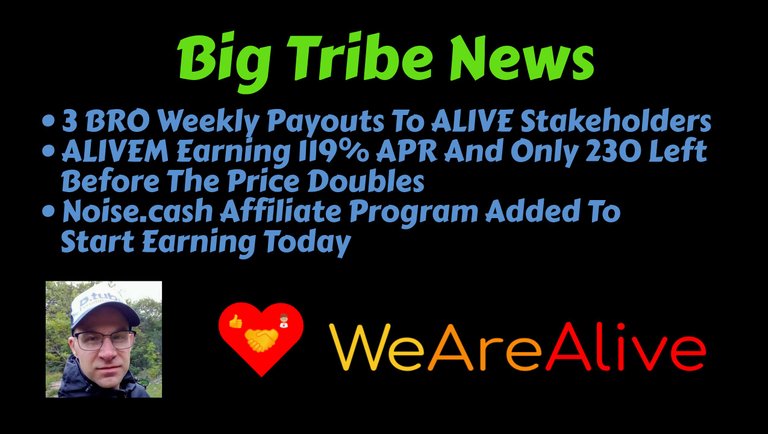 Made in Desygner
Hi there and welcome to my blog, my name is Erik Gustafsson and I go by the handle @flaxz.
We Are Alive - Big Tribe News
So we have some big news to share with the We Are Alive Tribe, some of you might know at least part of it, but here is the points that we will go through.
3 BRO Weekly Payouts To ALIVE Stakeholders
ALIVEM Earning 119% APR And Only 230 Left Before The Price Doubles
Noise.cash Affiliate Program Added To Start Earning Today
Now before we move on, if you don't know that much about our tribe then here is our official guide laying out the details for how it works, including our White Paper, and what projects we are running to help tribe members boost their ALIVE stake, We Are Alive Tribe - The Guide.
3 BRO Weekly Payouts To ALIVE Stakeholders
On Monday we made the first weekly payout of a total of 3 BRO to ALIVE stakeholders, we had wanted to send that out on Sunday, but it took a bit more time to prepare the payout.
We are currently using a basic script to handle the payouts, and we are working to continuously automate this script more and more, and once we have automated all parts of it our goal is to go over to daily payouts instead of weekly payouts.
Before we have fully automated the script we are also limiting payouts to stakeholders who have 100 ALIVE staked or more, but once that is done we will start counting all stakes.
Our hope with these payouts is to increase demand for the ALIVE token over time and grow our tribe further, plus this gives a great incentive for large ALIVE stakeholders to keep staking their tokens, and it's also a counterweight to our weekly staking contest which highly favors lower stakeholders that starts to stake their tokens.
ALIVEM Earning 119% APR And Only 230 Left Before The Price Doubles
ALIVEM is our miner token, and 20% of the total daily tokens that are printed goes to the miners, and they have 20 winners per hour.
If you read our White Paper you also know that we have a quite unique strategy for selling them to make sure that all miners sold are also worth buying.
The first batch of 1000 ALIVEM sells for 5 Hive each, and then the price doubles for every new batch of 1000 that we put up for sale.
Currently there is only 230 ALIVEM left of the first batch of 1000 ALIVEM selling for 5 Hive each, and once those are sold out the next batch of 1000 ALIVEM will be sold for 10 Hive each.
Now according to the Hive Engine Tools built by @themarkymark then we have a break even point for ALIVEM of 0.84 years, which means 119% APR, and in this example we look at the top ALIVEM stakeholder @threesteps.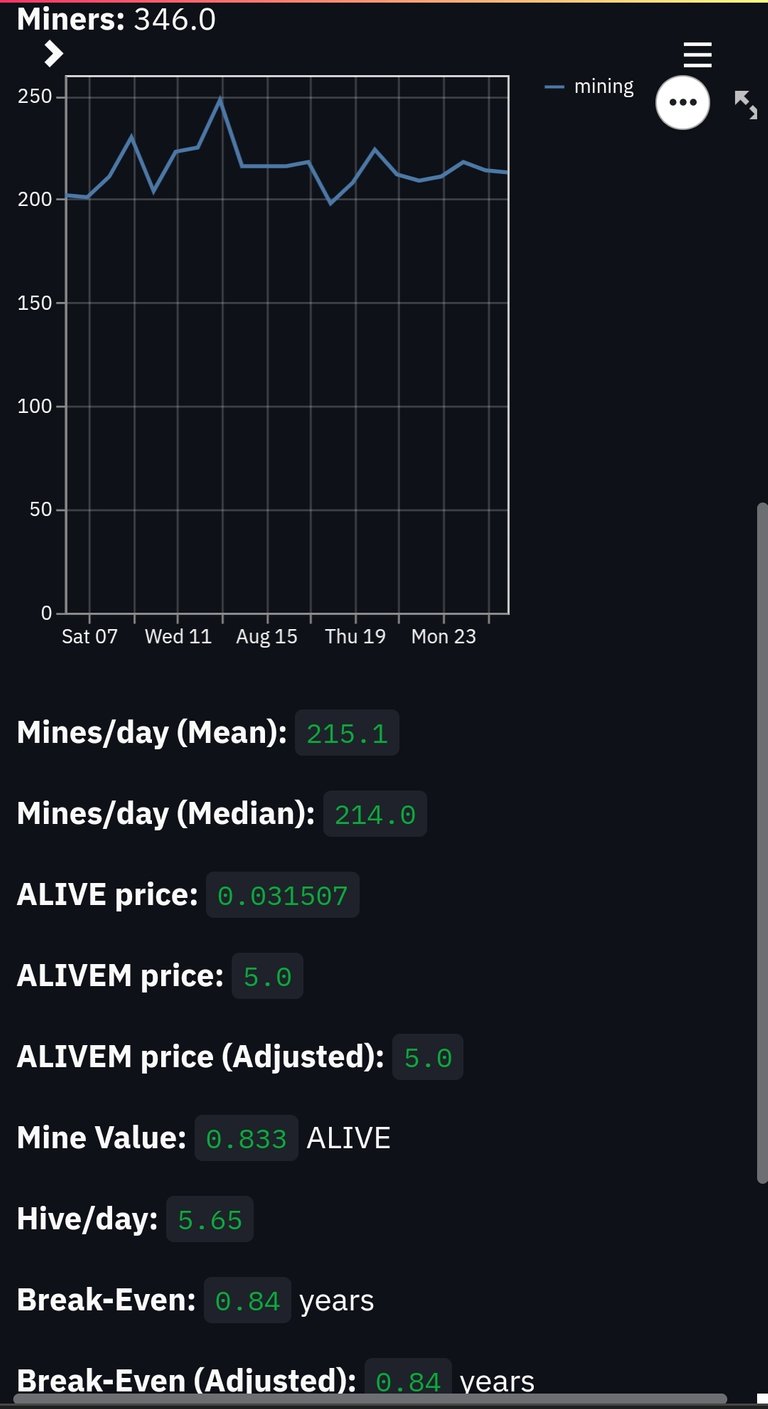 Screenshot from Hive Engine Tools
The price for ALIVE that you see in this example is the Highest Bid for ALIVE on the market, and as you can see below we have great support for that price point.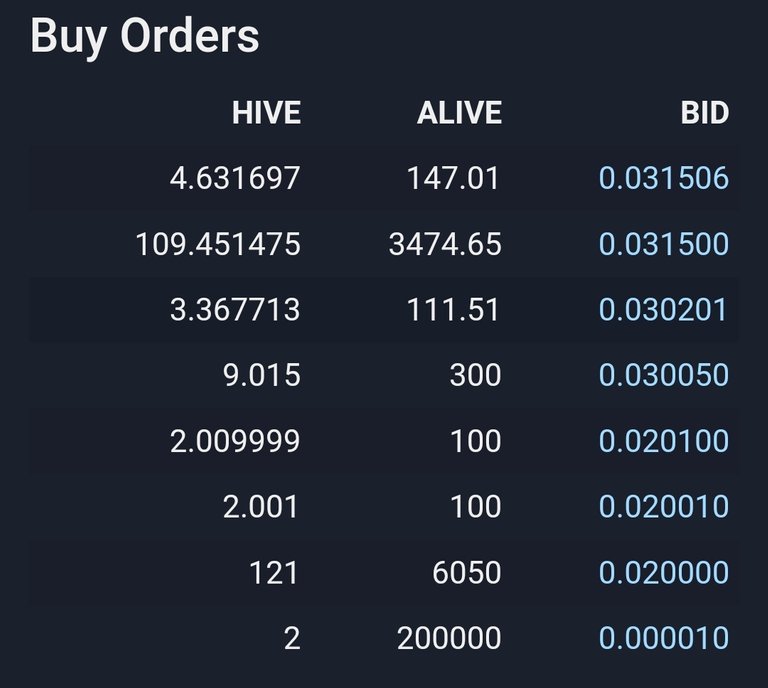 Screenshot from Tribaldex
Now do your own research before buying ALIVEM of course, https://tribaldex.com/trade/ALIVEM
Noise.cash Affiliate Program Added To Start Earning Today
Yesterday we got notice that Noise.cash has launched an affiliate program, and here is my affiliate link, https://noise.cash/u/flaxz
And here is the details for their affiliate program.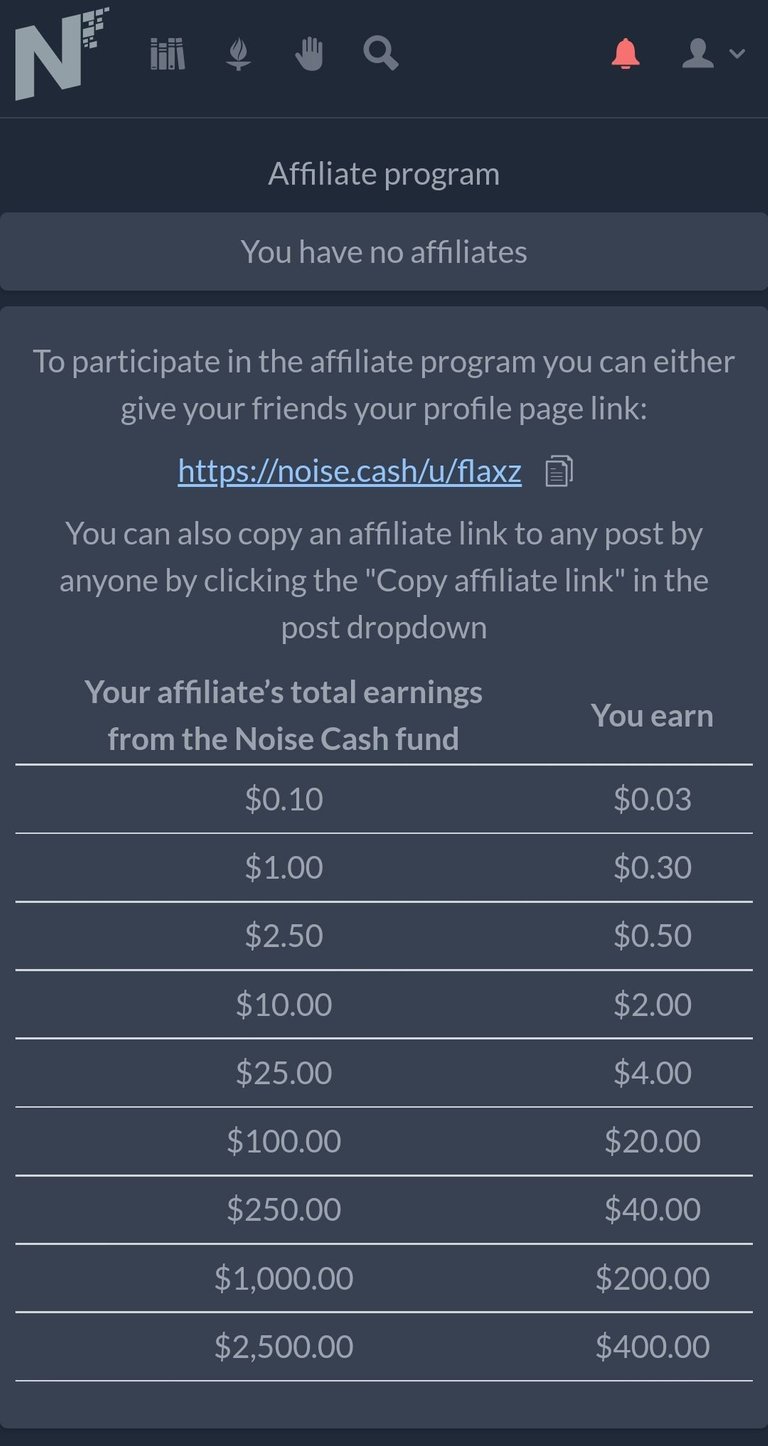 Screenshot from Noise.cash
We have been recommending tribe members to use Noise.cash to share their tribe posts and earn BCH in return for it, I myself earn around $1 USD in BCH per day, which I have set up to go directly to Hive through Blocktrades all automatically, but earnings can of course vary from one person to the next.
In any case this new affiliate program has already been added by @jongolson to the Start Earning Today free marketing funnel that he is running as part of ClickTrackProfit.
Now this is very big news, especially for participants of the #LukeIsAlive contest of which many already are promoting this funnel, either directly or through their email lists.
Start Earning Today is actually one of the best converting free marketing funnels in the entire affiliate marketing field worlwide, so it's definitely worth checking out, but as always do your own research first, even when it's free.
Thank You!
Thank you very much for reading this post and I hope you liked it, leave your thoughts in the coments below, and ...
Stay Awesome!
Sincerely,
Erik Gustafsson
This is my own personal opinion, do your own research before investing, and seek legal counsel if uncertain.
---
---
---
---