Noche de Halloween (Esp - Eng)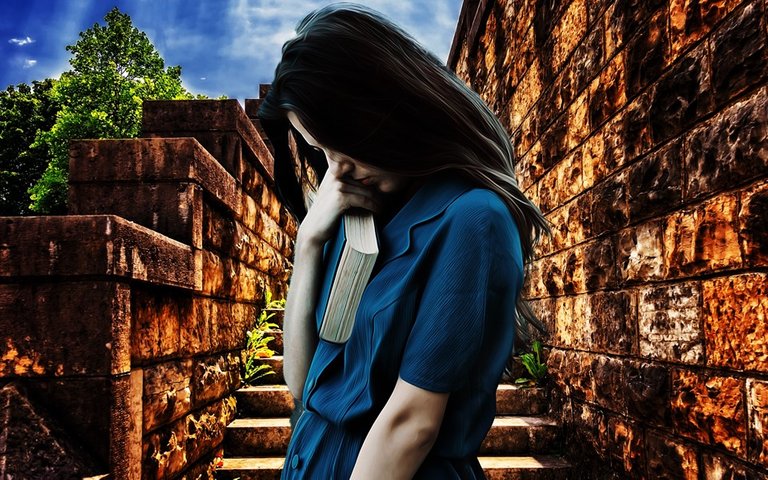 Ray Shrewsberry • 💙 💙💙 en Pixabay

ESPAÑOL / ENGLISH
Noche de Halloween
Halloween night
Cuando yo era una niña, vivía en un pequeño pueblo de una zona agrícola bastante alejada de la ciudad, rodeada de selva densa que se perdía en el infinito, a pesar de la distancia con el resto de la población humana, era un área para disfrutar por sus magníficos paisajes en donde yo vivía con tranquilidad preocupándome solamente de los estudios y los juegos con mis amigas.
Desde muy temprano, tan pronto el sol comenzaba a asomarse en la colina, mi familia se levantaba para salir a sus trabajos y yo me quedaba sola en la casa con mi mamá, hasta pasadas las 7 de la mañana que era cuando a mí me tocaba salir al colegio, como me quedaba relativamente cerca a unas 3 cuadras de distancia, desde que yo estaba en cuarto grado insistí en irme sola a la escuela, caminando lentamente por la larga vereda mientras saludaba a muchas personas en mi tránsito, porque como era un pueblo pequeño todo el mundo se conocía, antes de llegar a mi destino, también pasaba por la pequeña bodega que tenía mi padrino, allí él me daba todos los días una empanada o un panque de frutas, acompañado de un pequeño jugo para que tuviera la merienda de la hora del recreo.
Así pasaban mis días, sin ningún tipo de novedad y una rutina aburrida que se repetía cada día, hasta que de pronto algo cambio de manera brusca trayendo a mi mente un sentimiento que nunca había sentido antes, el horror se había presentado ante mí de una manera espeluznante y me marcaría como una víctima de la cual casi no escapo con vida.
Una tarde cerca de las 4 p.m. salí un poco tarde de la escuela porque me quedé con unas compañeras haciendo travesuras y jugando "truco o trato" imitando las cosas que veíamos en la televisión y que hacían durante el mes de octubre en los Estados Unidos en una fiesta llamada Halloween, que nosotros creíamos era como una especie de carnaval por los disfraces, pero ignorando por completo el fondo oscuro de esto.
When I was a girl, I lived in a small town in an agricultural area quite far from the city, surrounded by dense jungle that was lost in infinity, despite the distance with the rest of the human population, it was a area to enjoy for its magnificent landscapes where I lived in peace, worrying only about studying and playing games with my friends.

Very early, as soon as the sun began to peek over the hill, my family would get up to go to work and I would stay alone at home with my mother, until after 7 in the morning, which was when it was my turn. Go to school, as it was relatively close to me about 3 blocks away, since I was in fourth grade I insisted on going to school alone, walking slowly along the long sidewalk while greeting many people in my traffic, because as it was a small town everyone knew each other, before arriving at my destination, I also passed by the small warehouse that my godfather had, there he gave me an empanada or a fruit pancake every day, accompanied by a small juice so that I had the recess time snack.

My days passed like this, without any kind of novelty and a boring routine that was repeated every day, until suddenly something changed abruptly, bringing to my mind a feeling that I had never felt before, the horror had appeared before me in a sudden way. Creepy way, and would mark me as a victim that I almost didn't escape with my life.

One afternoon around 4 pm I left school a little late because I stayed with some classmates doing pranks and playing "trick or treat" imitating the things we saw on television and what they did during the month of October in the United States at a party called Halloween, which we thought was like a kind of carnival for costumes, but completely ignoring the dark background of this.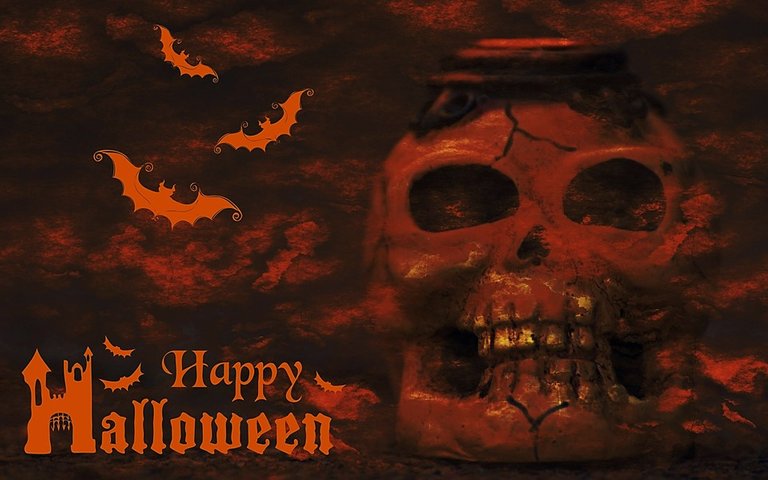 Imagen de Alexa en Pixabay
Luego de despedirme de mis amigas, emprendí en solitario mi acostumbrada caminata, pero algo parecía diferente esta vez, el clima se había puesto lluvioso y las nubes negras se agolpaban sobre mí produciendo relámpagos y los truenos más ruidosos que jamás había contemplado, en ese punto ya estaba intimidada por lo que apresure el paso, pero antes de llegar a la calle donde estaba la tienda de mi padrino, me di cuenta de que el camino cambio de aspecto, era como si hubiese viajado a otro lugar, la tierra ya no era rojiza y pantanosa como la que siempre veía, ahora era más bien gris y polvorienta.
Las casas no parecían las mismas, ahora se veían deterioradas y llenas de un moho negro, de repente un olor asqueroso llegó a mi nariz, olía a azufre por todo el paraje, pero no era así, todo estaba seco, marchito y triste, es más el clima de lluvia era tan caliente que su roce en mi cara quemaba como brazas, así que por un momento me sentí perdida y desconcertada, el suelo empezó a despedir un humo extraño el cual sin dudas era la fuente de esa pestilencia, que rodeaba todo mi ambiente.
El miedo se apoderó de todo mi cuerpo, paralizando mis piernas, mientras sentía como mi corazón latía muy rápido entre cortando mi respiración, fue en ese momento cuando lo vi, desde el fondo de la calle un hombre alto caminaba lentamente en mi dirección, portaba un traje negro impecable y podría decir que hasta lujoso, por raro que pareciera, el polvo del camino o más bien las cenizas no lo tocaban, portaba un sombrero ancho que tapaba su rostro entre las sombras del atardecer, poco a poco se fue acercando al lugar donde yo estaba petrificada, sin saber qué hacer y a punto de orinarme del terror que estaba viviendo, no sé quién era ese personaje, pero su sola presencia inspiraba miedo y hacía vibrar tu alma como si quisiera escapar del cuerpo.
Cuando estuvo más cerca finalmente pude ver su rostro, era de rasgos finos, nariz perfilada, piel blanca, cabello negro liso y unos ojos impresionantes, pero no por lo hermoso, sino por el color rojo intenso que tenían en su centro que brillaba como el fuego de un volcán ardiente. Al pasar a mi lado, sin detenerse, solo giró su cabeza para mirarme y me esbozo una sonrisa intimidante, antes de decirme una frase que jamás olvidaré mientras viva.
— Las niñas no deben andar solas en la calle durante Halloween, porque pueden encontrarse con el diablo.
After saying goodbye to my friends, I undertook my usual walk alone, but something seemed different this time, the weather had turned rainy and the black clouds crowded over me producing lightning and the loudest thunder I had ever seen, in I was already intimidated by that point so I quickened my pace, but before reaching the street where my godfather's store was, I realized that the road changed its aspect, it was as if I had traveled to another place, the earth already It wasn't reddish and swampy like the one he always saw, it was more gray and dusty now.

The houses did not seem the same, now they looked deteriorated and full of black mold, suddenly a disgusting smell reached my nose, it smelled of sulfur all over the place, but it was not like that, everything was dry, withered and sad, it is plus the rainy weather was so hot that its touch on my face burned like embers, so for a moment I felt lost and bewildered, the ground began to give off a strange smoke which was undoubtedly the source of that pestilence, which surrounded all my environment

Fear took over my whole body, paralyzing my legs, while I felt my heart beating very fast between cutting my breath, it was at that moment when I saw it, from the bottom of the street a tall man was walking slowly in my direction, carrying an impeccable black suit and I could say that even luxurious, strange as it seemed, the dust of the road or rather the ashes did not touch him, he wore a wide hat that covered his face in the shadows of the sunset, little by little he approached the place where I was petrified, not knowing what to do and about to urinate from the terror I was experiencing, I don't know who that character was, but his mere presence inspired fear and made your soul vibrate as if he wanted to escape from the body.

When he was closer I could finally see his face, it had fine features, a profiled nose, white skin, straight black hair and impressive eyes, but not because of their beauty, but because of the intense red color that they had in their center that shone like the fire from a burning volcano. As he passed by me, without stopping, he just turned his head to look at me and gave me an intimidating smile, before telling me a phrase that I will never forget as long as I live.

— Girls should not walk alone on the street during Halloween, because they can meet the devil.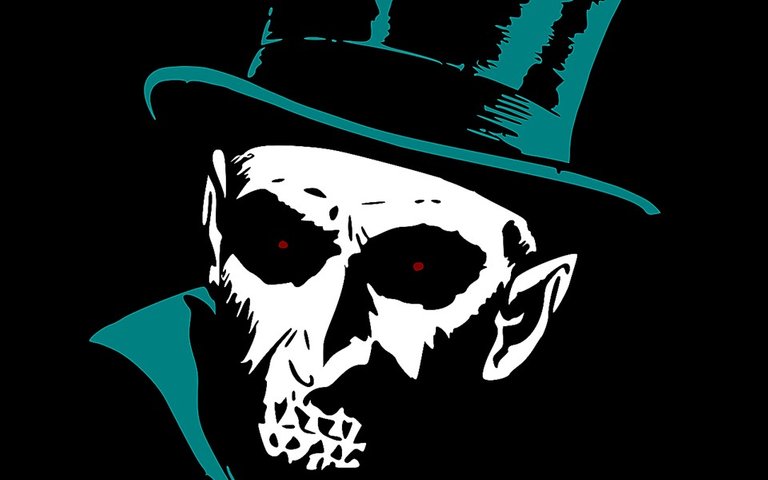 Imagen de OpenClipart-Vectors en Pixabay

El separador fue efectuado en Canva, utilizando múltiples imágenes libres de derechos de autor, provenientes de Pixabay, vectores de freepng y freewing.
Todos los Derechos Reservados
The divider was made in Canva, using multiple royalty free images from Pixabay, freepng vectors and freewing.
All Rights Reserved

---
---