Are you too smart for your own good?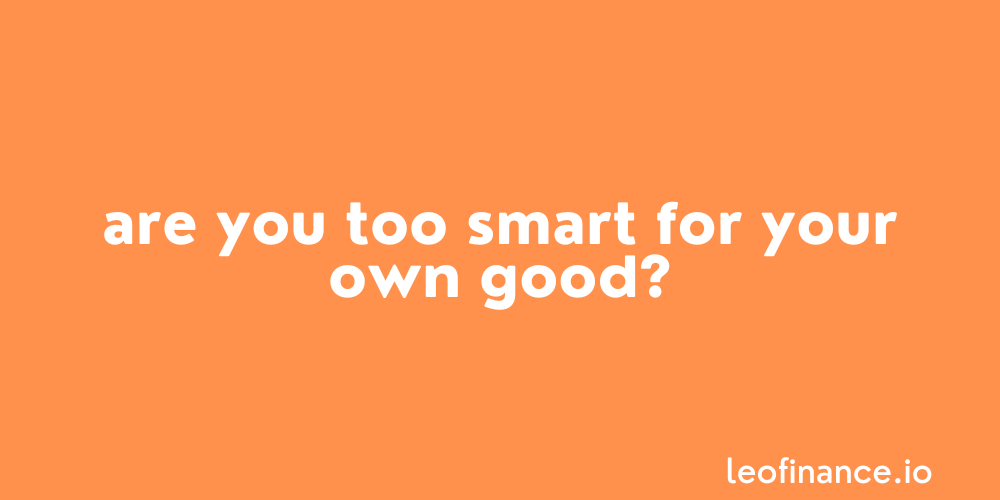 Direct from the desk of Dane Williams.
---
Some Monday bear market musings on sharpening your focus as a blogger here on Hive.
Are you too smart for your own good?
This is a concept that I see play out over and over in the freelancer community.
Extremely intelligent people with the education, skills and experience required to truly make a difference to the bottom lines of businesses who will pay them handsomely for their services.
But intelligence can be both a blessing and a curse.
Because once you find out that you are good at a particular skill, then you soon realise that there are a ton of related, monetisable (is that a word lol?) services that those skills can be applied to.
As a result, you find it difficult to focus your attention on solving one specific problem and ultimately miss out on the rewards which stem from building your brand as an expert in whichever extremely specific field you choose.
The same business concepts can be applied to blogging on Hive
Shock horror, the exact same concept that applies to service based online businesses can be applied right here in the world of Web3 blogging on Hive.
I mean I'm sure I'm not the only once who has seen the same scenario play out over and over across every community on Hive.
Extremely intelligent people with A TON to offer, spreading themselves too thin and missing out on all the benefits of becoming a specialist.
Literally great at too many things.
Finding themselves flipping between the different Hive communities and front-ends, not being able to focus and truly build a presence within a specific community.
Nobody is doubting that they're capable of contributing value to each and every one.
But their inability to focus their time and attention within one specific niche actually works against them.
By spreading their focus too thin, they're not able to establish themselves as an expert or key contributor to any one community and as such…
They don't make as much money from their blog.
See what I mean by being literally they're too smart for their own good?
You need to focus your attention
Committing and focusing all of your time, energy and skills is the key.
In no way am I even close to the smartest man in the room when it comes to talking crypto and the cutting edge world of Web3.
But I have managed to trade my opinions for a half decent stack of LEO and HIVE along the way.
While I'm here tooting my own horn, writing SEO and opinion pieces on crypto is not my only "thing".
Football, hockey, photography, travel and culture all get my emotional juices pumping and if you scroll back through my writing in the Steemit days, you'll find I dabbled in sharing my experiences on them all.
It took me a while to figure out that I needed to focus, but once I figured out that the LeoFinance community was where I needed to be?
The results were like night and day.
My audience grew, my personal network grew and my upvotes grew.
Everything changed for the better once I focussed my attention and stuck to this particular lane.
Final thoughts on specialising here on Hive
By focusing your attention on a specific niche and community here on Hive, you're not trapping yourself.
You can change - Heck, when was the last time I wrote a forex technical analysis piece? (eww)
The reality is that you're not trapped because via the relationships formed from your position of respect within a community, you'll find a myriad of opportunities come your way.
So why not give it a go?
Stop being too smart for your own good and go all in by focusing your attention on one specific niche and Hive community.
Your future self will thank you.
Best of probabilities to you.
PS. I hope you're ready to crush this week.
While regular writers know the best way to make money blogging on Hive is to be consistent, for the last few weeks I certainly haven't been heeding my own advice.
With the markets crumbling around us, it's time to get back on the content creation horse and start ticking over that word counter!
See you around :)
Posted Using LeoFinance Beta
---
---