Cryptocurrency needs to be anonymous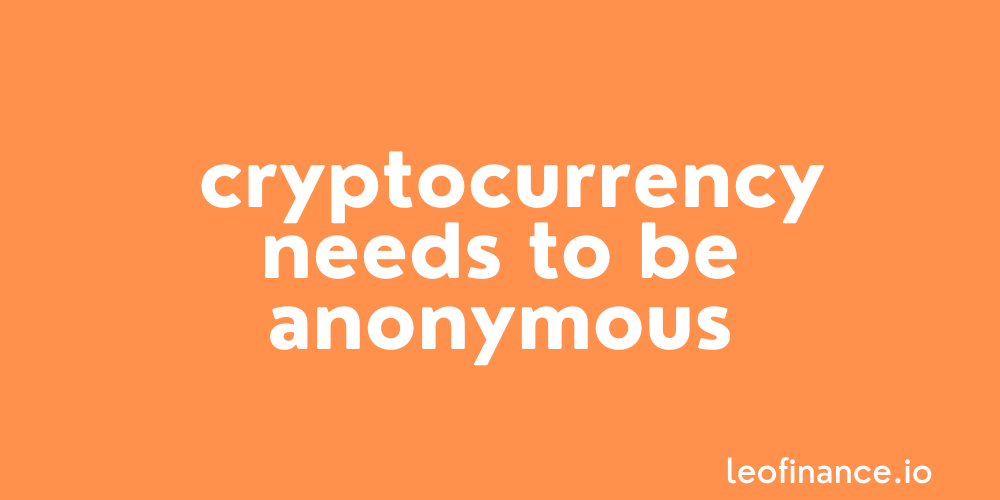 ---
An argument as to why anonymous, untraceable crypto like Monero (XMR) is the only way forward.
I have a confession to make.
One of my (nerdy af) guilty little pleasures is following the trail of crypto coins as they move via sales and transfers.
After watching movements on the exchanges, I head into block explorers and compare addresses with people's transparent wallet addresses.
From there it's pretty easy to match up wallet addresses with who owns what, made especially easy by the personalised wallet address system we use here on Hive.
I then use some of the awesome portfolio trackers like Debank to have a good sticky beak at what's going on.
Is having transactions on a public blockchain a good thing?
So, is being able to follow the trail of where crypto coins move like this a good thing?
Well, it's certainly a bit of fun for me, not to mention eye opening at some of the figures some of you degens are playing with.
Like seriously lads, holy shit haha!
But, the deeper down the crypto rabbit hole I go, the more I see how valuable privacy coins like Monero (XMR) are going to become.
So ultimately, my answer would have to be no.
Anonymous cryptocurrency is as important as ever and with its system of anonymous addresses by default, Monero remains a clear leader in the privacy coin space.
All details including the sender, receiver and amounts on transactions using Monero, remain untraceable.
The biggest argument for why I don't believe having transactions displayed for all to see on a public blockchain is a good thing, is this affects the currency's fungibility.
Anonymity increases fungibility because two units of currency can truly be substituted in place of one another.
When you can follow the trail of a coin, it's easy to picture a scenario where certain paths and coins themselves become tainted, limiting who wants anything to do with them.
Consider a transaction that features coins of whatever public cryptocurrency you want to choose, that features previously stolen coins.
Or even simply coins that have been 'tainted' in the eyes of whoever, because they have simply passed through the wallets of a convicted criminal.
You can see how quickly this could become a problem and why only a privacy coin like Monero offers true fungibility.
It doesn't matter what the history of the XMR you receive is, because the transactional anonymity means that they're all truly identical.
Untraceable crypto like Monero is the future of cryptocurrency
So while I'd love to keep snooping about, you can see that the anonymity of cryptocurrency is so much bigger than just someone's personal privacy.
The very traits that turn magic internet money into a true currency are at stake here.
If whatever you choose to use as a currency is not fungible, then is it even a currency?
Obviously the answer is no.
Cryptocurrency needs to be anonymous.
Best of probabilities to you.
---
Direct from the desk of Dane Williams.
Why not leave a comment and share your thoughts on why cryptocurrency needs to be anonymous within the comments section below? All comments that add something to the discussion will be upvoted.
This Monero (XRP) blog is exclusive to leofinance.io.
Posted Using LeoFinance Beta
---
---