Is Ethereum becoming deflationary?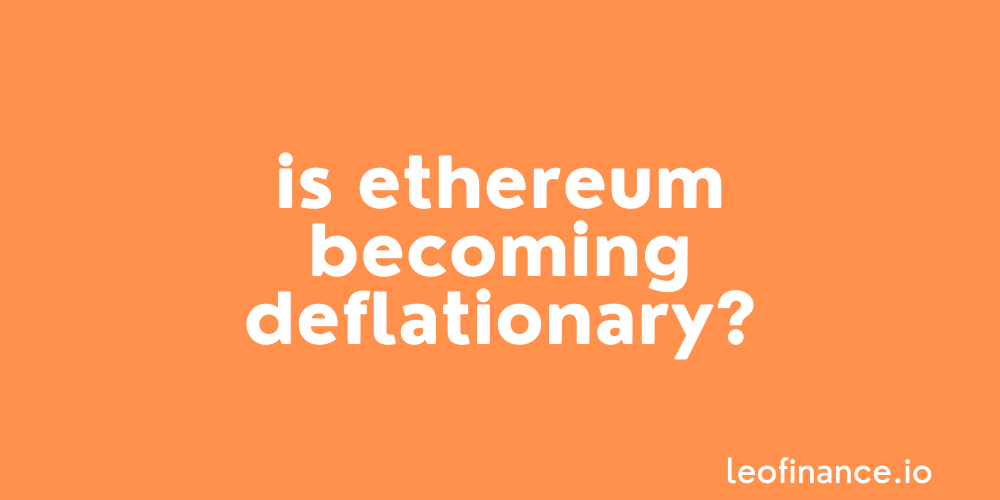 ---
A look at whether Ethereum is becoming deflationary or is nothing more than a buzzword.
The Ethereum Network has recently experienced a number of changes and upgrades.
As the network heads towards a proof of stake consensus, the recent London upgrade has gotten the community excited.
Earlier in November, it was reported that Ether actually experienced two weeks of a consistent reduction in supply.
According to data, upwards of $65 million worth of Ether was burned at that time.
With ETH 2.0 designed to be the catalyst for really addressing the scalability issues Ethereum faces, it's certainly exciting to see examples of more Ether already being burned than mined.
This section of our Ethereum guide looks at whether Ethereum is becoming inflationary and discusses the future of the blockchain.
Is Ether really deflationary?
While there are times where more ETH is burned than mined, it's difficult to state if the coin is really deflationary.
First of all, unlike Bitcoin which will only ever see 21 million coins enter circulation, Ether has no limit to the number that can be printed.
Bitcoin has always held sway in the discussions about deflation because of its finite supply. However, Ethereum can be deflationary on certain conditions.
These conditions being that the number of transactions on the blockchain is dramatically more than the amount of Ether that is mined daily.
The number of Ether created and in circulation is always going to be changing, which means it can be deflationary one day and inflationary the next.
But contrary to some mainstream beliefs, having inflationary properties is not a bad thing.
There is competition
Again, this goes back to the previous point raised, around how Ethereum's deflation hinges on Network activities.
Unlike Bitcoin that has a finite supply, Ethereum will continue to be mined and if gas fees from transactions don't outweigh the number of mined assets, then it can't be deflationary.
Looking around the crypto space however, you can see that the number of networks offering something similar to Ethereum is rapidly rising.
At this very moment, there are competing networks like BSC, Solana and Avalanche just to name drop a few, all jostling with Ethereum for market share.
Assuming the competition dilutes Ether's market share, invariably reducing the amount of gas fee paid on the network, that in turn may potentially reduce the amount of Ether that gets burned.
If this scenario proves to be true, Ethereum's deflationary days will be fewer and far between.
Is deflation sustainable?
According to Etherscan, the average cost of an ERC20 token transfer is around $46.
Also, for Ethereum to consistently produce deflationary blocks, gas prices need to be as high as 150 gwei.
So what this means is that at the time of writing, for Ehtereum to consistently be deflationary, it needs to operate at a high gas price.
This is ironic because these high fees could be seen as making people move to other networks, in turn leading to a reduction in the number of activities on Ethereum.
Only time will tell.
Final verdict on whether Ethereum is becoming deflationary
So in essence, deflation in Ethereum may not be considered to be sustainable.
In fact, the reason for ETH deflation isn't a cause for celebration.
In recent times, Ethereum aficionados have been encouraging users to employ layer 2 solutions, while others have quit the network altogether and moved to platforms with lower fees.
Ethereum is not consistently deflationary and it's unlikely to be consistently deflationary any time soon.
Yes, it experienced consecutive weeks of deflationary block production but that was only because the community had to pay exorbitant fees.
So is Ethereum truly deflationary?
It could be.
But this deflation in Ethereum is only on the surface and exists on the premise that gas fees are high.
Best of probabilities to you.
---
Direct from the desk of Dane Williams.
Why not share a chart or leave a comment on whether Ethereum is becoming deflationary. All comments that add something to the discussion will be upvoted.
This Ethereum blog is exclusive to leofinance.io.
Posted Using LeoFinance Beta
---
---