Should I buy Decentraland (MANA) in 2021?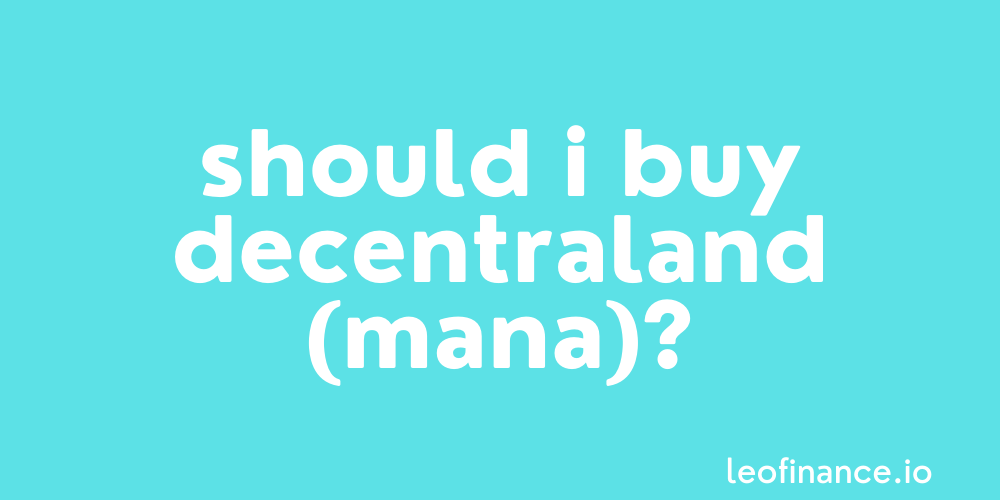 ---
Yes, you should buy MANA because the play-to-earn industry is booming and Decentraland is the most prominent crypto play.
Within the first 5 months of this year, Decentraland (MANA) saw an increase of over 2,000%.
The price of the token moved from $0.08 as of January 1st, 2021, and in 5 months, it reached an all-time high of $1.63.
Projections for 2022 see it getting up to an average of $8 and depending on how the entire industry continues to play out, potentially a lot higher again.
You could successfully dip your toe into MANA now and hodl.
Or even invest in the real estate-stye game with the goal of earning substantial sums in form of accessories and land in the next 3 years.
Our Decentraland (MANA) guide has already shown that investing in the project for the long term might be the best decision you could ever make.
A concept that we explore further in the final section below.
What's Decentraland (MANA) up against?
Decentraland (MANA) has limited competition.
Its virtual gaming properties are currently widely adopted as a means of investment in virtual real estate that can be held or sold as they appreciate in value over time.
Although Decentraland (MANA) is currently back to its level playing field in prices, it still maintains its position as the second-largest blockchain game, just behind Axie Infinity.
Recently, a plot of land on Decentraland was sold at the highest price recorded.
Almost a million dollars!
This purchase was made on 16 acres of digital land by Republic Realm, a real estate investment firm.
And while the game can be played for free, getting started requires the purchase of land which costs around $4,000 at the time of writing, or alternatively a range of other accessories within the game.
Who's buying it?
Decentraland (MANA) has a large market cap of about 1.8 billion and its users have been on the increase.
However, the circulating supply of 1.82 billion tokens has so far kept the bears at bay.
We're starting to see Decentraland having actual utility, thanks to companies like Sotheby's Auction House making it possible for their followers to purchase items from their store using MANA.
Decentraland (MANA) has huge potential through its NFTs and retail market.
Through its own market, users will be able to buy NFTs of certain products - A designer shirt, for instance, while even in some cases being able to exchange that digital item for a physical accessory in the real world.
Decentraland is going to allow the digital and real worlds to overlap like nothing we've ever seen before.
Once you consider the potential of this overlap, you'll quickly come to the conclusion that virtual malls are just a small part of what can be built in the Metaverse via Decentraland.
The only reason to be wary about investing in Decentraland (MANA) is the cryptocurrency volatility
Although those who invested in January have already registered massive gains, those who invested before the crash in May made some huge losses.
However, isn't that the beauty of cryptocurrency?
Volatility is the risk every crypto investor knows about before investing and a long-term investment is the surest way to avoid short-term heartaches.
While Facebook's rebranding to Meta has seen the space pump in the short term, there's no doubting the long term potential of the metaverse, with Decentraland sure to play its own massive part.
Final verdict on whether you should buy Decentraland (MANA) in 2021
It's true that Facebook is an unmatched rival of Decentraland (MANA).
Although Zuck himself claims to be the king of the Metaverse, the reality is that Decentraland (MANA) is already way ahead of the game.
A long-term investment in Decentraland (MANA) is likely to turn out to be a savvy play.
The average projection for 2022 is $8, with an all-time high of $10 and a low point of $7.
Yeah, we know not to trust the predictions completely but with the already large market cap and the increase in utility, this token may well be headed to the moon.
Whether that's the physical moon or virtual moon, we'll leave up to you to decide.
Best of probabilities to you.
---
Direct from the desk of Dane Williams.
Why not share a chart or leave a comment with your opinion on whether you should buy Decentraland (MANA) in 2021. All comments that add something to the discussion will be upvoted.
This Decentraland (MANA) blog is exclusive to leofinance.io.
Posted Using LeoFinance Beta
---
---