The Ripple (XRP) and Stellar (XLM) connection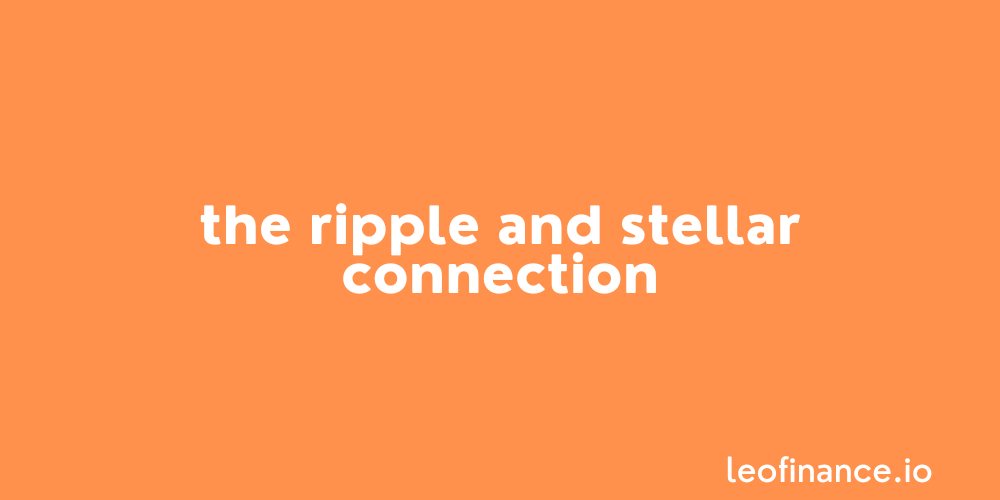 Direct from the desk of Dane Williams.
---
Ripple (XRP) and Stellar (XLM) will forever be connected. Let's take a look at why.
No doubt, you've heard of Ripple (XRP) and Stellar (XLM).
These two competing payment networks have emerged as major players in the space, promising fast and low-cost international money transfers.
But did you know that Ripple and Stellar share a common history and a common founder?
That's right, Jed McCaleb was not only one of the co-founders of Ripple, but he also went on to start Stellar.
In this post, I'll take a closer look at the Ripple/Stellar connection and explore the fascinating story of how Jed McCaleb went from co-founding one cryptocurrency to launching another.

The early days of Ripple (XRP)
Ripple was founded in 2012 by Chris Larsen and Jed McCaleb.
The company's goals were this: Creating a fast, secure, and decentralised (lol) payment network for international money transfers.
But before founding Ripple, McCaleb had already made a name for himself in the world of cryptocurrency.
If you were here really early, you may remember him as the creator of Mt. Gox.
Yes, THAT Mt. Gox!
As Ripple's co-founder and Chief Technology Officer, McCaleb played a critical role in developing the company's technology and infrastructure.
He was responsible for designing the Ripple protocol, a blockchain-based system that enabled the near-instant transfer of money between individuals and financial institutions around the world.
At its core, Ripple's technology was designed to solve a major problem facing the traditional financial system.
That being the slow and costly process of international money transfers.
With Ripple, transactions can technically be completed in just a few seconds.
Not to mention at a fraction of the cost of traditional bank transfers.
One of the key features of Ripple's technology is its use of XRP, the company's native cryptocurrency.
Check out our Ripple guide for more detail, but the basic premise is that XRP serves as a bridge currency.
Thus facilitating the exchange of different fiat currencies and making it easier for financial institutions to move money across borders.
Jed McCaleb's Departure from Ripple
Despite his crucial role in the development of Ripple, Jed McCaleb's tenure at the company was not without its challenges.
Citing disagreements with the company's management team and a desire to pursue new opportunities in the world of cryptocurrency, 2013 saw McCaleb part ways with Ripple.
There were a number of factors that contributed to McCaleb's departure, but the key issue was a difference of opinion over the direction that the company should take.
McCaleb was a strong advocate for the decentralisation of Ripple's network (again lol), believing that this was essential to ensuring the long-term success of the company.
However, other members of Ripple's management team were more focused on building partnerships with established financial institutions, and were less committed to the idea of full decentralisation.
Ultimately, these disagreements proved to be irreconcilable and McCaleb made the difficult decision to leave Ripple.
This is what led to him starting a brand new project that he would be able to take the direction he wanted.
This project would, of course, eventually become Stellar.
The founding of Stellar (XLM)
Essentially Jed McCaleb wasted no time in starting work on his own cryptocurrency project.
While taking a different approach in terms of technology and philosophy, Stellar would actually try to hit most of the same goals as Ripple itself.
The founding of Stellar took place in 2014 and was built on the belief that the existing financial system was broken.
That it was in need of a radical overhaul.
Like Ripple, Stellar aimed to create a more efficient and secure way of making cross-border payments, with the ultimate goal of making financial services accessible to everyone, regardless of their location or economic status.
However, unlike Ripple, Stellar's approach was more focused on decentralisation and open-code.
Stellar's network was designed to allow anyone to issue and exchange their own digital asset, and to make transactions in any currency.
Likewise, without the need for a central authority.
This approach made Stellar a more flexible and adaptable platform.
One that was more in line with McCaleb's vision for a truly decentralised cryptocurrency ecosystem.
I'd once again encourage you to check out our Stellar guide for a much more detailed look into how the network and XLM token works.
Ripple and Stellar today
Moving back to the present day, both Ripple and Stellar continue to play important roles in the world of cryptocurrency.
However, you could say that the two companies find themselves in very different situations.
Unless you've been living under a rock, you'd have heard that Ripple is currently embroiled in a high-profile legal battle with the US Securities and Exchange Commission (SEC).
Ripple's legal troubles stem from allegations that the company violated US securities laws by selling XRP tokens as unregistered securities.
While Ripple has vigorously denied these claims, the company has faced significant challenges in its efforts to defend itself.
Exchanges have been delisting XRP left right and centre, while major partners such as MoneyGram have distanced themselves from the company.
Meanwhile, Stellar has been making steady progress.
In 2019, the company teamed up with IBM to launch a cross-border payments network, and has since expanded its reach through partnerships with major companies such as Visa and Circle.
Stellar has also been active in the world of decentralised finance (DeFi), with its blockchain being used to power a range of innovative new financial applications.
Stellar and Ripple - Forever connected
In my opinion, McCaleb's decision to leave the company and start Stellar proved to be a wise one.
Stellar is ideologically aligned with my own views and has obviously gone from strength to strength in recent years.
Ripple still faces significant legal challenges and dodging that uncertainty was a masterstroke.
Saying that however, the two companies will always remain forever connected thanks to the contribution of Jed McCaleb.
In conclusion, the Ripple and Stellar connection is a fascinating and complex story that is a key part of our evolving cryptocurrency industry.
Best of probabilities to you.
Posted Using LeoFinance Beta
---
---