We know Changpeng Zhao is RICH, but just how much is CZ worth?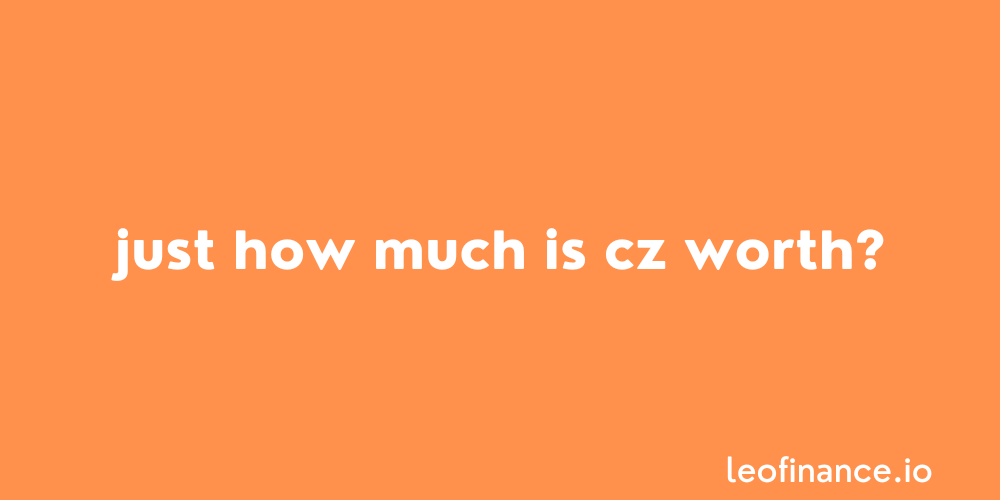 Direct from the desk of Dane Williams.
---
Exploring CZ's 2023 net worth, his path to riches and the challenges of verifying how legit these numbers are due to the opaque nature of crypto.
Binance CEO Changpeng Zhao, also known as CZ, is one of the most influential figures in the cryptocurrency world.
The man, the myth and the enigma has built a reputation for himself as an innovative entrepreneur who has helped drive the growth of the cryptocurrency industry.
However, when it comes to his net worth, there will always be conjecture.
According to Bloomberg's 2023 new finance rich list, CZ is ranked as one of the top three billionaires worldwide with a net worth of $28.2b.

But how accurate is that claim?
Let's take a bit more of a look and let me share my thoughts in the blog post below.
What is CZ's 2023 net worth?
Straight up, the claim of CZ's net worth being $28.2b is probably bullshit.
There's just no way for anyone to be truly able to tell.
After Bloomberg published the article, CZ immediately took to Twitter to address the issue of his net worth.
https://twitter.com/cz_binance/status/1651467819400278016
Predictably, he claimed that Bloomberg's latest finance rich list contains inaccurate information regarding his wealth.
CZ said that he doesn't have anywhere near as much as Bloomberg suggests.
Weirdly, instead of leaving it at that, he cryptically hinted his wealth should be somewhere between Dan Gilbert's $19.4 billion and Uday Kotak's $13 billion.
I'm really not sure why he took that path, but whatever lol.
The ultimate point he's making is that while this may still sound like an enormous sum, it's significantly lower than what Bloomberg claims.
Okay, cool.
How did CZ get so rich?
So how did CZ amass such a vast fortune in the first place, I hear you ask?
The answer lies in his creation of Binance, one of the world's largest cryptocurrency exchanges.
CZ founded Binance in 2017 and the platform quickly became popular among traders and investors around the world.
Today, Binance clears billions of dollars worth of cryptocurrency trades every day and no matter what the US regulator says, it continues to grow in popularity.
CZ's business acumen and innovative approach have undoubtedly played a significant role in Binance's success.
Alongside his unbridled commitment to the crypto industry as a whole.
You can doubt his net worth all you want, but nobody can doubt CZ when it comes to his genuine passion for the industry as a whole.
From there, CZ has also invested in other cryptocurrency projects and businesses, further increasing his wealth.
However, it's worth noting that CZ's wealth is largely tied up in cryptocurrencies such as his own Binance Coin (BNB) and other volatile assets.
This obviously makes it extremely challenging to accurately estimate actual numbers.
Is anything written about how rich CZ is, legit?
As I just spoke about above, given the volatile and often opaque nature of the cryptocurrency market, it's difficult to accurately estimate how much CZ is worth.
While he has claimed that Bloomberg's rich list contains inaccurate information about his wealth, there's really no definitive way to prove how much he's actually worth.
His net worth therefore is whatever he says it is.
Not to mention that CZ also has a strong incentive to downplay his true wealth.
I mean ignoring the obvious tax implications, just by publicly declaring a higher net worth could attract unwanted attention and potentially harm his reputation if the value of his assets were to suddenly drop.
There is just no incentive for CZ to be straight up on the matter and quite frankly, I don't expect him to be.
The bottom line is… CZ is rich as fuck
It's fair to say that everything related to CZ's net worth is just speculation.
What's a few billion between friends though, right?
Lolz.
While he may provide some information about his wealth, there's just no way to truly confirm the accuracy of any statement.
Bloomberg's $28.2b number is probably close.
But ultimately, the true extent of CZ's wealth will likely remain a mystery.
Best of probabilities to you.
Posted Using LeoFinance Beta
---
---