What is Vite?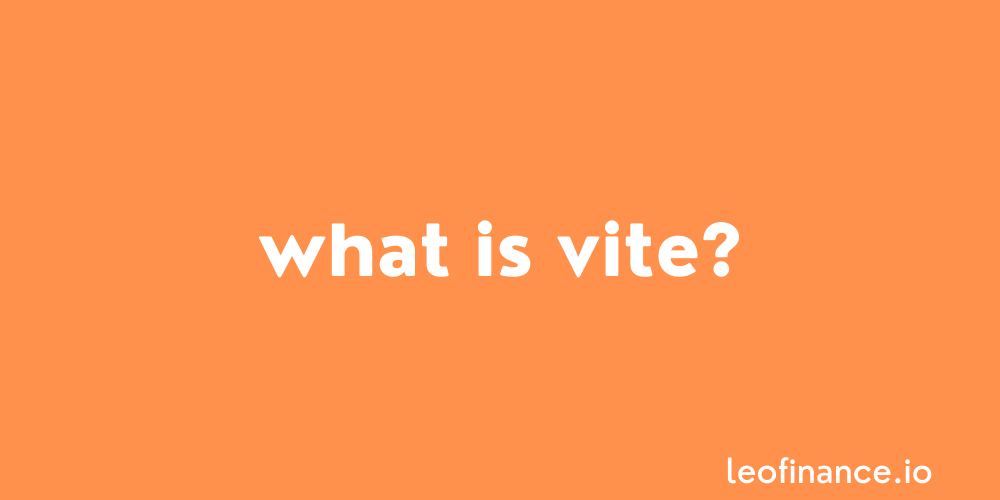 ---
Vite aims to bridge every blockchain in a multi-chain future.
Understanding the different blockchains and their utility is important.
However, understanding how to navigate through the blockchains and connecting them for maximum utility is genius.
Vite has been built as a bridge that connects any 2 blockchains for seamless transactions.
It is the first ledger in the world built on the decentralised open finance platform, DAG.

What is VITE crypto?
Vite is a next-generation reactive blockchain that adopts a message-driven, asynchronous architecture and a DAG-based ledger.
The goal for Vite's design is to provide a reliable public platform for industrial dApps, with features of ultra-high throughput and scalability.
Vite provides trustlessness through the ease of stable coin transfers between different blockchains, instant transfers between blockchains to enhance the use of different ecosystems and serves as a cryptocurrency custodian.
In short, Vite serves as a decentralised bridge between two blockchains.
Vite has a decentralised exchange, ViteX.
This DEX is accessible alongside other decentralised wallet capabilities on the ViteApp mobile application.
The VitePlus is built for governments, whereby donors within a certain community can receive tokens that can be exchanged for goods and services.
Finally, the VitePay is a payment product that permits feeless transactions.
You can now buy VITE on PancakeSwap
As announced in the team's latest Bi-weekly report on
Medium, you can now buy VITE on PancakeSwap.
You can now use BTC or USDT to purchase VITE on the popular BSC based DEX.
For the longest while, Vite has mostly been bought through Binance and 10 other exchanges, including ViteX.
However, Binance records the highest trading volume of around $5.5m every 24 hour period.
Staking VITE
Staking Vite means holding Vite tokens in ViteX for periodical rewards.
By holding onto ViteX, you can receive quotas that don't exactly have a price, but are useful as miners fees.
Types of Vite Staking and Rewards
As mentioned above, you can earn quotas from staking Vite and holding ViteX.
This is one way of staking and earning quotas as rewards.
It's great for miners as quotas are used to eliminate mining fees.
Vite tokens can be retrieved at any time after the 3 day lock period.
However, the moment you unstake, the quotas disappear.
For as long as your tokens stay staked, you will receive quotas.
Alternatively, you can stake Vite to earn VX and then stake VX to earn ETH, BTC and USDT.
There's a 7 day waiting period if you decide to unstake and within this period there will be no rewards.
The locking period still takes 3 days, however, the VX received can be locked in a smart contract and ETH, BTC and USDT rewards can be received.
There's still a 7 days period if you decide to unstake.
More on Staking VX on the Vite Blockchain
The only downside with staking is that you might not be able to sell your VITE quick enough if the price goes up.
The 7 days unstaking period could make you miss out on the pump if it's brief and unexpected.
However, the best part about staking is that you earn VX passively and by staking it on the Vite blockchain you earn dividends in BTC, ETH and USDT.
These are certainly some incentives worth looking into.
Best of probabilities to you.
---
Direct from the desk of Dane Williams.
Why not leave a comment and share your thoughts on what is Vite within the comments section below? All comments that add something to the discussion will be upvoted.
This Vite crypto blog is exclusive to leofinance.io.
Posted Using LeoFinance Beta
---
---