My new token DragonSushi, whats that? IS IT EDIBLE? No, sorry its not. Yet.....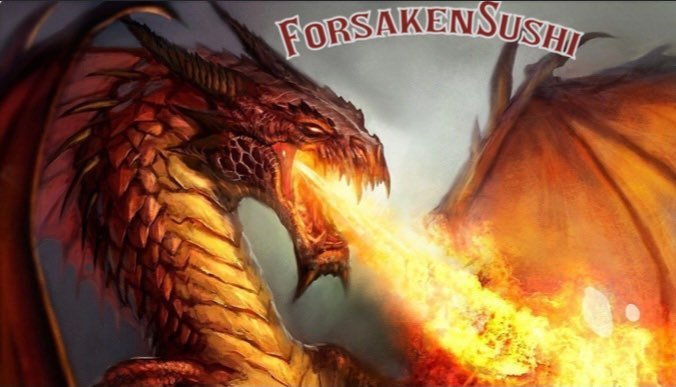 Hello everyone! ForsakenSushi here! I have some exciting news! I have made my own token on Hive! It had been my plan mid 2021 to create and launch a token on the Binance Smart Chain. That was the first chain I had experience with crypto so that was my obvious choice for sake of familiarity. I wrote up a whitepaper, made a website, got my best friend in real life as a partner. Found 2 coders so I could hedge my bets, one was the creator of the coin that was my second but main investment in crypto, he said he would create it for me in June 2021. I also thought lets set someone else on the path also just in case, so I found on open zeppelin a college student who was looking for a project and had the cheapest prices, he only wanted $1000 to make the coin, but i offered him $500 and 5% of the token when it launches, and he agreed. In sept I stopped hearing from the college student, who had said he was just about done but I asked him to make 1 adjustment to the code nothing major. Then radio silence. The creator of my main investment coin, proceeded to use my ideas in launching the next 3 or 4 tokens he made, splitting each concept I had put in one, between the coins. I actually asked him again in oct, when I hadnt heard from the college kid, and he said again he would do it. To this day nothing from the creator. So I found out you can make your own token pretty easily on hive without coding experience, so I tried it 2 nights ago, and I got it to work!!! I tell you the universe is a funny thing, you know who messaged me today after 5 months of radio silence? the college kid asking if I still wanted him to code the token!!! WOW ironic!!! The total cost was less than $100 amazing, hive is truly a wonderful blockchain indeed.
If you search "Sushi" in the hive engine, you will notice there is but one, Sushi of Hive. We are that Sushi.

Behold observe our vital statistics at day 1: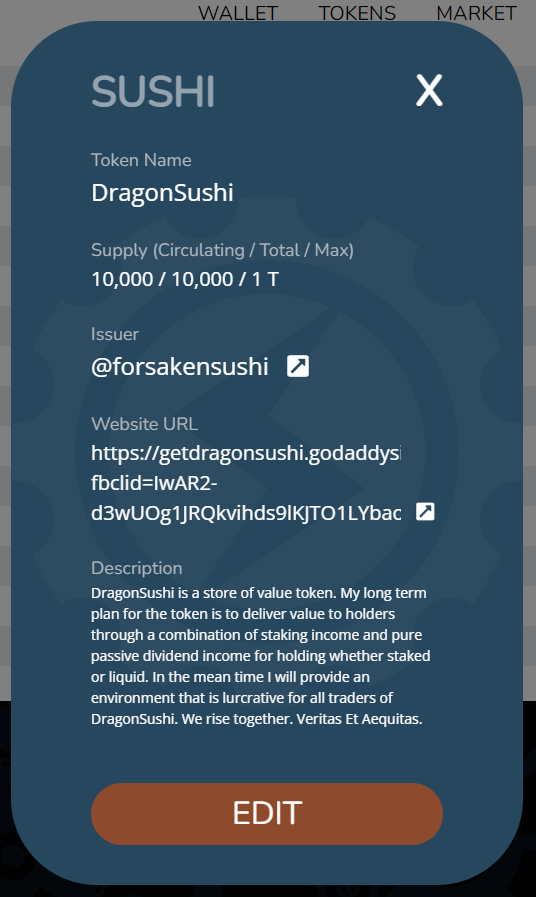 Supply:
First off lets discuss a vital topic, the token supply. The total maximum that is allowed to ever exist is 1 Trillion tokens. That seemed like an appropriate number to me but the total supply is not too relevant because the token is not meant to fluctuate wildy, but ill get into that later.
Currently I have issued 10,000 DragonSushi Tokens. I will issue between 0 and 10,000 tokens per month at a maximum, as demanded by the market only. I will include the issuance amounts in status reports. For a matter of record that means by the end of 2022 no more than 120,000 tokens in total may be issued.
2023- 240,000 DragonSushi Tokens
2024- 360,000 DragonSushi Tokens
2025- 480,000 DragonSushi Tokens
Price and Buybacks:
As you will see below the price range I wish to establish is between 0.50 hive and 1.00 hive. Most veterans of hive will likely think I am either a lunatic or scammer to attempt to start my token off at such a high price, I am new to the hive blockchain and have only been around since August. But there is a method to my madness.
I will be the JP Morgan buyer of last resort for DragonSushi at all times. I will use the proceeds from any sale of DragonSushi to place a infinite replenishing buy at all times for DragonSushi in large amounts at 0.50 hive. This will provide a margin of safety for buyers of the tokens and even arbitrage opportunities for investors because hive fluctuates.
I will only sell at the price levels indicated below, except for special pricing offers when I post regarding DragonSushi, like this post. Every time I post an update or information, I will place on the market 1 DragonSushi at 0.51 hive, and 100 DragonSushi at 0.75 hive. These will get the party going. The idea is, the investors can buy and sell all day between 0.50 and 1.00 hive all day and make a spread on the coin and I will not get involved at all, ever, the profits of the trading I leave to the community, I will though use all proceeds from sales to immediately add to the buying wall at 0.50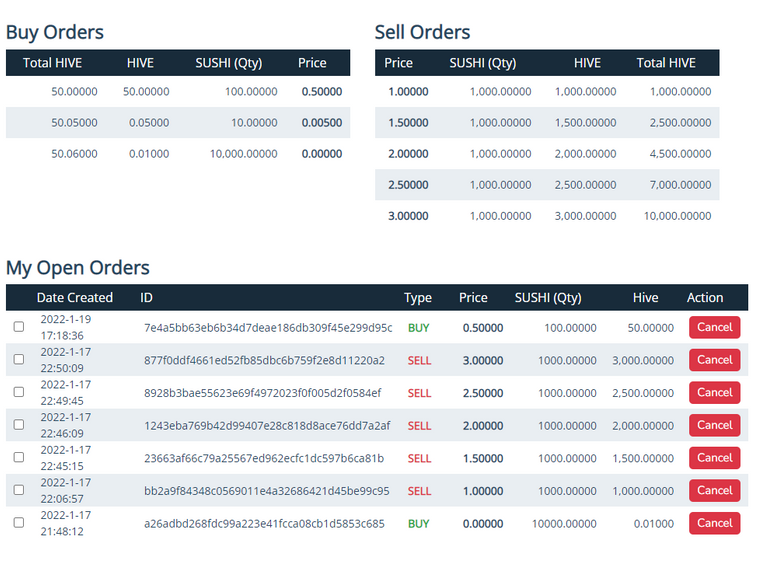 Long Term Plans:
Staking
Staking is definitely a feature I want to incorporate in the future. I stake all tokens I receive for the most part up until recently when I began experimenting with liquidity pools. The estimated cost to unlock staking is $800-$1000, even on hive. So I hope to unlock that by summer, worst case scenario by Christmas.
Dividend Income
Dividend income is very high on my list of things I want to incorporate, but at this time Im not sure about the functionality of how to do it, I dont know if I need a coder, or I just havent noticed where the option is to unlock this, any help would be appreciated. I hope to pay dividend income to liquid and staked holders of the token in the future.
---
---