Ground Breaking Milestone for Crypto and Blockchain Technology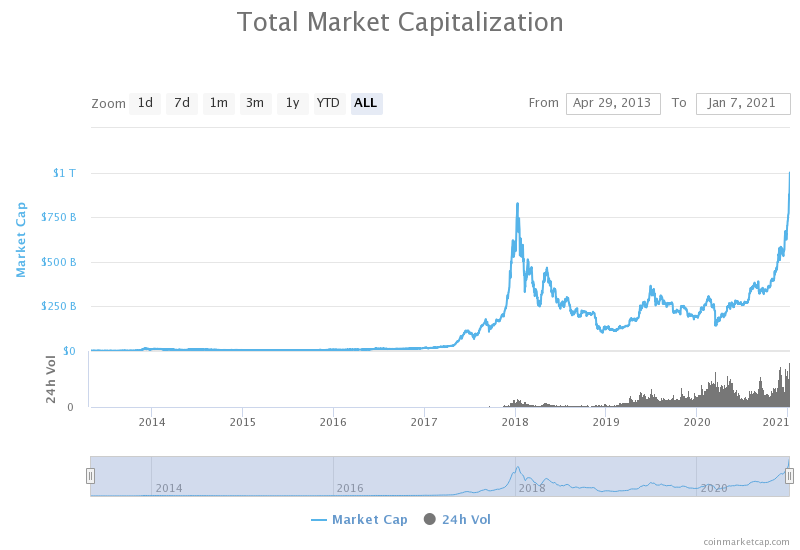 One Trillion of Market Capitalization
For the first time in history, cryptocurrency is estimated to have reached an astonishing one trillion US Dollars in market capitalization (according to https://coinmarketcap.com/charts).

This is a legendary moment for crypto. Something that for many will be now remembered and that for many of us was already an anticipated moment and maybe a surprise for a few, on who from now on will surely capture a bit more of attention.
With a pumped dominance by BTC (around 2/3's), most markets are bullish at the moment. Might COVID19 be helping here too? Most surely yes. Will, at most create some pressure.
Many skeptical minds would say this is just a tiny drop compared with FIAT capitalizations, and that this does not even represent any big shift on financial economies. Although, if you compare the same statement 5 years ago, when the coverage of crypto-enabled technologies and services around the world was not yet dominated by the same current ability to include crypto payments in any online or physical store, it becomes clear where the future promises hedge dominance in terms of money technology capitalization.
It's just a matter of time!
I am posting this as to both create awareness and to celebrate the epic moment 🤑

If you have an account on Twitter (follow @forkyishere) and you enjoy #news about the #HIVE blockchain, make sure you tweet about any reference to your account here. I am following all HIVE users!

Check these Cryptocurrency 💳Cards
Posted Using LeoFinance Beta
---
---