How Lucrative is Blockchain Storage?

I am going to use the topic to give you an update on how the continuation of my STORJ node is going.
Why Storage is such a big hidden gem?
If you ask me, a guy that works with all kinds of it every day, I would say that it looks cheap in the beginning... but once you can't live without it, it is when it becomes expensive.
So, in its essence, storage is cheap and relatively easy to expand, provided the right hardware+software. What becomes hard to do, and especially for blockchain technology, is to either distribute it or make it highly available (while distributed). Performance is also a factor, but yet something not yet supper demanding due to the inherent factors of being already distributed which is to be scalable as well.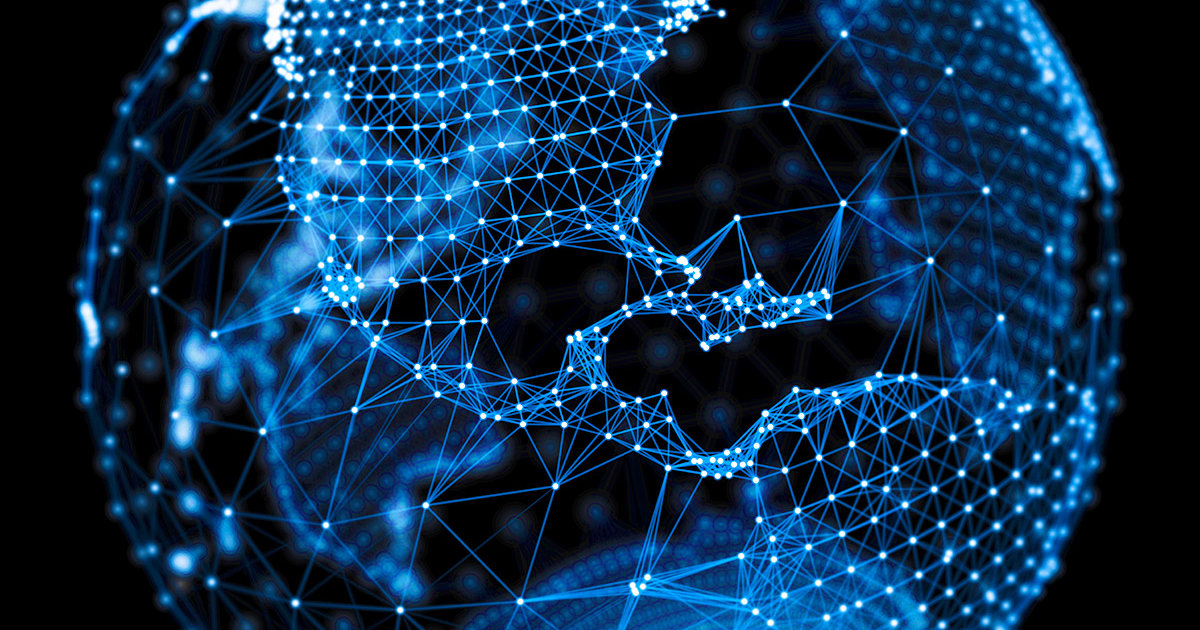 (source)
Cloud is a big monster of storage, if not currently the biggest player on storage worldwide, then probably cold storages, like tapes and other media that consume near-zero watts per year to store data.
The potential not yet explored by the blockchain industry is immense, and if you think things like SIA and STORJ or even FILECOIN or BURST are "blahhh" experiments, not lucrative enough to get your attention. Then I would urge you to keep a little corner of your eye paying attention to them. Probably not something soon yes, but it will give you an edge for when its time (I only knew about bitcoin in 2013... and all I regret is to not have found it before).
Storage providers for IPFS Solutions
This is probably the most widely used protocol for distributed storage, which has also survived the longest I would say. It is not tokenized per si but commonly paired via "on-top" solutions that reward based on its usage.
A big project that is trying to make use of this and from which I am eagerly waiting is 3Speak. Check the experimental dapp here: https://hive.blog/hive/@theycallmedan/hive-video-desktop-ipfs-dapp-release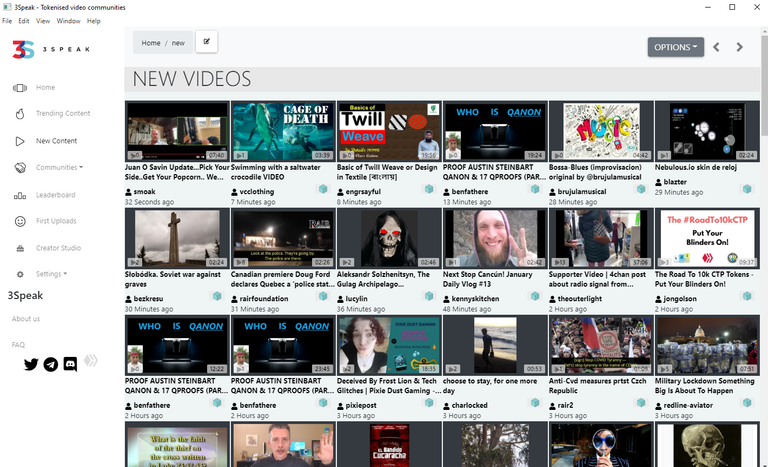 (source: @theycallmedan post)
These kind of projects are important two-fold... they are the next (not last) step towards full decentralization of web3 based blockchains like HIVE (well, there is a couple of other things missing, but they are too technical and the internet, as we know, won't work without them anyway, so let's discard them for now) and a sustainable path towards maintaining blockchain technology independent from industry monopolization attempts, or even political or governmental.
STORJ
This is so far, my best experience with something I can call, distributed blockchain storage. I must say that at some point I did not believe they would succeed, especially not using their own chain (they run over Ethereum contracts). But I was wrong! They are becoming slowly, step by step, a very competitive open-source solution for enterprise-class communities based on distributed blockchain storage.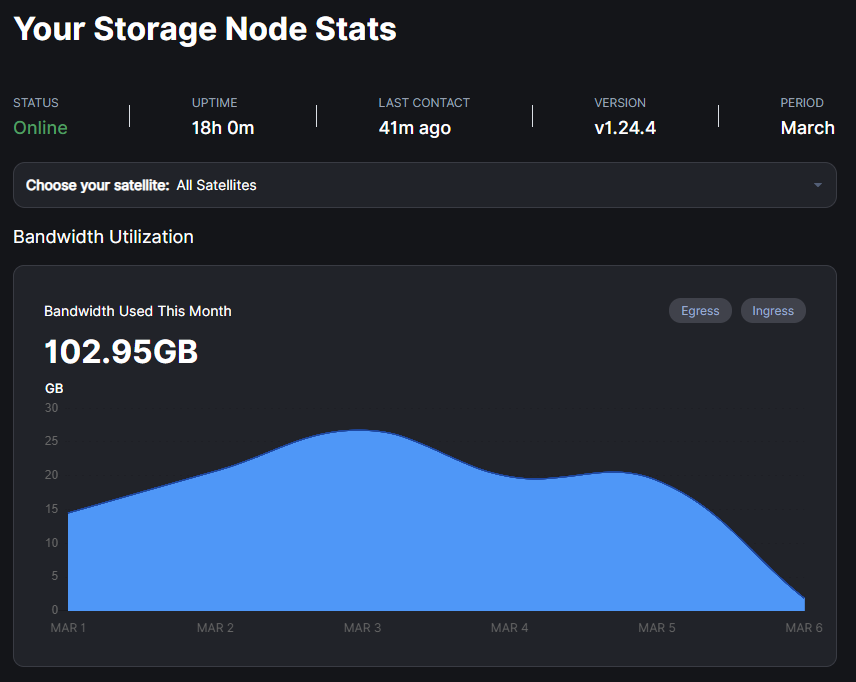 Initially and being a node that runs from New Zealand, I thought that this would never go anywhere, but lately, with each new version and higher restrictions on how you can operate, the network is becoming way more responsive and performant.

This node is only a 2TB disk that I initially started as an experiment... it's near full all the time. But if you are starting from scratch it will take some time till it becomes full. It requires you to have some reputation and also proof of time online, otherwise, everyone would pay a higher price. You can compare this to how stable we need witness nodes to be on the HIVE blockchain.
Profit wise it does not make anyone rich... yet!

2TB is nothing for me... and probably for many people out there. Still, $10 per month to sustain it is more than enough. Actually, for me, it would be around the range of $2-3 per disk, discarding equipment purchases. We can't use the $10 above because it includes uploads (which is where most of the reward comes from), but let's assume that you need at least 2TB disks to energy-wise support the running costs (which is sort of what I have calculated for this node).
Then everything you do above it will be a simple ROI game
Today most disks are above 2TB size (rotating storage)... you don't need fast storage for this kind of game. All you need the most efficient you can get. So, lots of Terabytes for the lowest amount of energy to maintain and operate them.
Here is a breakdown for better understanding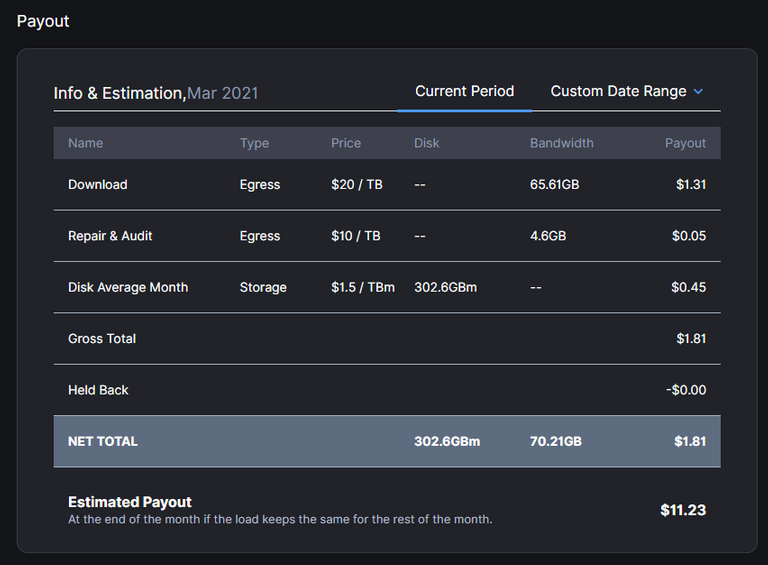 I took it after writing the post (hence the different estimated value, which changes quite often).
Do you get it now?
ROI is basically paid the more the project succeeds given you know your entry point. Disks are getting more and more efficient, so eventually, the cloud will need to compete with singular people.
The distribution of blockchain storage will always be cheaper to maintain compared with cloud storage (centralized), because of the additional infrastructure they need to support. This is just a question of code maturity and awareness.
Because distributed storage will be always performant enough at a large scale (at least for most applications) the more distributed it is, the more bandwidth it will have and since making it so well distributed adds up on the redundancy and resilience of data, the requirements to support worldwide distributed storage become affordable by almost anyone!
Proof? Yep, STORJ...
But there are others in the race. Exciting news will come!
As another simple example of distributed storage competition... check this project on Indiegogo.

If you have an account on Twitter (follow @forkyishere) and you enjoy #news about the #HIVE blockchain, make sure you tweet about any reference to your account here. I am following all HIVE users!

Check these Cryptocurrency 💳Cards
Posted Using LeoFinance Beta
---
---