FaucetPay: Tù Primera Wallet de Bitcoin /FaucetPay: Your First Bitcoin Wallet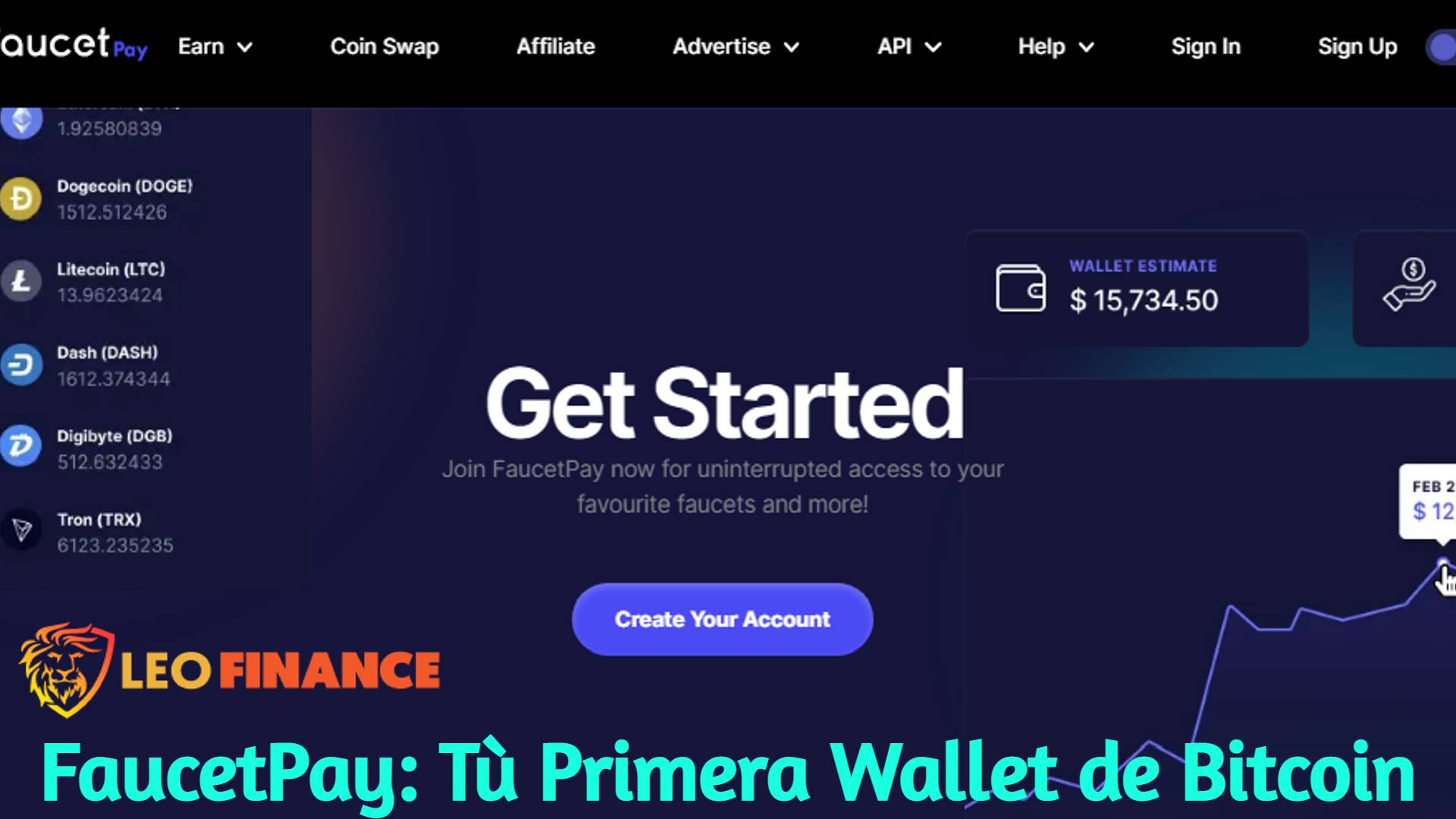 ☀️ FaucetPay: Tù Primera Wallet de Bitcoin
Según los analistas y expertos del mundo de las criptomonedas, Bitcoin, es la principal de todas ellas y sin duda alguna, la más importante a tener en nuestras reservas de monedas digitales. Esto es aún más determinante, si observamos el comportamiento a lo largo de los años desde que esta moneda fue lanzada.
Una de las principales limitaciones para aquellos que incursionan en el espacio de las criptomonedas, es el desconocimiento de como manejar, almacenar y usar estas monedas. Esto aplica incluso con usuarios veteranos de nuestra blockchain, que solo conocen y manejan HIVE y HBD, nativas de nuestra cadena. Otra razón para evitar involucrarse, viene dado por no saber como conseguir sus primeras criptos sin la necesidad de invertir o gastar su propio dinero, principalmente por ese miedo a perder lo que tanto les ha costado.
Para tratar de hacer un poco más fácil esa primera experiencia con el mundo cripto, tenemos la plataforma de FaucetPay, un espectacular servicio de billetera, ganancias y micropagos, en donde podremos ganar y almacenar las principales criptomonedas del mercado, tales como Bitcoin, Ethereum, Dogecoin, Litecoin, Matic, Tron, USDT, Dash y muchas más.
☀️ FaucetPay: Your First Bitcoin Wallet

According to analysts and experts in the world of cryptocurrencies, Bitcoin, is the main of them all and without a doubt, the most important to have in our digital currency reserves. This is even more determinant if we look at the behavior over the years since this coin was launched.

One of the main limitations for those entering the cryptocurrency space is the lack of knowledge on how to manage, store, and use these coins. This applies even to veteran users of our blockchain, who only know and handle HIVE and HBD, native to our blockchain. Another reason to avoid getting involved is given by not knowing how to get their first cryptos without the need to invest or spend their own money, mainly because of that fear of losing what has cost them so much.

To try to make that first experience with the crypto world a little easier, we have the FaucetPay platform, a spectacular wallet, earnings, and micropayments service, where we can earn and store the main cryptocurrencies on the market, such as Bitcoin, Ethereum, Dogecoin, Litecoin, Matic, Tron, USDT, Dash and many more.

FaucetPay ofrece servicios muy completos e interesantes para sus usuarios, entre los que se encuentran, el permitirte disponer de una billetera de criptomonedas donde podemos recibir, almacenar y enviar diferentes criptomonedas, un ideal servicio de intercambio instantáneo, con el que puedes cambiar entre las diferentes criptos que poseas, opciones para ganar y multiplicar esas ganancias a través de pagos por ver anuncios, ofertas, juegos, encuestas, programa de referencias, staking y un completo y siempre actualizado listado de las principales, mejores y más seguras páginas y faucet donde podrás ir ganando y acumulando muchas criptomonedas, incluida Bitcoin.
Además, dispone de un programa de publicidad, en el que los anunciantes podrán crear campañas de promoción de sus negocios, servicios y ofertas, con la seguridad de contar con un tráfico calificado y de alta eficiencia. También ofrece un servicio de API para crear tu propio grifo de criptomonedas, el cual es muy versátil y ha permitido a muchos usuarios maximizar sus ingresos. Incluye además una API para comerciantes, por lo que se puede integrar a un negocio o tienda virtual y de esta manera, aceptar pagos en criptomonedas que van directo a la billetera del comerciante.
FaucetPay offers very complete and interesting services for its users, among which are, allowing you to have a cryptocurrency wallet where we can receive, store, and send different cryptocurrencies, an ideal instantaneous exchange service, with which you can exchange between the different cryptos you own, options to earn and multiply those earnings through payments for viewing ads, offers, games, surveys, referral program, staking and a complete and always updated listing of the main, best and safest pages and faucet where you can earn and accumulate many cryptocurrencies, including Bitcoin.

In addition, it has an advertising program, where advertisers can create promotional campaigns for their businesses, services, and offers, with the security of having qualified and highly efficient traffic. It also offers an API service to create your own cryptocurrency faucet, which is very versatile and has allowed many users to maximize their income. It also includes an API for merchants, so it can be integrated into a business or online store and thus, accept payments in cryptocurrencies that go directly to the merchant's wallet.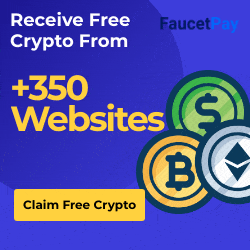 Crear una cuenta en FaucetPay es tan simple como dar clic aquí o en el banner de abajo y una vez allí, indicar un nombre de usuario, ingresar una dirección de correo electrónico y establecer una contraseña Una vez cumplido este paso, se te enviará un correo de verificación y confirmación y una vez verificado, podrás acceder y utilizar todos los servicios que te ofrece FaucetPay.
Creating an account in FaucetPay is as simple as click here or on the banner below and once there, indicate a username, enter an email address, and set a password. Once this step is completed, you will be sent a verification and confirmation email and once verified, you will be able to access and use all the services offered by FaucetPay.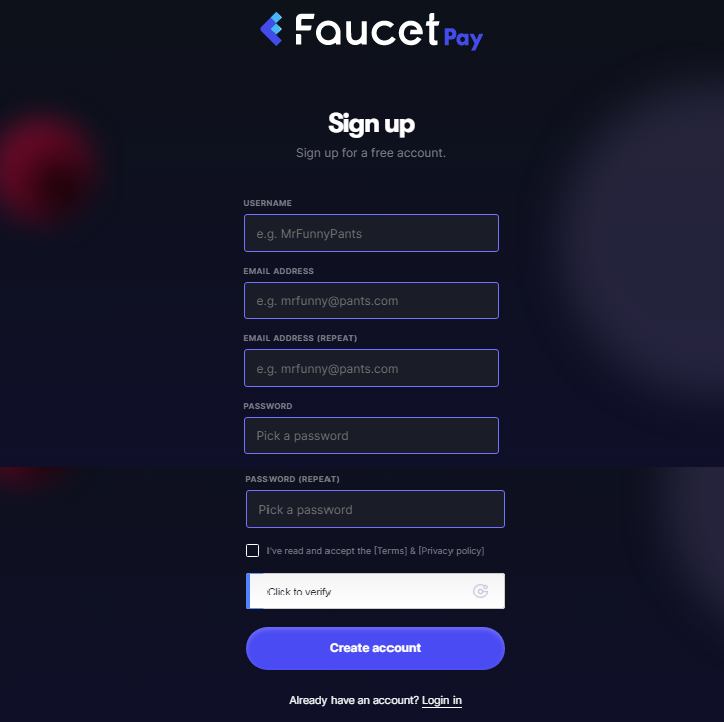 Una vez registrado, podrás iniciar sesión y acceder a tu Tablero, donde verás, en principio, una vista general de tu cuenta, con el saldo que mantengas al momento en cada una de tus billeteras. Se te presenta un listado con los últimos pagos recibidos y el saldo de cada una de tus criptomonedas Desde aquí, podrás navegar por cada una de las opciones que pone a tu disposición la plataforma.
Once registered, you will be able to log in and access your Dashboard, where you will see, at first, an overview of your account, with the balance you currently have in each of your wallets. You will be presented with a list of the last payments received and the balance of each of your cryptocurrencies. From here, you will be able to navigate through each of the options available on the platform.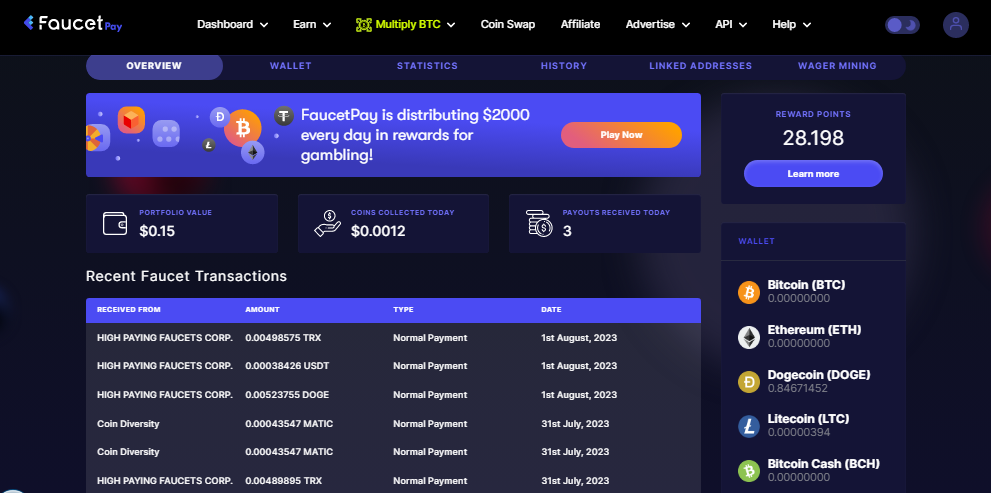 Cada día que inicies sesión, recibirás Puntos de Recompensa, los cuales podrás utilizar luego para canjearlos por dinero real o potenciadores. Estos puntos de recompensa se incrementan a razón de uno cada día, siempre y cuando inicies sesión. Esto significa que el primer día recibes un punto, el segundo dos puntos, tres puntos el tercero y así sucesivamente hasta llegar a 100, que es igual a iniciar sesión 100 días continuos. A partir de allí, si te mantienes iniciando sesión a diario, recibirás esos 100 puntos de recompensa cada día. Si en cualquier momento fallas en iniciar sesión un día, el conteo se reinicia de nuevo en un punto cada día. Como puedes ver, llevo actualmente 42 días continuos iniciando sesión y las veces que no he podido hacerlo, ha sido por causas fuera de mi control.
Each day you log in, you will receive Reward Points, which you can then use to redeem for real money or power-ups. These reward points increase by one every day, as long as you log in. This means that on the first day, you receive one point, on the second day two points, three points on the third day, and so on until you reach 100, which is the same as logging in for 100 continuous days. From then on, if you keep logging in every day, you will receive those 100 reward points every day. If at any time you fail to log in one day, the count restarts again at one point each day. As you can see, I have been logging in for 42 continuous days now and the times I have failed to log in, it has been for reasons beyond my control.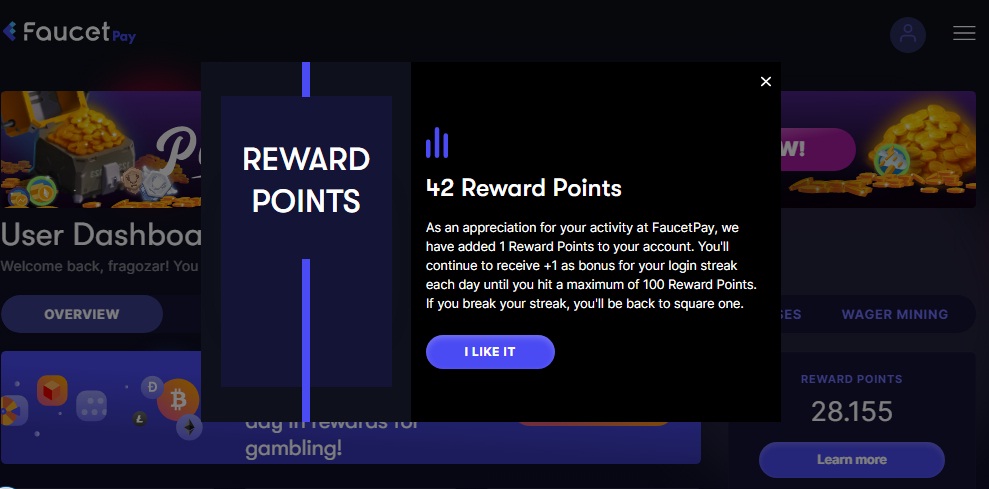 Ahora puedes comenzar a obtener ganancias para llenar tus billeteras. Una buena opción que puedes usar para iniciar, es la sección de Pago Por Clic, en donde cada día podrás visualizar los anuncios que están disponibles y recibir el pago en la moneda USDT. Pero para activar esta opción cuando recién comienzas en FaucetPay, requieres haber recibido al menos 5 pagos en tu cuenta de cualquier otra fuente. La manera más sencilla de cumplir con este requisito, es a través de las faucets o grifos.
Now you can start earning to fill your wallets. A good option you can use to get started is the Pay Per Click section, where every day you can view the ads that are available and get paid in USDT currency. But to activate this option when you just start in FaucetPay, you need to have received at least 5 payments in your account from any other source. The easiest way to fulfill this requirement is through faucets.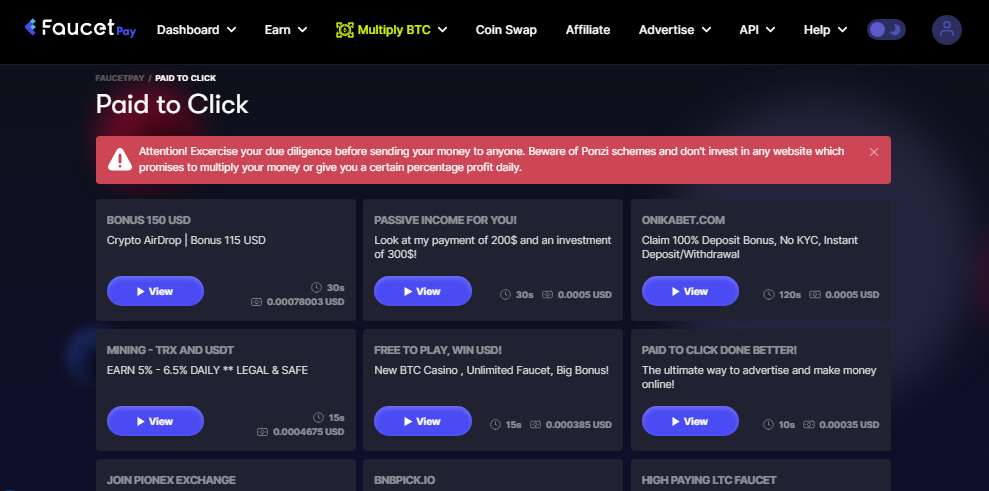 En la sección Lista de Faucets podrás visualizar un amplio listado de todas las páginas que aceptan a FaucetPay como medio de pago. La mayoría no cobran comisiones y en algunas de ellas, estas comisiones son muy bajas. Ten presente que muchas páginas tienen un límite mínimo para poder retirar las ganancias, mientras que otras pagan directamente y al instante a tu billetera cada vez que haces un reclamo. Particularmente prefiero las de pago directo, pero puedes probar lo que más te convenga. Te dejo aquí una faucet que te otorga cinco pagos diarios a tu cuenta en varias monedas Es tan simple como seleccionar una de las criptomonedas disponibles, colocar la dirección de tu billetera de FaucetPay y resolver el desafío. De inmediato recibirás el monto en la moneda seleccionada y solo debes esperar un minuto entre cada reclamo:
CoinDiversity: Reclama Cinco Veces, Criptos Gratis Cada Dia
In the List of Faucets section you will find a list of all the sites that accept FaucetPay as a payment method. Most of them do not charge commissions and in some of them, these commissions are very low. Keep in mind that many sites have a minimum limit to withdraw your winnings, while others pay directly and instantly to your wallet every time you make a claim. I particularly prefer the direct payment ones, but you can try what suits you best. Here is a faucet that gives you five daily payments to your account in various currencies. It is as simple as selecting one of the available cryptocurrencies, entering the address of your FaucetPay wallet, and solving the challenge. You will immediately receive the amount in the selected currency and you only have to wait one minute between each claim:
CoinDiversity: Claim Five Times, Free Cryptos Every Day.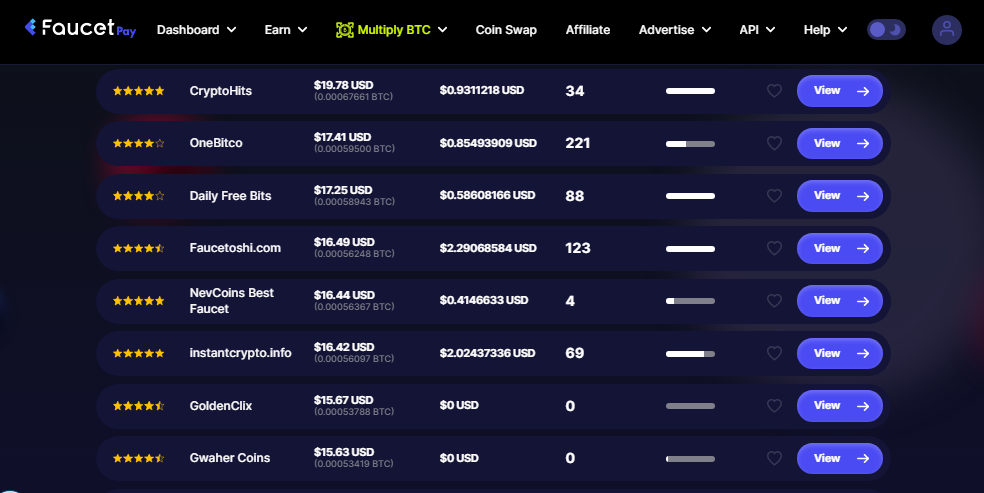 Para conocer el detalle de cada una de tus cuentas, dirígete a la sección Billeteras. Aquí podrás visualizar y manejar cada una de las billeteras que tienes disponibles. Si haces clic en Depositar se abrirá una ventana y te mostrará tu dirección de billetera de esa criptomoneda. Puedes escanear el Código QR o copiar la dirección y pegarla en el sitio donde estés solicitando un pago o transferencia. Aunque FaucetPay es un sitio de micropagos, debes verificar los montos mínimos que deseas depositar en tu cuenta, a fin de no sufrir perdidas por la omisión de este detalle.
To know the details of each of your accounts, go to the Wallets section. Here you will be able to view and manage each of your available wallets. If you click on Deposit a window will open and show you your wallet address for that cryptocurrency. You can scan the QR Code or copy the address and paste it into the site where you are requesting payment or transfer. Although FaucetPay is a micropayment site, you must verify the minimum amounts you wish to deposit in your account, in order not to suffer losses due to the omission of this detail.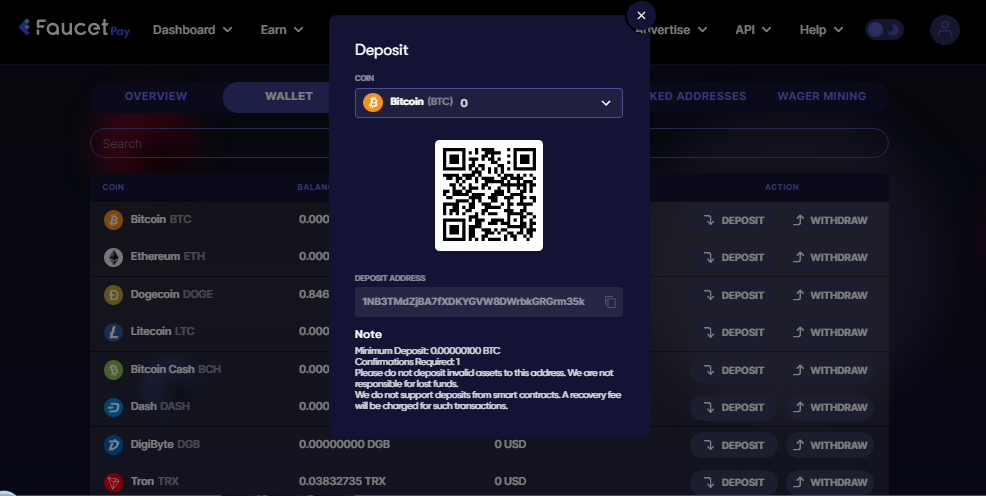 Para realizar un retiro, deberás primero haber vinculado la dirección de la billetera en donde recibirás el monto que solicites retirar. Esto lo puedes hacer en la sección Direcciones Vinculadas, donde podrás elegir un nombre y pegar dicha dirección. Asegúrate de realizar este proceso correctamente y siempre verifica estos datos antes de realizar cualquier retiro. Especialmente si vas a enviar monedas a HiveEngine, debido a que la dirección para depositar siempre es diferente y deberás vincular la dirección que te muestra HiveEngine en el momento de realizar la transferencia desde FaucetPay.
To make a withdrawal, you must first have linked the wallet address where you will receive the amount you request to withdraw. This can be done in the Linked Addresses section, where you can choose a name and paste the address. Make sure you do this process correctly and always verify this information before making any withdrawals. Especially if you are going to send coins to HiveEngine because the deposit address is always different and you will have to link the address that HiveEngine shows you at the moment of making the transfer from FaucetPay.

La sección de CoinSwap te permite realizar intercambios entre las diferentes monedas que poseas. Esta es una sección muy conveniente y útil, que te puede permitir generar algunas ganancias aprovechando la volatilidad de las criptomonedas. Los intercambios son instantáneos y puedes realizar los que consideres te generen un mayor beneficio. De igual manera, esta misma volatilidad presente en el mundo de las criptos, podría hacerte perder dinero, por lo que deberás estar atento a los movimientos del mercado al momento de realizar tus intercambios.
The CoinSwap section allows you to make exchanges between the different currencies you own. This is a very convenient and useful section, which can allow you to generate some profits by taking advantage of the volatility of cryptocurrencies. The exchanges are instantaneous and you can make the ones that you consider will generate the most profit. Likewise, this same volatility present in the world of cryptos could make you lose money, so you should be aware of market movements when making your trades.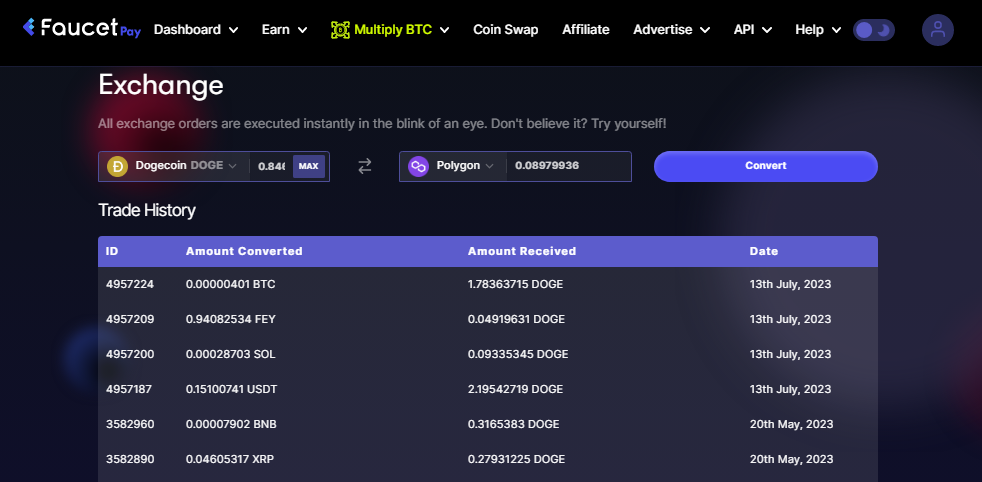 Sin duda alguna FaucetPay es una plataforma muy robusta, confiable y segura. Considero que es la opción más sencilla para adentrarse en el mundo de las criptomonedas y que ha brindado a una amplia cantidad de usuarios, soluciones rápidas y efectivas para manejar montos muy pequeños de las principales criptomoneda del mercado. Por si esto no fuera poco, su equipo de trabajo se mantiene innovando y esforzándose por prestar un servicio de alta calidad, con una seguridad destacable y una sencillez de uso e implementación. Aún me queda mucho por hablar de esta plataforma y seguramente en otro post ampliaré más sus beneficios. Si necesita una dirección de billetera de alguna de las principales criptomonedas del mercado, no dude en confiar en FaucetPay.
Without a doubt FaucetPay is a very robust, reliable, and secure platform. I consider it the easiest option to enter the world of cryptocurrencies and has provided a large number of users with fast and effective solutions to manage very small amounts of the main cryptocurrencies in the market. As if this were not enough, its team keeps innovating and striving to provide a high-quality service, with outstanding security and simplicity of use and implementation. I still have a lot to talk about this platform and surely in another post, I will expand more on its benefits. If you need a wallet address for any of the main cryptocurrencies on the market, do not hesitate to trust FaucetPay.

Este post es de mi autoría y expreso en él, mis experiencias y aprendizajes cada día en este Blockchain. Todas las imágenes son editadas por mí y corresponden a capturas realizadas en mi PC y las fuentes están indicadas en cada caso. Si te gusta, puedes dejar un comentario u opinión y tu voto favorable.
This post is of my authorship and I express in it, my experiences and learnings every day in this Blockchain. All images are edited by me and correspond to captures made on my PC and the sources are indicated in each case. If you like it, you can leave a comment or opinion and your favorable vote.


---
Edición de Imágenes con/Images Editing by Pixlr.com
Traducido con/Translate with DeepL Traductor
Ortografía y Gramática con/Spelling and Grammar with Corrector Castellano.com
Posted Using LeoFinance Alpha
---
---