New LARYNX ClaimDROP and SPKNetwork Proposal [ESP/ENG]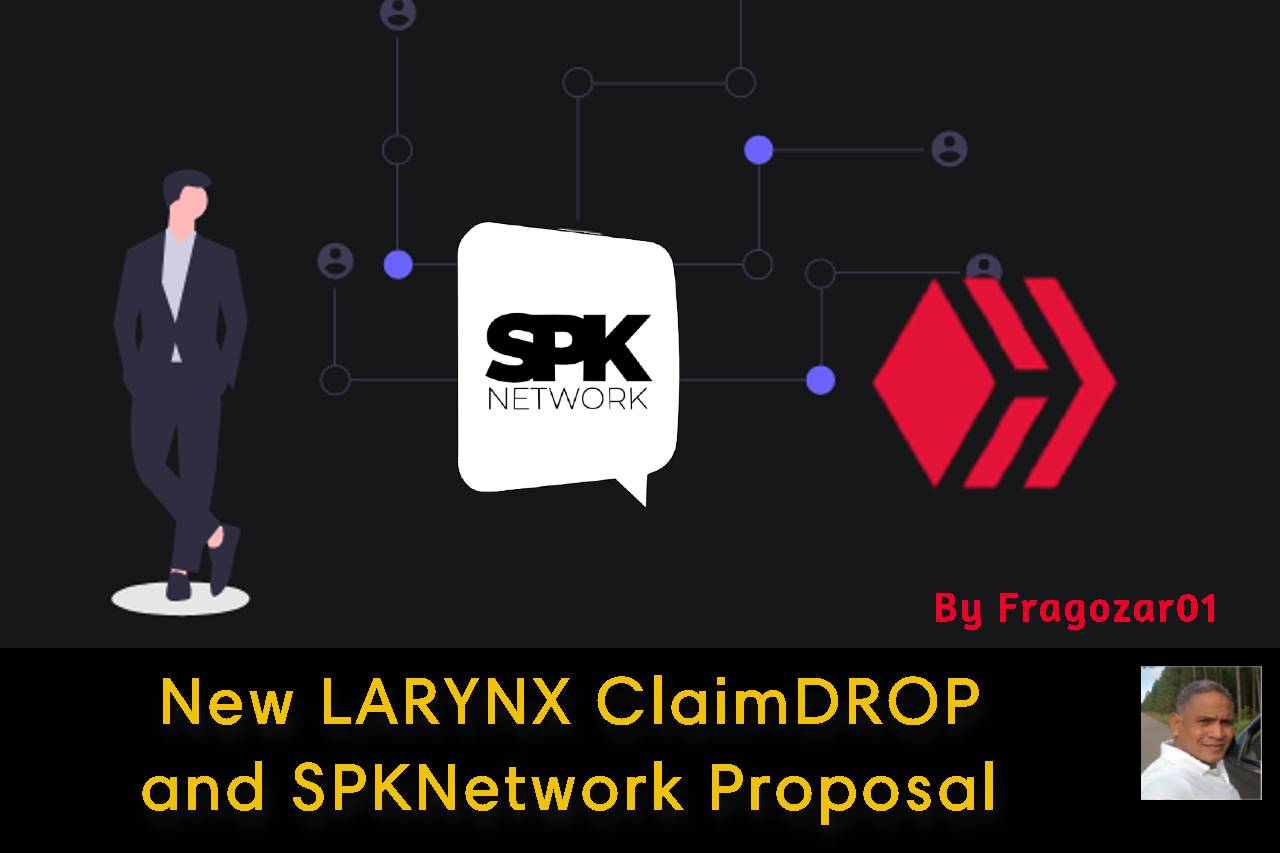 Nuevo Reclamo de LARYNX y Propuesta de SPKNetwork
Saludos, mis queridos amigos de Hive Blockchain. Estamos a mediados de septiembre y esto nos indica que tenemos una nueva oportunidad de realizar el ClaimDrop mensual de nuestro token LARYNX perteneciente a la red @spknetwork. Como siempre, les recuerdo que este reclamo está disponible únicamente para los usuarios de HIVE que el día 6 de enero de este año, tenían en sus cuentas las monedas de nuestra cadena de bloques, ya que en esa fecha se realizó una instantánea de esas monedas y basados en esa cantidad, se definió el ClaimDrop para cada uno, dividido en 12 meses. Entonces, este sería mi sexto reclamo del año, por lo que aún quedan seis meses más para esta actividad. Te comparto aquí debajo, mi última publicación sobre SPKNetwork y como se pueden delegar los LARYNX para generar ingresos.
New LARYNX ClaimDROP and SPKNetwork Proposal

Greetings, my dear friends at Hive Blockchain. We are in the middle of September and this tells us that we have a new opportunity to make the monthly ClaimDrop of our LARYNX token belonging to the @spknetwork network. As always, I remind you that this claim is only available for HIVE users who on January 6th of this year, had in their accounts the coins of our blockchain, since on that date a snapshot of those coins was taken and based on that amount, the ClaimDrop was defined for each one, divided in 12 months. So, this would be my sixth claim of the year, so there are still six more months left for this activity. I share with you here below, my last post about SPKNetwork and how LARYNX can be delegated to generate income.

Delegate your LARYNX and Generate Income in SPK Token [ESP/ENG]

Como es costumbre, en la página Vue.dlux.io, podremos realizar este reclamo cada mes. Algo interesante con LARYNX y SPKNetwork, es que ahora podemos utilizar estas monedas para generar ingresos, bien sea, bloqueando el token y ejecutando un nodo validador para asegurar el funcionamiento de la red, o bien, como en mi caso, delegándolos a otros usuarios que ejecuten estos nodos y de esta manera, obtener un ingreso pasivo por esta acción, del Token SPK, nativo de la red. En el mes anterior, realice la delegación de mis LARYNX que tenía disponibles en ese entonces y como se aprecia, he recibido 0.005 SPK, una cantidad realmente mínima.
As usual, on the Vue.dlux.io page, we will be able to make this claim every month. Something interesting with LARYNX and SPKNetwork, is that now we can use these coins to generate income, either by blocking the token and running a validator node to ensure the operation of the network, or, as in my case, delegating them to other users who run these nodes and thus, obtain a passive income for this action, from the SPK Token, native to the network. In the previous month, I made the delegation of my LARYNX that I had available at that time and as you can see, I have received 0.005 SPK, a really minimal amount.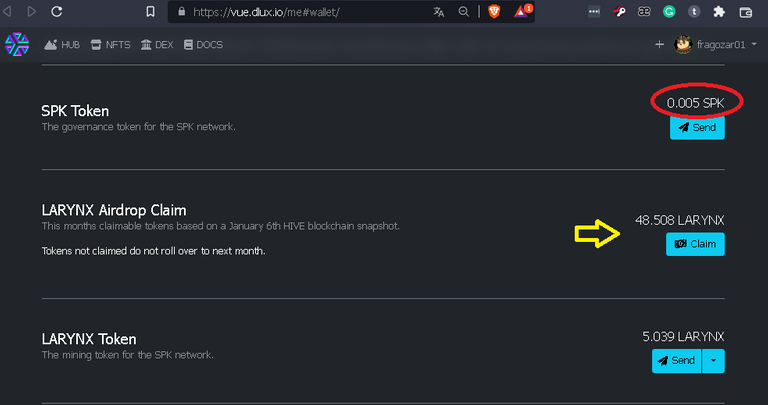 Tengo 10 LP (LARYNX Power), pero ignoro como se generan, el uso real de este token, o si siquiera son realmente token de SPKNetwork. Estuve buscando más información sobre estos LP, pero he quedado bastante a oscuras con relación a ellos. Tendré que realizar algunas investigaciones para poder entender más a fondo este asunto de los LARYNX Power. Como se aprecia en la lista de mis delegaciones, aparece que he recibido cero LP, por lo que ignoro en que momento como o cuando recibí esos 10 LP o realmente como funcionan.
I have 10 LP (LARYNX Power), but I don't know how they are generated, the actual use of this token, or if they are even really SPKNetwork tokens. I've been looking for more information on these LPs, but I've been pretty much in the dark about them. I will have to do some research in order to understand this LARYNX Power thing further. As can be seen in the list of my delegations, it appears that I have received zero LPs, so I don't know at what point how or when I received those 10 LPs or really how they work.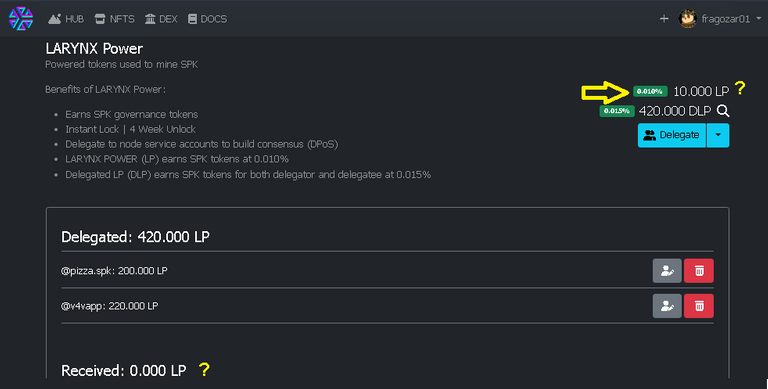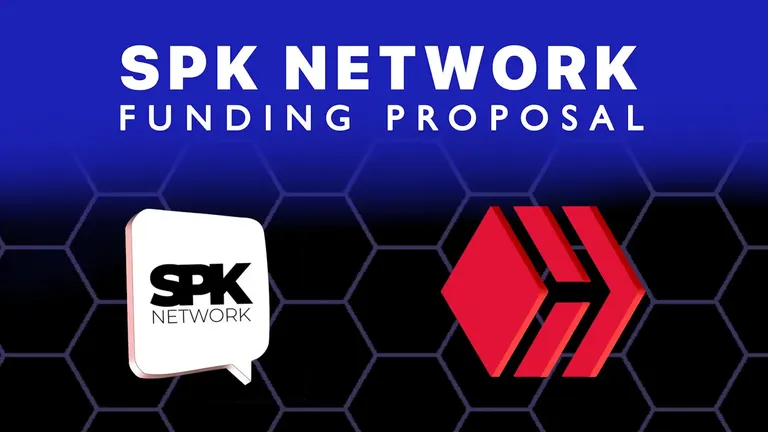 Si bien el proyecto SPKNetwork es un tema bastante denso en cuanto a su entendimiento y comprensión, sin duda, el espíritu del mismo se sustenta en los pilares de la descentralización, la resistencia a la censura, el otorgar el poder de sus datos y contenidos a cada usuario y el poder de las comunidades dentro de esta red. Así que me perece muy justo brindar el apoyo a este magnífico proyecto que, de seguro, nos brindara muchas satisfacciones en un futuro muy cercano. Espero puedas brindar el soporte a la propuesta y no olvides realizar el reclamo de tus Token LARYNX, no solo ahora, sino cada mes por los próximos seis que restan del ClaimDrop. Espero tus aportes y pensamiento en los comentarios.
Although the SPKNetwork project is a rather dense topic in terms of understanding and comprehension, undoubtedly, the spirit of it is based on the pillars of decentralization, resistance to censorship, giving the power of their data and content to each user and the power of communities within this network. So I think it is very fair to support this magnificent project that, for sure, will bring us many satisfactions in the near future. I hope you can support the proposal and don't forget to claim your LARYNX Token, not only now, but every month for the next six months remaining of the ClaimDrop. I look forward to your input and thoughts in the comments.

Este post es de mi autoría y expreso en él, mis experiencias y aprendizajes cada día en este Blockchain. Todas las imágenes son editadas por mí y corresponden a capturas realizadas en mi PC y las fuentes están indicadas en cada caso. Si te gusta, puedes dejar un comentario u opinión y tu voto favorable.
---
This post is of my authorship and I express in it, my experiences and learnings every day in this Blockchain. All images are edited by me and correspond to captures made on my PC and the sources are indicated in each case. If you like it, you can leave a comment or opinion and your favorable vote.


---
Edición de Imágenes con/Images Editing by Pixlr.com
Traducido con/Translate with DeepL Traductor
Ortografía y Gramática con/Spelling and Grammar with Corrector Castellano.com
Posted Using LeoFinance Beta
---
---