The Delicious steamed bean pudding know as Moi-Moi or Alele
Hello guys.
How is everyone doing today.
Today is a great day for me and my night was fine and I hope you too had a good night rest. So this morning I will be sharing another delicious Nigeria steamed bean pudding food and I know you will love to check it out.
Our today's recipe is called Moi-Moi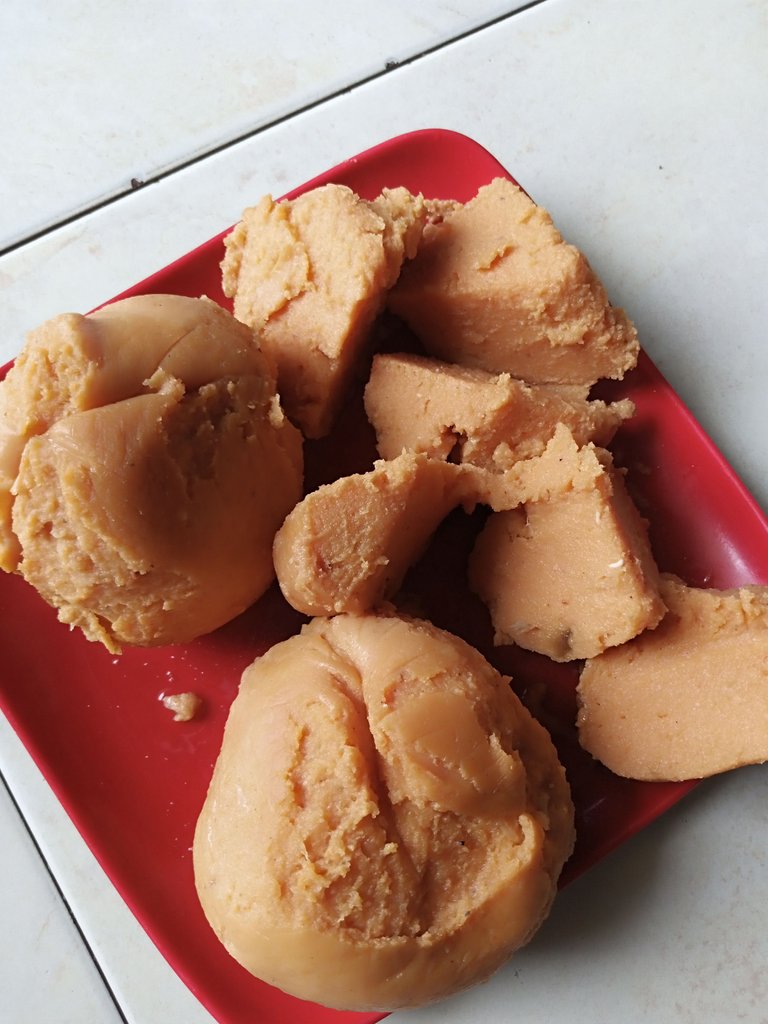 Moi Moi it can also be pronounced as Mai mai or moy moy is a special Nigerian traditional food rich in protein and it's very spicy and taste it's popular not only in Nigeria but also in Ghana and Sierra Leone which is known as "Alele" or "Olele" Moi moi can be eaten as breakfast, lunch and Dinner depending on your choose.
Moi moi is a steamed bean pudding made from the mixture of peeled beans washed very well, crayfish, onions, fresh Scotch bonnet pepper, Vegetable oil ,salt and Maggi for taste and red bell pepper (Tatashe).
Ingredients
1 derica of beans
1 cup of ground crayfish
Fresh Scotch bonnet pepper(To your taste)
3 spoonful of cooking oil (vegetable oil)
Red bell pepper know as Tatashe
1 onion bulb
4 cube's of Maggi specifically knor Maggi
Water (as needed)
Salt to taste.
Note: You can add egg, fish or meat just to chew after eating but it's optional not a most.
preparation time: 45mins
Cooking time: 1 hour and 30mins
Overall time:2 hours 15mins
Cuisine: African, Nigeria
Preparations.
Step one: Soaking and washing the beans.
Before washing or soaking the beans first you have to Clean the beans by picking out all the stones and other things that are unwanted in the beans.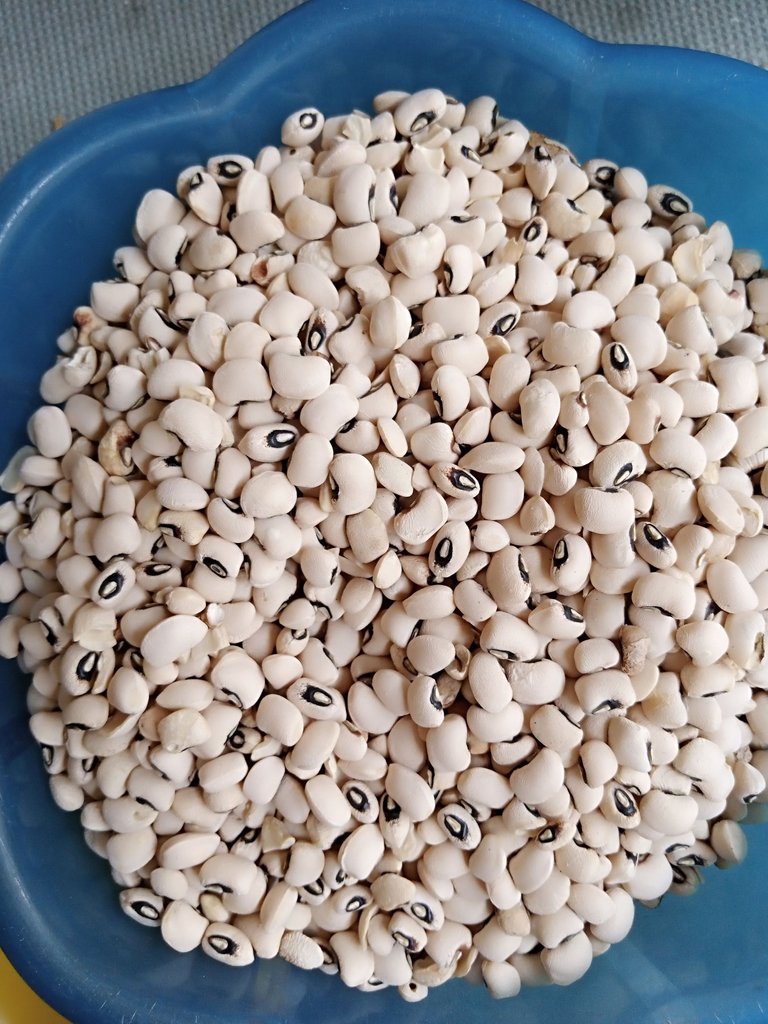 Put the clean beans inside bowl and add water, leave if for like 30mins so that it will soak well if you are using hand to remove the beans coat/skin but if it's with blender leave it for 1 hour so it break the beans while blending that's if your blender is no longer good blender like it was before.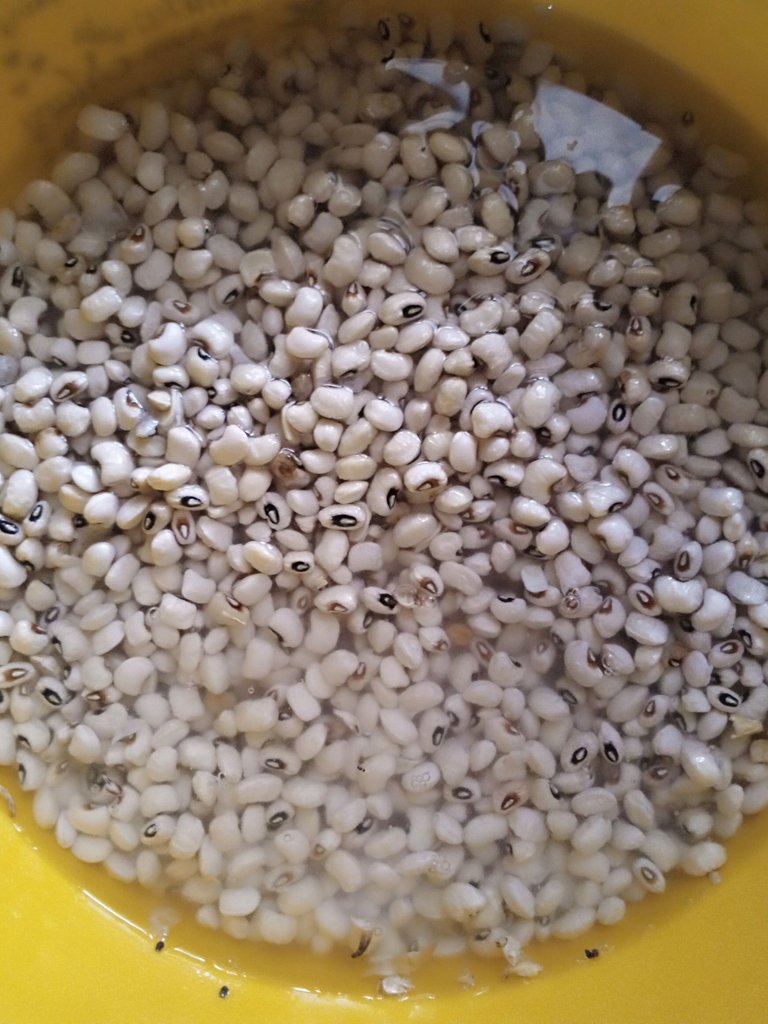 How to blend it with hand in the bowl put your hands inside the bowl and begin to squeeze the beans.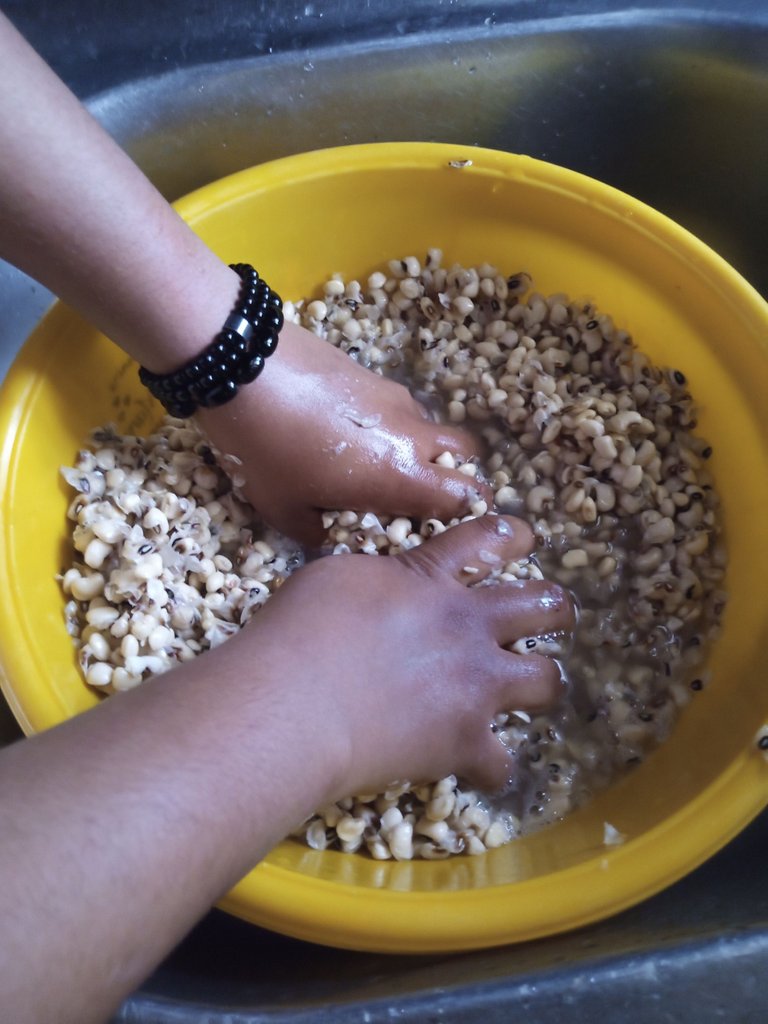 After removing the skin with blender or with your hands pour it in a bowl pour enough water make sure you wash and strain the beans until the whole skin are gone leaving only the white coat/skin of the beans.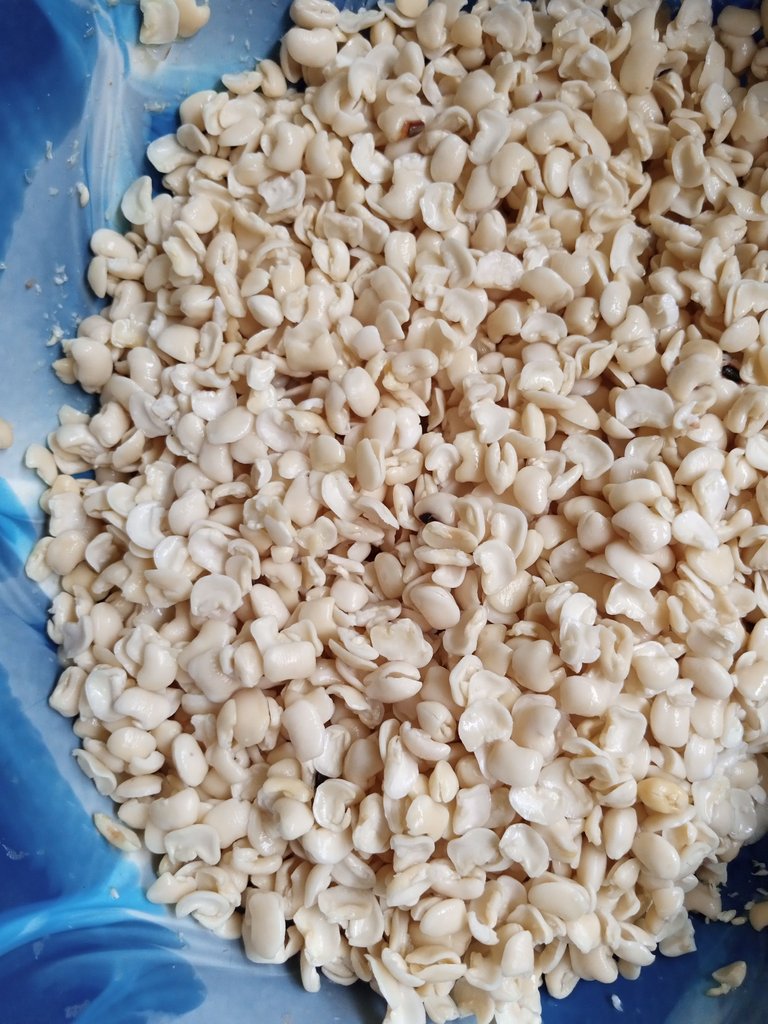 Put the strain beans in bucket,add your red bell pepper, Scotch bonnet pepper, ground crayfish, chopped onion and Maggi together.
Step two: Blending
Carry the mixed peeled beans to where you want to blend it for those that doesn't have blender. But if you have your blender you can mix them together then blend it into batches while blending add little quantity of water in it to help blend fast.
Note
N: I didn't remember to take a picture of that before taking it to where it was blended . But just follow the steps.
Step three: Cooking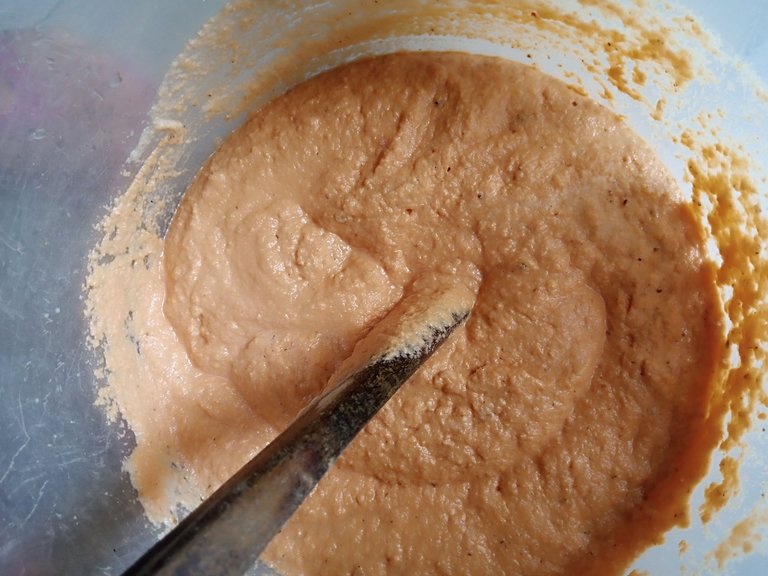 Pour in some water in a pot and set to boil add the cooking vegetable oil in the blended mixture, then mix thoroughly with water remember don't add too much water just small quantity so it won't spoil the moi moi after cooking bring out your Moi Moi container either foil, nylon or banana leave oil any one them that you will be using. Pour your grease Moi Moi inside the container of your choice then add your sliced meat, fish or egg but this is optional.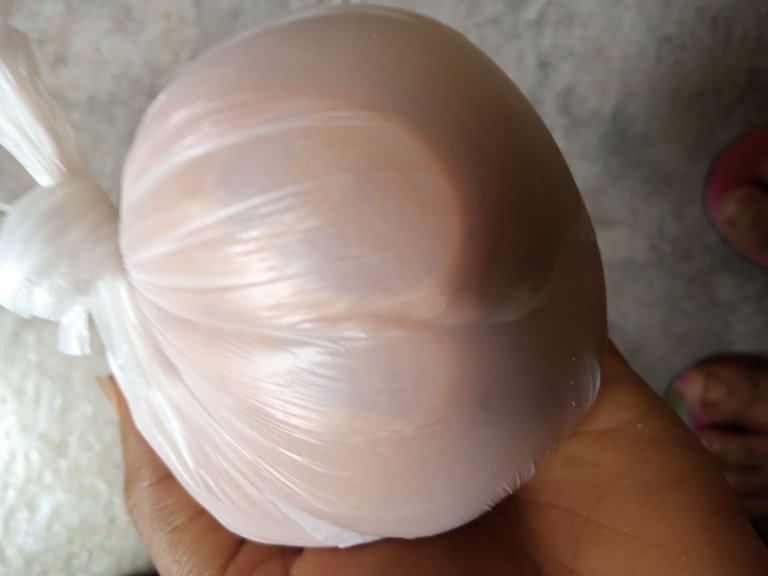 Seal or cover it before putting in the boiled water inside the pot then cover to cook.
Note:if you are using foil to cook put the foil paper in the pot and little water before putting your moi moi, remember to be adding water from time to time so it won't burn.
After adding everything in the pot leave it to start cooking just be checking it from time to time.
I advice you allow it to boil for 1 hour and 30mins by then it will be done.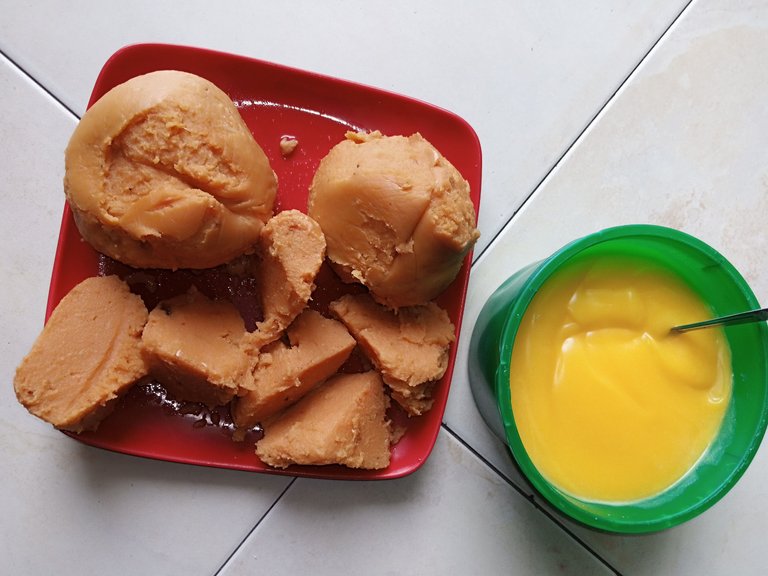 Food is ready you can serve it with pap, jollof rice,fried rice any one of your choice. Better breakfast come and join me.
Thanks for visiting my post.
---
---