Brightly colored shadows on the eyelids — Trends || Sombras de colores vivos en el lagrimal — Tendencia [ENG-ESP]
Hello to the entire MakeUp Power community!
¡Hola a toda la comunidad de MakeUp Power!
---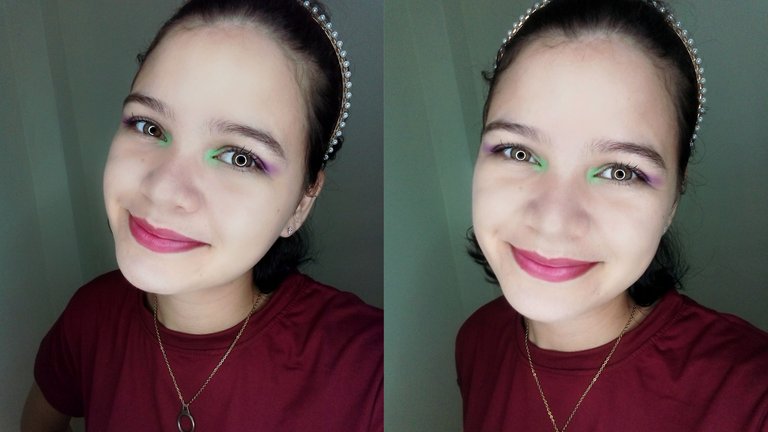 ---
Today I want to share with all of you a way to illuminate our eyes, no matter if we present a simple makeup. So, today it has become a trend, by this I mean to make use of bright colors on the tear trough. Without a doubt, I can mention that I love to apply shadow on the tear trough either strong colors or simply make use of silver or highlighter which is my current favorite. So without further ado, I hope you enjoy the post.
Hoy quiero compartir con todos ustedes una forma de iluminar nuestra mirada, no importando si presentamos un maquillaje sencillo. Por lo que, hoy día se ha convertido en tendencia, con esto me refiero a hacer uso de colores vivos en el lagrimal. Sin duda alguna, puedo mencionar que me encanta aplicar sombra en el lagrimal ya sea colores fuertes como simplemente hacer uso del plateado o iluminador que es mi favorito actualmente. Así que sin más preámbulos, espero y disfrutes del post.
---
Cosmetics to be used
Cosméticos a utilizar:
- Proofreader
-Corrector
-Light green and purple shades
-Sombras verde claro, y morado
-Base
-Base
-Powder
-Polvo
-Vinotint lipstick
-Labial vinotinto
Among others
Entre otros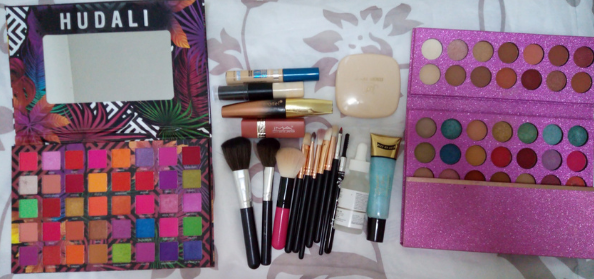 ---
How did I do it?
¿Cómo lo realicé?
The process done was quite simple, so, I started with prepping my skin with the serum and then the primer. After that, I just combed my eyebrows because I like to have them as natural as possible. Next, I prepared my mobile eyelid with the application of concealer, which I blended with a sponge. I then proceeded with the application of the light green shadow from the Hudali-Carnival III palette on the tear trough. After that, I deposited a small amount of the purple shadow on the outer part of the eye with a flat brush.
El proceso realizado fue bastante sencillo, por lo que, comencé con la preparación de mi piel con el suero y luego el primer. Después de ello, solo peiné mi cejas debido a que me gusta tenerlas lo más natural posible. Seguidamente, preparé mi párpado móvil con la aplicación de corrector, esto lo difuminé con una esponjita. De esta forma, procedí con la aplicación de la sombra verde clara de la paleta Hudali-Carnaval III en el lagrimal. Después de ello, deposité en una brocha plana una pequeña cantidad de la sombra morada en la parte v externa del ojo.
---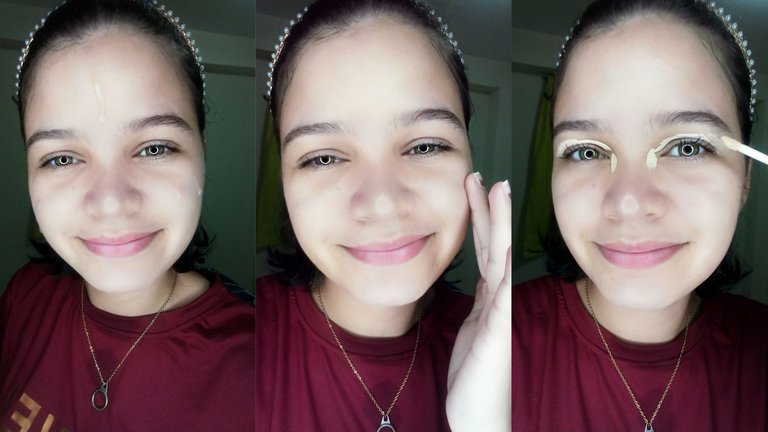 ---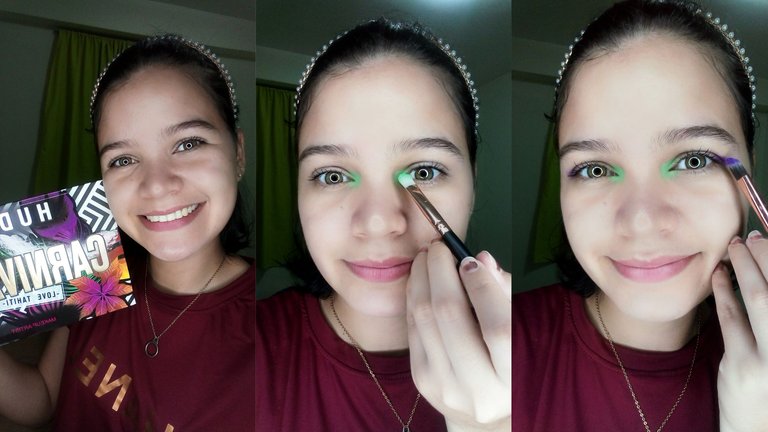 ---
After that, I took another brush to blur. Obtaining the result shown in the picture. In this way, I closed with the application of the concealer, to blend it with a sponge, then I proceeded to cover it with the compact powder (I don't use foundation; very few times I use it). After that, I used some vinotint lipstick to match my flannel.
Después ello, tomé otra brocha para difuminar. Obteniendo el resultado señalado en la fotografía. De esta forma, cerré con la aplicación del corrector, para así difuminarlo con una esponjita, seguidamente procedí a cellarlo con el polvo compacto (no soy de usar base; muy pocas las veces que le doy uso). Después de ello, utilicé un poco de labial vinotinto para combinar con mi franela.
---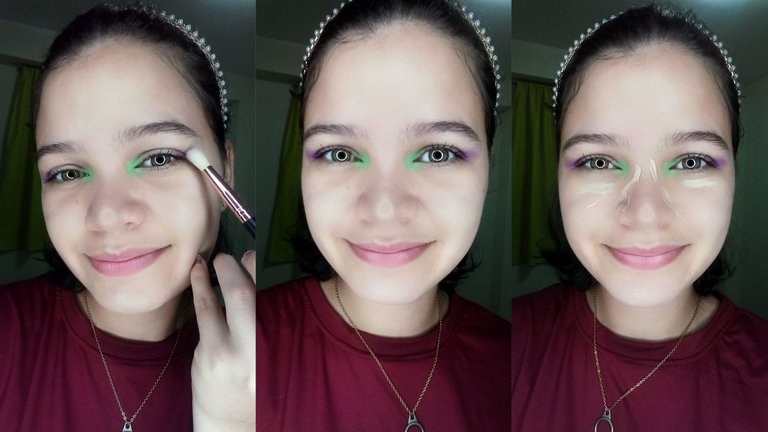 ---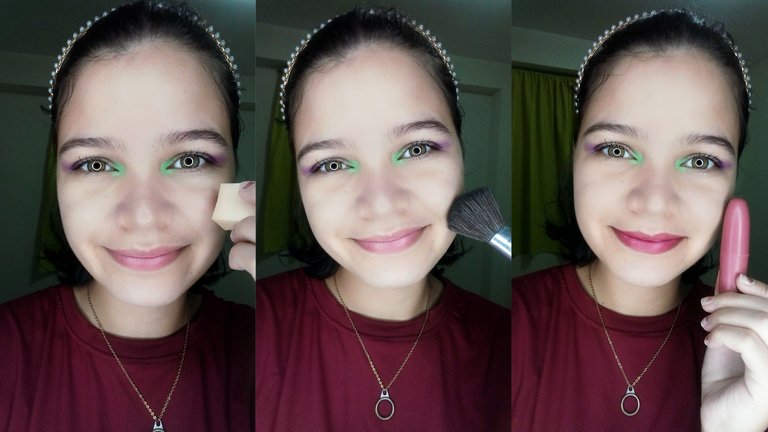 ---
Makeup completed! | ¡Completado el maquillaje!
---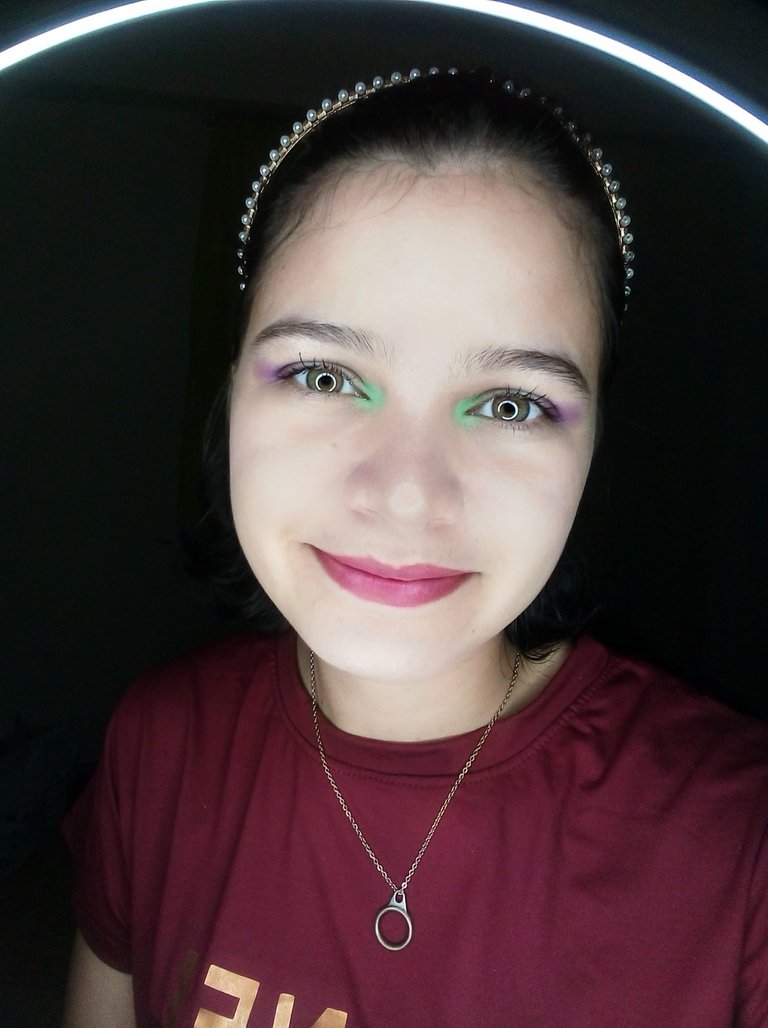 ---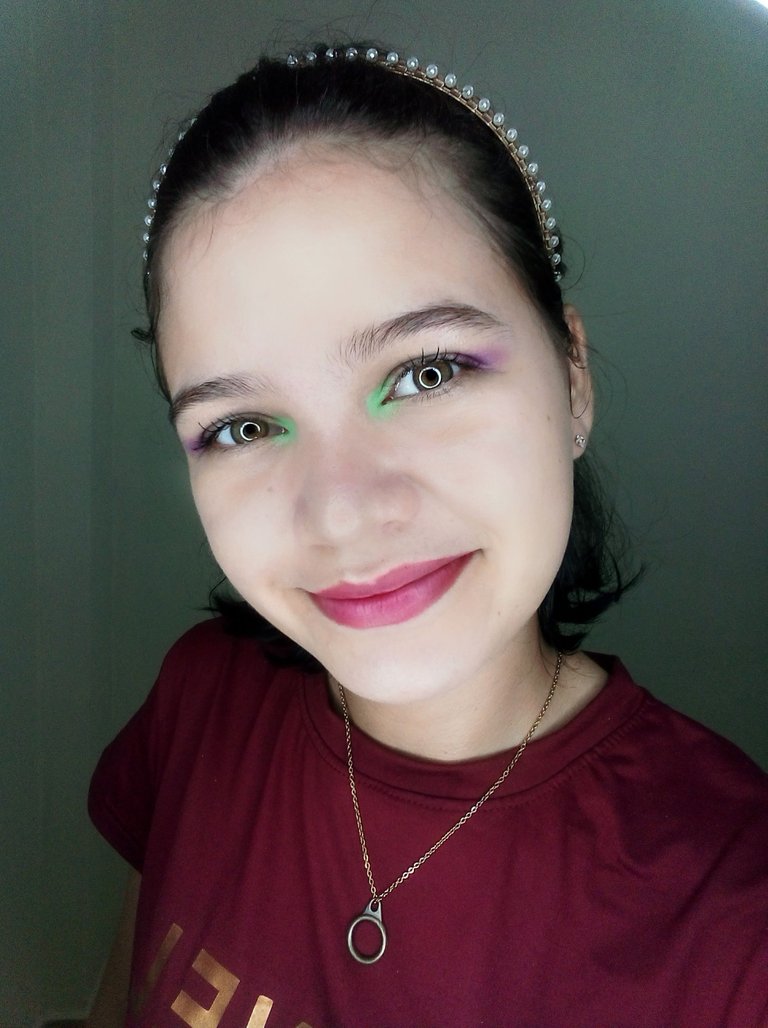 ---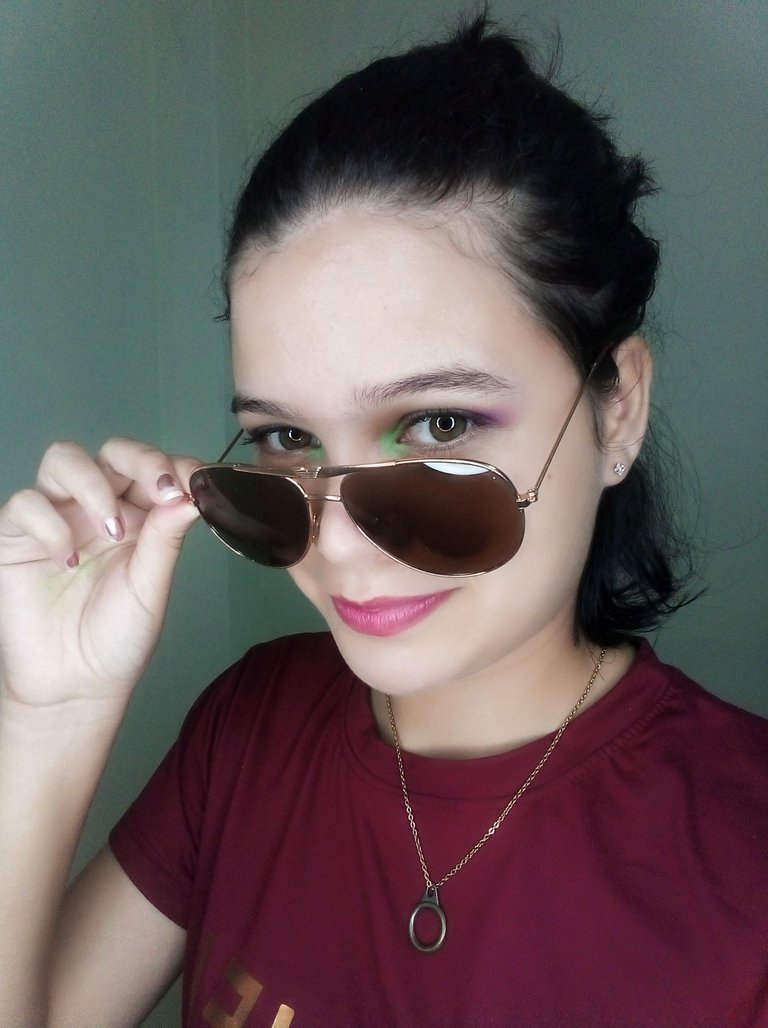 ---
Without further ado, thank you for making it this far, see you next time!/ Sin más que agregar, gracias por llegar hasta aquí, ¡nos vemos en una próxima oportunidad!.
---
Fuentes importantes/ Important sources:
|First image edited in Canva/ Primera imagen editada en Canva |
|Traductor/Translator|
|The rest of the pictures were taken from my phone/ El resto de las fotografías fueron tomadas desde mi teléfono|
---
---