Preparing for the Chaos Legends packs!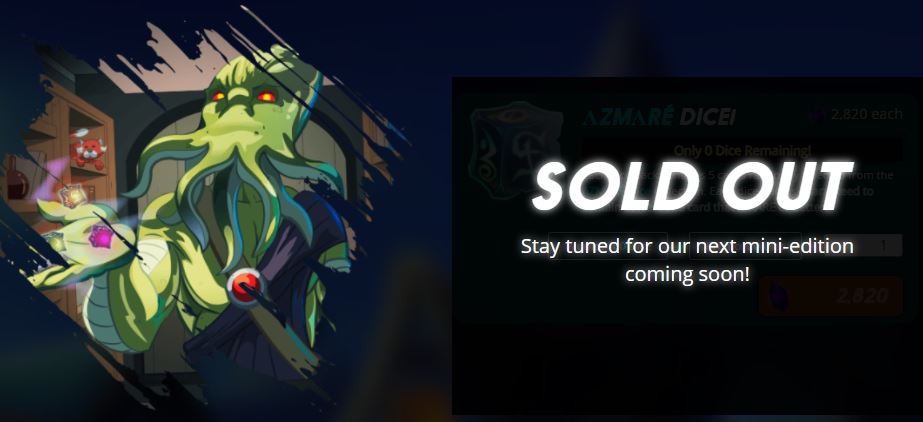 Just like with untamed, the Dice packs did sell out like sweet candies! That did go incredibly fast! So, for the moment the only way the got a hold of new cards is to purchase them on the market or to buy packs on Hive-engine!
By the looks it does appear that they will be a mini edition of the Dice pack coming out, maybe and probably even before the Chaos Legends Packs are released! I do assume that a lot of DEC was burned yesterday, because the only way you could purchase a Dice pack (besides Hive-Engine) of course was with DEC. The DEC used for the purchase is burned!
But this only had a minor impact on the value of DEC. So yes, new Dice packs which only can be purchased with DEC would be great!
But I am drifting, I did want to write about the Chaos Legends packs.
This will be probably release to the market in September! And I do want to buy a shit load of them! At least a shit load for me, which could be peanuts for other's! I still have the idea to purchase at least 250 of them, secretly hoping that I can increase this to 300!
My plan wasn't maybe the best!
So last week I was thinking how I could profit a little bit for the increase of value in most coins. I also could turn some profit into fiat, which I also did, but the major part was to be invested into my Chaos Legends warchest!
So I decided to buy Splinterlands credits with some TRX I had laying around! The credit of Splinterlands can be concerned a stable coin! So what could be wrong with that! But hey wait, I can't convert credits again into any other crypto. Was deposited it is there to stay! Which is no problem if I can purchase the packs, but suppose I can't! What then?
There are rumors that a specific amount of SPS is required to be able to take part in the pre-sale! This could be troublesome for me with only 610 SPS staked! So what if I miss the boat and it does sell out to the whales? I don't expect this to happen but it is crypto, you will never know. In that case my credit war chest has more or less become an empty shell!

I wasn't placing all eggs into one basket, so I was also saving HIVE and HDB, which are were placed into my savings account! For the Hive part so that I didn't make a mistake when powering up! For the HBD because it does have a 10% APR on the savings account!
HBD great because it can be considered a stable coin, it does stay nicely around the Peg value. Hive is more risky! At the moment of writing this post $2 has a value of 4.09561252 Hive. But when the moment arrives to buy the pack, the value of Hive could be higher (yeah cheaper packs) or lower (boo more expensive packs!).
So the question is what is the best way to safe for it! Probably a mix of it all will be the best! so the plan is to have $500 in the war chest when the packs are released on the market! Most people I did speak with are going for the HBD route. Which probably is the best way to go!
The warchest!
For the moment my warchest is getting filled up nicely!
Hive savings: $78
HBD in savings: $8
Credits: $240
So already $326 is reserved for the Chaos packs. That is probably the equivalent of 163 packs! Or 815 cards!
So $174 to go!
Probably most of it, while go via the HBD path!
Cheers,
Peter
---
---