Attractive DFI Staking Reward Of 99.4% APY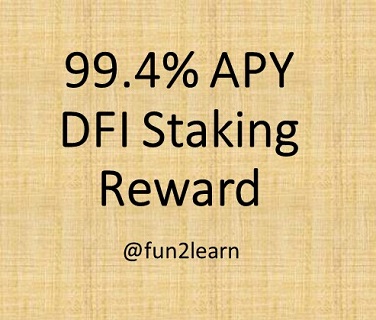 Cake Defi is a registered company with a physical office located in Singapore.
Both Dr Julian Hosp and U-Zyn Chua are not only the founders of Cake Defi but they are also the founders of DefiChain with its token called DFI.
The staking reward to stake the DFI tokens has been increased to 99.4%. This is really an attractive passive income especially we do not need to worry about rugpull.
Both BTC and ETH Lending reward can go as high as 7.5%.
Getting new sign up may not really be that tough as Cake Defi is offering $20 worth of free DFI tokens to each new user after the first deposit of a minimum of $50.
By signing up with a referral link, the new user gets an additional $10 worth of DFI while we would also get $10 worth of DFI for referring them successfully.
All these free DFI would be locked up for 180 days with staking rewards to prevent abuse of its referral programme with its attractive sign-up bonus with a total of $30 free DFI tokens.
It has also recently decided to improve its referral programme.
We can earn an attractive reward of 1% p.a. on all the investments made by those we referred successfully. It is another nice passive income.
The only troublesome part about getting into Cake Defi is the need to verify our identity for KYC since Cake Defi is a registered company so it is an important protocol to ensure it follows the laws and regulations of Singapore.
Below is a screenshot taken from the registrar of companies in Singapore.

We need to provide documents for verification: -
Our identity - our identity card or passport.
Our residential - utility bills or anything that has our address and name on it
Below is my referral link if you are interested to sign up and get the $30 worth of DFI as well as start referring people to earn referral rewards.
https://pool.cakedefi.com/#?ref=610483
Disclaimer: This is my personal reflection and I am not in any position to instruct anyone what they should do. I am not responsible for any action taken as a result of this post. My post can only be a reference for your further research and growth.
Posted Using LeoFinance Beta
---
---