A Sexy Minnow! In The Block Plus My 2023 Hive Goals
Success they say is as sweet as the magnitude of obstacles in our ways
Wait! Wait!! Wait!!!
Did I just hear you say a sexy Minnow? Oh! Yes, I got a notification from hive buzz yesterday congratulating me on my new level badge so allow me to brag a little about it.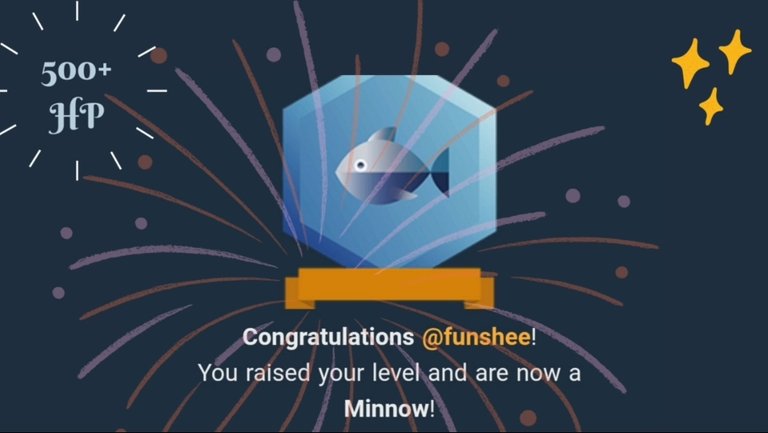 This Image Is From @hivebuzz And Was Edited By Me In www.Canva.com
What is a minnow badge? You ask;
Don't tell anyone I said this, it was a bit suck being a redfish for so long. The Minnow badge is usually given by the hive buzz when one raises their hive power to 556 and above. If you are reading this and you have not earned this badge yet, keep staking and one day you will get the notification.


The above image is a screenshot from the hive buzz site that shows different levels and their badges.
In case you are wondering what took me so long to get this badge, last year was a bit challenging for me. Pregnancy did some numbers on me regarding how many posts I can make in a week more than I like to admit.
Two months ago set I a goal to reach this number of 200+ hp and I'm very happy I made it.🤭
*A big takeaway * for any newbie reading this ;
It is okay to join a hive through a single hive community but what is not the best is to not try to explore and join a few more hive communities that interest you.
Just before making this post, I did some Little reflection and then checked on some accounts that we join some particular hive community at the same times but such communities are no longer active and I noticed that those friends have gone in silent as well.
What if I haven't joined a few more communities, possibly I won't be here writing this post today. So go the rabbit hole and never has to leave. #hive is striving because of the vast communities and if you are to strive as a person you will have to open your community mind and get involved.
My 2023 hive goals
This year will be a game changer for my hive account and finance general. I finally feel like my account is on the right and clear growth path, so I'm just going to take like two months' goals and plans and see how things go from there. For this, I plan to double my current Hive power in two months.
Reach my Leo goal of 3k Leo power, pay more attention to my #pob power, and work toward reaching 3k from my current 1.3k continue to collect those #vyb tokens as stake as much as I can without powering down. I plan to grab some #loh tokens this year aside from earning from posting into the ladies of hive community
My engagement game goal
Go back to my pre-pregnancy engagement levels, yeah, if you knew me then, I was basically in a lot of places each day. I'm going to take it gradually, I will start with at least 12 thoughtful comments per day. To achieve this more easily, I have lot of my favorite authors added to favorite with the help of ecency mobile app. So, I'm always notified each time they make their posts even if I missed them on my feeds I will always see their posts. Find more authors that interest me to be added to my favorites.
Posting goal
I plan to earn hive buzz weekly author and this time around I must achieve it by posting for a whole one week without a break. When I earn this I can aim for the monthly badge, so all these goals will be subject to review on monthly bases.
Exploring goal
I plan to find more communities of interest and get more involved. This way, I expand my reach and continue to build up my name and account. Talking of accounts, my reputation stands presently at 63 I'm looking forward to reaching 70 before the year's end so, support me, friends.
It gets harder the more the reputations go up but if I work hard toward it, it is achievable.
That is all for now friends, thank you very much, and may the power of hive be with all of us
Posted Using LeoFinance Beta
---
---