The Party Jollof Rice ||| Nonfiction Prompt
If you are a bit familiar with Nigeria's social culture you might know that Naija jollof rice is the queen of the party.
Any occasion without it will seem incomplete no matter what other food items were on the menu. It is a kind of food loved by everyone and endorsed by a majority of the partygoers.
So, when you are thinking of organizing that party, it might be the first on your menu.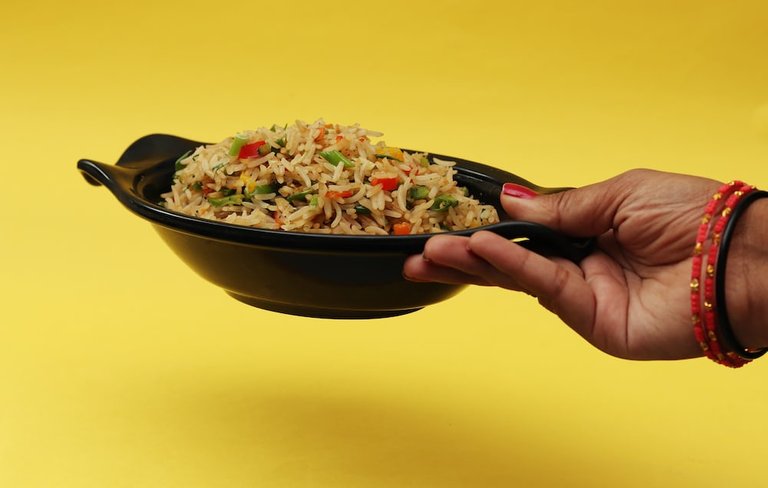 source
However, the preparation can sometimes be a bit technical, though the steps are simple. Any slight mistakes like adding water at the wrong time can spell doom and cause your rice to become a bad trending topic after the party.
---
For this reason many years ago when my cooking skills were still in progress, I would never offer to help in the preparation for any of our family parties. I can help with other things but never be the one chairing the preparation.
The one I know I'm capable of cooking is just the size of our immediate family, anything more than that we are using the service of professional cooks or someone else will do it.
---
Talking about someone else, some people know how to form great jollof rice cookers only to mess you up on the deed day. As I say cooking is technical even your favorite house cook can turn your occasion into a nightmare. As I'm not a top cook yet, I know my limit so I never take the chance.
---
During the semi-final year of my HND program. I happen to be our SUG Student Union Government treasurer. And on the occasion of our swearing-in party, I was to head other ladies so that we can supply jollof rice. Left to me, I will suggest we use professional cooks but the decision was voted on by the majority of our excos and we all have to abide by the final result. That is, all the ladies of the excos, about six of us will handle the cooking.
---
There was this colleague of mine, our vice president. That was acting like she is very good at cooking and jollof rice will be a walk in the pack for her. My task was to release funds for our spending and then monitor the whole thing.
---
The day of the occasion arrived and the food preparation was taking place at my place. My vice president chaired the whole process of cooking, like the amount of water to be added to the right ingredients, the number of seasoning cubes, salt, pepper, and all other stuff.
---
I have a friend of mine that visited me during that time and decided to join us in the preparation. She was acting as well like a pro when it came to cooking jollof rice, so I was confident we will be having the best at end of the day.
After everything was done, our rice turn out like a nightmare. Some parts were half done. All of us seem not to know how to remedy the poor situation. Turn out our forming pro where nothing better than myself.
---
Feeling very irritated about the outcome, I called our president and related everything to him. This is not the kind of food we can serve our distinguished guests. He was so disappointed in us but try to be cool as much as possible. He made provision for other funds, so we ran around most of the eateries nearby to see what other stuff we can get to put in our original menu. We were able to get a considerable amount of nice desserts, ketchup, and chicken pies. Just to make up for our Jollof rice. At the end of the day, our guests were happy.
---
But our comrades, starting from our president to all our male excos were so disappointed in us but not as much as I felt disappointed in myself for being involved in that situation.
After the guests left our President complained bitterly, I apologize but the sting of that incident took a while to disappear.
---
A year later when our tenure elapsed and it was time to hand over to the incoming exco. We organized a handing-over party but this time we hired the service of some professional cooks. And the whole event went smoothly graced with one of the best party jollof rice.
---
After my whole program, I related my experience to my elder sister back home and she taught me how to make the best jollof rice you can ever taste though not without laughing so hard about our Jollof blunders. And today, I can confidently handle the preparation of a large amount of Naija party Jollof.
A great lesson learned. The End
Thank you!
---
---