"CAPSULAS DE SENSACIONES PARA REFLEXIONAR" / Reflections for the Year 2022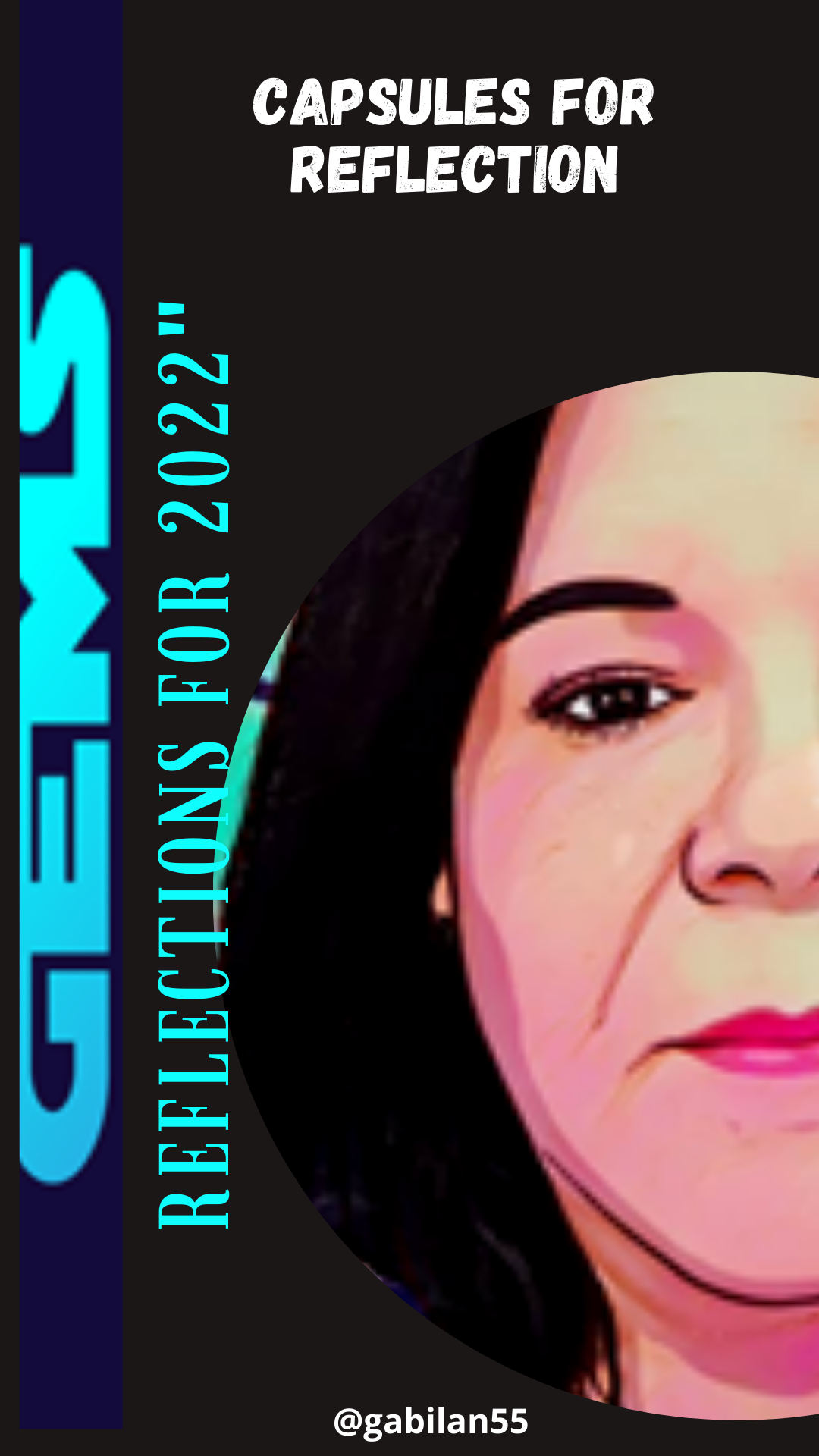 ---
CAPSULES OF SENSATIONS FOR REFLECTION".
---
Hola que tal queridos amigos de Gemas. me satisface hoy colocar mis capsulas de sensaciones donde se brindara consejos, orientaciones, anécdotas vivenciales entre otras informaciones para canalizar las emociones del ser humano hacia la inteligencia emocional.
En este sentido, la experiencia de algunos puede ser precedente para otros, las anécdotas que se viven diariamente pueden ser un aliciente para otros, esto me motivo a exponer este espacio colocando mi experiencia como psicóloga en el titular "CAPSULAS DE SENSACIONES PARA REFLEXIONAR"
Hello dear friends of Gems, I am pleased today to place my capsules of sensations where advice, guidance, experiential anecdotes and other information to channel the emotions of human beings towards emotional intelligence will be provided.
In this sense, the experience of some can be a precedent for others, the anecdotes that are lived daily can be an encouragement for others, this motivated me to expose this space by placing my experience as a psychologist in the headline "CAPSULAS DE SENSACIONES PARA REFLEXIONAR" (CAPSULAS OF SENSATIONS FOR REFLECTION).
---
Para nadie es un secreto que estos dos años anteriores no han sido fácil para las familias del mundo... muchos proyectos fueron truncados por la pandemia que llegó en el momento menos esperado, así que las sensaciones de sentimientos encontrados aun están a flor de piel.
Quizás, esta vez la celebración en tu hogar fue algo triste por la muerte de un ser querido o la despedida de alguien que amas y se fue muy lejos sin dejarte esperanzas de llegar de vuelta.
It is no secret that these past two years have not been easy for families around the world... many projects were truncated by the pandemic that came at the least expected time, so the feelings of mixed emotions are still at the surface.
Perhaps, this time the celebration in your home was a little sad because of the death of a loved one or the farewell of someone you love who went far away without leaving you any hope of coming back.
---
Quiero invitarte como protagonista a reflexionar sobre este año que ya caducó, reflexiones que son necesarias debido a que muchas veces tenemos la tendencia a vivir del pasado sin vislumbrar un sentido futurista.
¿Qué quiero decir con esto? quiero significar con esto, que muchas veces no nos damos cuenta que seguimos con las mismas fallas en todos los ámbitos de nuestras vidas , parece que lo hacemos inconscientemente o no queremos asimilar que estamos arando en el mismo mar.
I want to invite you as the protagonist to reflect on this year that has already expired, reflections that are necessary because many times we have the tendency to live from the past without glimpsing a futuristic sense.
What do I mean by this? I mean by this, that many times we do not realize that we continue with the same failures in all areas of our lives, it seems that we do it unconsciously or we do not want to assimilate that we are plowing in the same sea.
---
Te pondré un ejemplo, tengo una paciente que iniciando el mes de diciembre se presentó a consulta por sugerencia de una amiga, el motivo... ella siempre esta discutiendo por cualquier cosa, le ve todos los defectos a los demás, se opone a todo proyecto de los colegas porque los considera según ella "estúpidos".
La expresión en su rostro fue de alguien que quiere mostrarle a todos su estado psicológico es perfecto y ¿quien más para demostrarlo que un especialista?, ¿acaso te has conseguido alguien así?, pues esto es más común de lo que parece.
I will give you an example, I have a patient that at the beginning of December came for consultation at the suggestion of a friend, the reason... she is always arguing about anything, she sees all the defects in others, she opposes any project of her colleagues because she considers them "stupid" according to her.
The expression on her face was of someone who wants to show everyone her psychological state is perfect and who else to prove it than a specialist, have you ever had someone like that, because this is more common than it seems.
---
Ahora bien, en una de las sesiones que yo le llamo "terapia de reflexión" le pregunté ¿que piensas cambiar para el año que dentro de poco comenzara?... se quedó pensando por unos minutos y mirando se paró de la silla y se asomó a la ventana del consultorio y contestó desde la ventana... " Pues nada... absolutamente nada los demás son los que tienen cambiar"
Queridos lectores, este tipo de actitud tiene que ser atendida muy minuciosamente porque no es posible que todas las personas que están cerca de ti tengan la mismas opiniones sobre tu manera de ser, es decir, ¿todos están equivocados sobre ti, todos te odian, todos te envidian, todos te ignoran ?, eso es imposible, a menos que tengas un gran problema que arreglar.
Now, in one of the sessions that I call "reflection therapy" I asked him what do you plan to change for the year that will soon begin... he remained thinking for a few minutes and then he got up from his chair and looked out of the window of the office and answered from the window.... "Well, nothing... absolutely nothing, the others are the ones who have to change".
Dear readers, this kind of attitude has to be taken care of very carefully because it is not possible that all the people who are close to you have the same opinions about your way of being, that is, are they all wrong about you, do they all hate you, do they all envy you, do they all ignore you, that is impossible, unless you have a big problem to fix.
---
Es por esta razón que hoy considero pertinente que busques un lugar muy intimo en algún rincón de la casa y puedas analizar que cosas hice en el pasado año que debo mejorar, que proyectos tengo que reconstruir, como debo hacer para superar la perdida de ese ser querido que ya no esta, ¿como planifico mi año entrante para el éxito?
Todas estas interrogantes te sugiero las escribas, es decir, la agendes, has y proyecto de año 2022, con tus propósito y metas, y cada vez que vayas logrando alcanzarlos las vas subrayando cono logro.
It is for this reason that today I consider it pertinent that you find a very intimate place in some corner of the house and you can analyze what things I did in the past year that I must improve, what projects I have to rebuild, how I must do to overcome the loss of that loved one who is no longer here, how do I plan my next year for success?
All these questions I suggest you write them down, that is, the agendas, have and project for the year 2022, with your purpose and goals, and every time you achieve them you will underline them as an achievement.
---
Valora a los seres querido que te rodean, respeta las decisiones de los demás, trata de seder de vez en cuando, recuerda "perdiendo también se gana", cambia actitudes que sabes que no son las más indicadas, deja de discutir por todo en casa, libérate de la amargura y sobre todo "Encomienda a Dios tu destino ente nuevo año y deja que Él canalice tu futuro"
Value the loved ones around you, respect the decisions of others, try to give in from time to time, remember "losing is also winning", change attitudes that you know are not the most appropriate, stop arguing about everything at home, free yourself from bitterness and above all "entrust your destiny to God in this new year and let Him channel your future".
---
Translated with www.DeepL.com/Translator (free version)
---
---