[ESP//ING] Step by step tutorial: Makeup for Valentine's Day in shades of pink
💕Hola mi linda comunidad 💕
💕Hello my beautiful community 💕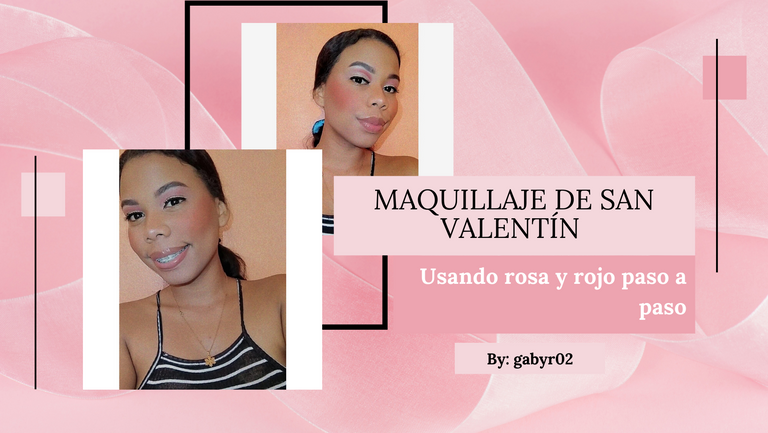 ---

Febrero es mi mes favorito por dos razones: 1) Es mi mes de cumpleaños y 2) Es el mes del amor... Asumo que por eso soy tan romanticona y me encanta esa temática, aún así, nunca he tenido novio jajaja asumo que es por lo alto de mis expectativas, pero bueno, eso ya es otra historia. La cosa aquí es que: Aunque se habla del día del amor y siempre se hace mayor enfasis en quienes tienen pareja, yo al disfrutar tanto estás fecha, igual lo celebro y me arreglo y maquillo, por eso el día de hoy les traigo este lindo, sencillo y original maquillaje usando rosa y rojo para el día de San Valentín, aquí vamos:

February is my favorite month for two reasons: 1) It's my birthday month and 2) It's the month of love.... I assume that's why I'm so romantic and I love that theme, still, I've never had a boyfriend hahaha I assume it's because of how high my expectations are, but well, that's another story. The thing here is: Although we talk about the day of love and it is always emphasized in those who have a partner, I enjoy this date so much, I still celebrate it and I do my makeup, so today I bring you this cute, simple and original makeup using pink and red for Valentine's Day, here we go:

Paso a paso | Step by step

Iniciamos con los pasos básicos: maquillar y corregir nuestras cejas; rellenandolas y dandoles forma, luego aplicamos un corrector claro en todo nuestro párpado y lo difuminamos un poco con ayuda de una brocha o esponja. Esta vez no lo sellaré, pues necesito la mayor pigmentación posible
We start with the basic steps: make up and correct our eyebrows; filling them in and giving them shape, then we apply a light concealer all over our eyelid and blend it a little bit with the help of a brush or sponge. This time I won't seal it, as I need as much pigmentation as possible.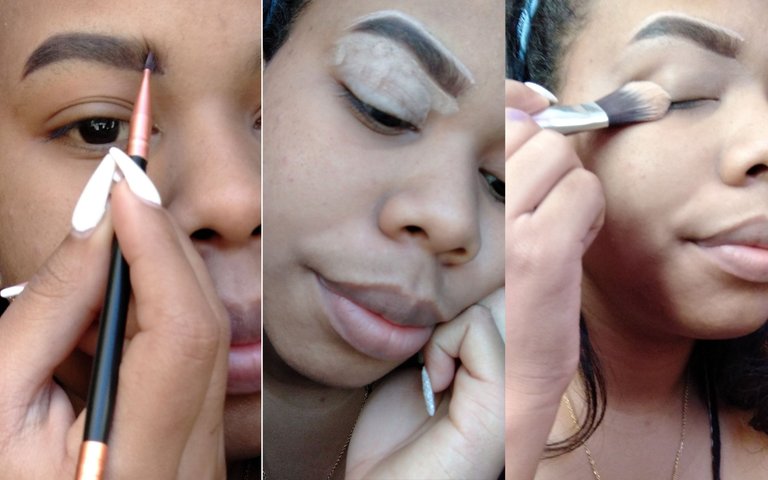 Una vez tenemos listo nuestro párpado comenzaremos aplicando un rojo desde un poco más arriba del lagrimal hasta llegar un poco más allá de la mitad de nuestro ojo. Trata de hacerlo usando toquecitos, así tendrás mayor concentración de color. Luego difuminaremos nuestro rojo con ayuda de un rosado, en mi caso usé uno más o menos oscuro, pues no quería que nada chillón, pero ya es cuestión de gustos. Aquí te dejo las fotos para que tengas mejor guía y veas los colores que utilicé.
Once we have our eyelid ready, we will start by applying a red from a little above the tear trough to a little beyond the middle of our eye. Try to do it using small touches, so you will have more concentration of color. Then we will blend our red with the help of a pink, in my case I used a more or less dark one, because I didn't want anything garish, but it's a matter of taste. Here are the pictures so you can have a better guide and see the colors I used.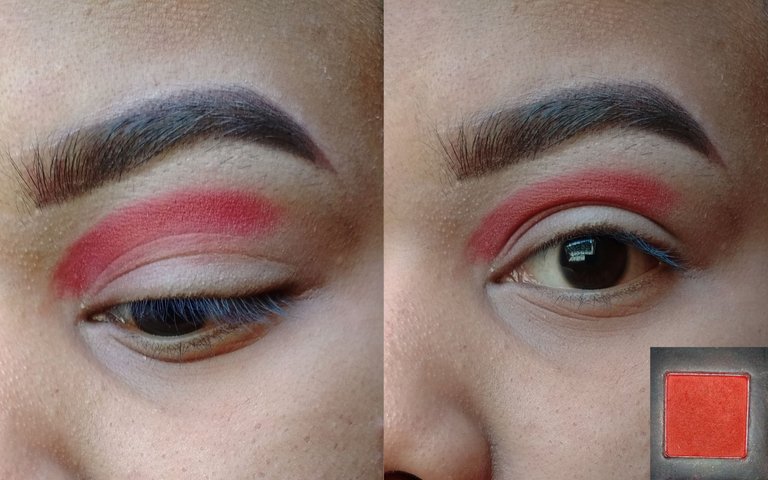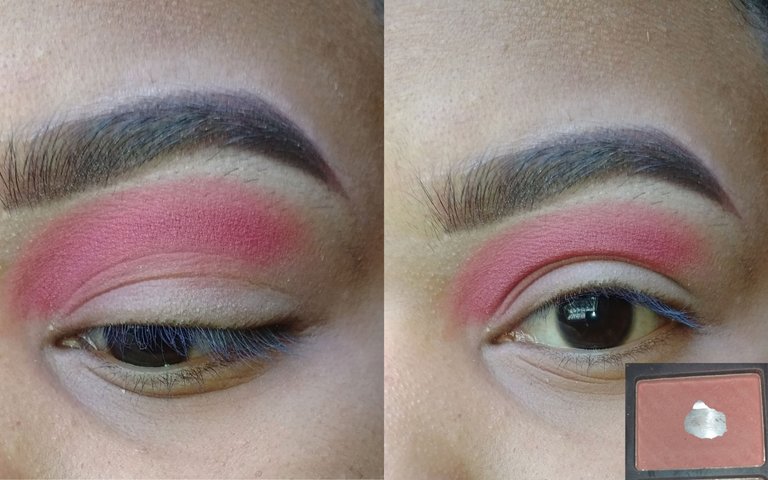 Cuando ya estés conforme con tú difuminado, haceremos un corte, con ayuda de un corrector, preferiblemente líquido para tengas un mejor manejo. Este corte lo que busca es darle más precisión y forma al difuminado que teníamos hecho, pues este maquillaje es un estilo transversal (ya sabes el que todo el mundo hace con una cuchara 🤣) . En fin, colocaremos el corrector y luego lo difuminaremos con una brocha limpia para que quede uniforme y no dificulte los siguientes pasos
When you are satisfied with your blurring, we will make a cut, with the help of a concealer, preferably liquid to have a better handling. This cut is intended to give more precision and shape to the blurring we had done, because this makeup is a transverse style (you know the one that everyone does with a spoon 🤣). Anyway, we will place the concealer and then blend it with a clean brush so that it is uniform and does not hinder the following steps.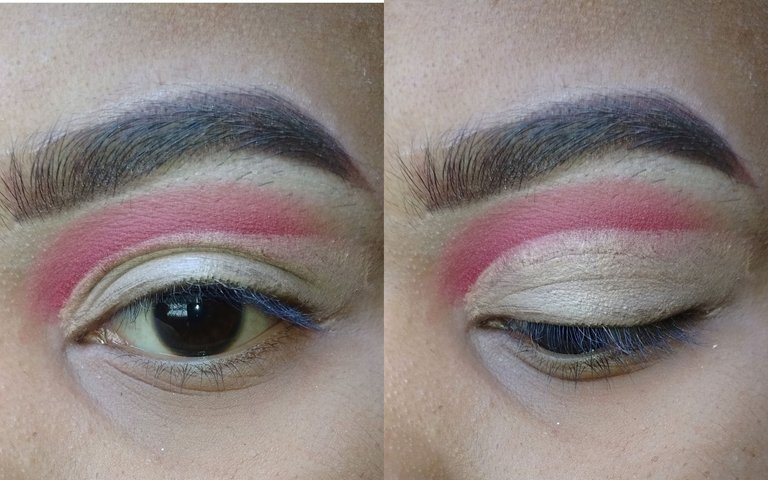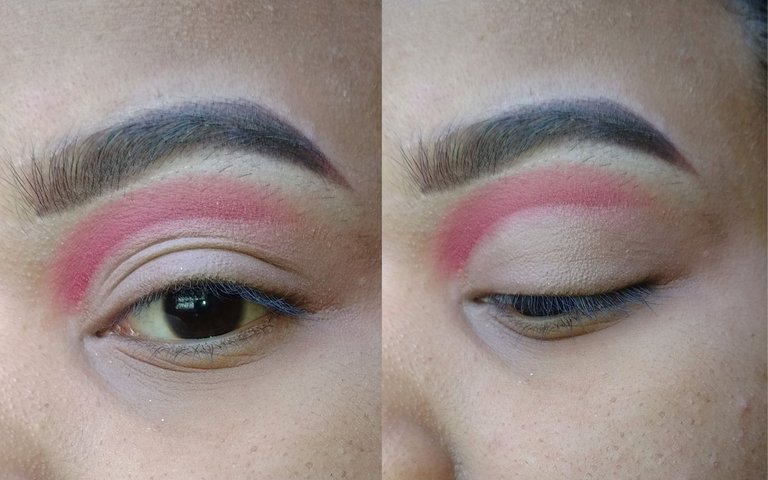 Ahora solo nos queda colocar una sombra brillante por todo nuestro párpado móvil, yo usé una de color champagne, puedes cambiarlo también una color rosa claro si así lo deseas, es cuestión de gustos. Por último hice un delineado súper pegado a la línea de las pestañas y listo, tenemos un maquillaje de ojos sencillo de hacer, original y usando los colores de San Valentín 🤭
Now we just need to place a shimmery shadow all over our mobile eyelid, I used a champagne color, you can also change it to a light pink if you wish, it's a matter of taste. Finally I did an eyeliner super glued to the lash line and ready, we have a simple eye makeup to do, original and using the colors of Valentine's Day 🤭.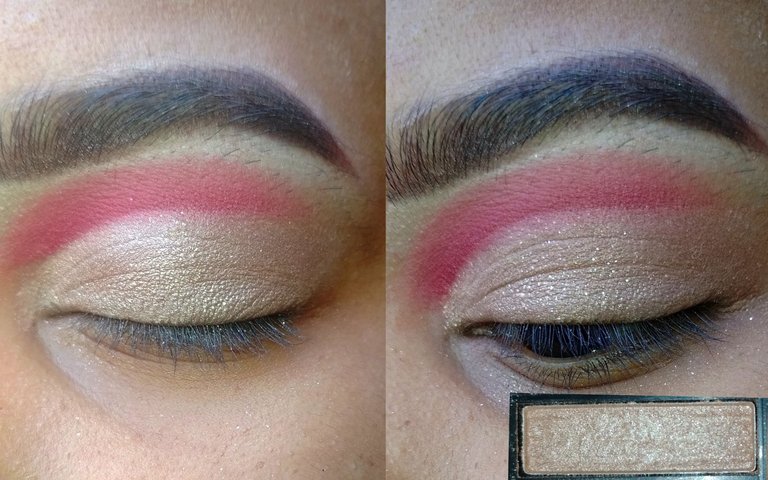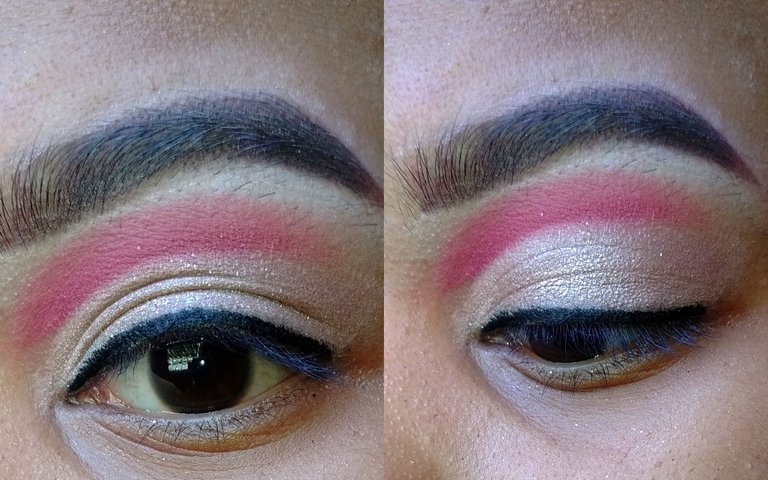 Ya los toques finales los colocas tu, yo en mi caso agregué pestañas postizas para hacerlo un poco más llamativo.
The final touches are up to you, in my case I added false eyelashes to make it a little more eye-catching.

FOTOS FINALES SIN FILTRO / FOTOS FINALES CON FILTRO
FINAL PHOTOS WITHOUT FILTER / FINAL PHOTOS WITH FILTER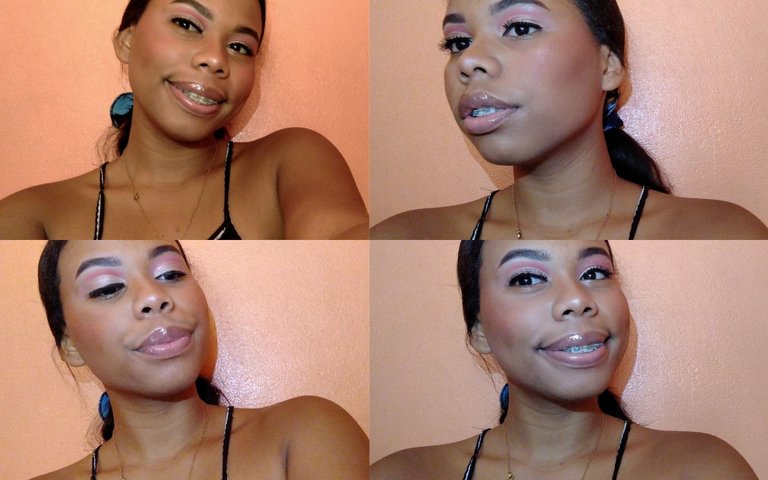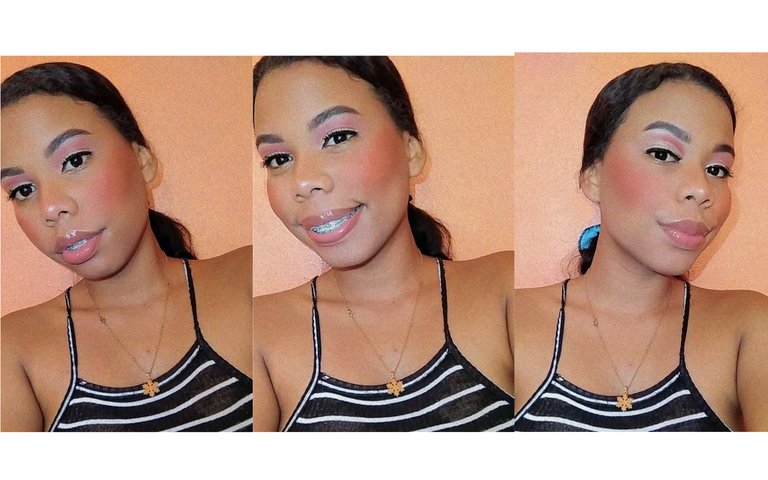 Y bueno, está fue mi propuesta de un maquillaje para San Valentín, delicado, fácil y romántico, que hará resaltar tu mirada sin hacerte lucir exagerado. Así que ya no tienes excusas, puedes, si yo lo hice, tu también puedes💕.Próximamente estaré subiendo más ideas, pero más inspiradas hacia quienes tendrán citas este día🤭Si llegaste hasta aquí:

And well, this was my proposal for a Valentine's Day makeup, delicate, easy and romantic, that will highlight your look without making you look exaggerated. So you have no more excuses, you can, if I did it, you can too💕.Soon I will be uploading more ideas, but more inspired towards those who will have dates this day🤭If you made it this far:

Gracias por leerme y hasta un próximo post
Thanks for reading and see you in a future post

Edición: Canva // Edition: Canva
Traducción: Deepl. // Traslation: Deepl.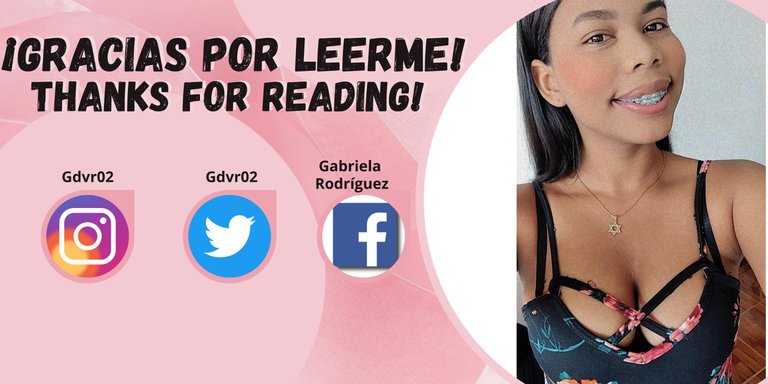 ---
---