Do You Play Splinterlands? This Is Important to Know!
I touched on this subject in my weekly Hive goals update from Sunday, but I think this is too big to leave it like that.
I said in the title it is about Splinterlands because that's the biggest ecosystem that may be influenced.
But really, any game on Hive will be impacted as well. Hive-Engine and DLUX too. And any other application that uses custom jsons.
You have no idea what these custom jsons are? They are transactions containing text in a special format, used by applications to keep relevant information for themselves on the first layer (like in a normal database, only decentralized and public), but they are used on the second layer or centralized. They are not processed by the blockchain. They look like this: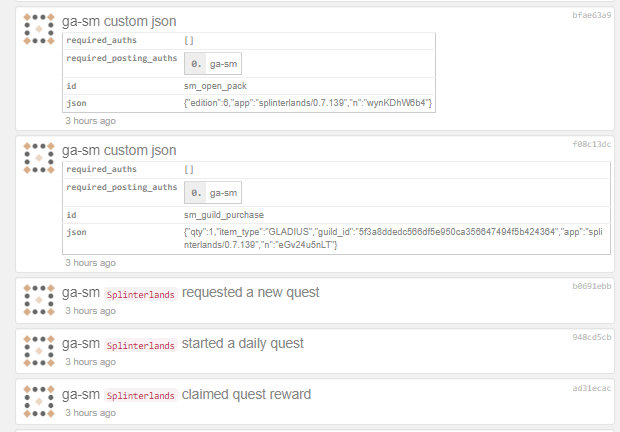 All transactions you see in the image above are custom jsons:
But these are only a few of the impressive number of types of custom jsons used. All card market and rental market transactions are custom jsons in Splinterlands. Not the gaming stuff, like ranked battles, brawls, or tournaments. But if you only think about the rental market, those are a high number of regular transactions.
Then Hive-Engine. While this isn't a big exchange, taking all tokens combined and all activity, that definitely amounts to another decent number of transactions.
If we add the other games and DLUX to the mix, that's another slice.
What do all these things have in common? They all use custom jsons.
What's the problem?
Well, custom jsons are currently very cheap operations in terms of their RC cost. Cheaper than votes and financial transactions, most likely, although I haven't tested that.
Obviously being cheap is not the problem. But their cost will increase after HF26.
From what Blocktrades said answering a question, there is one costly operation that wasn't taken into account when RC costs were initially established: signature checking. What is that? Checking whether or not a transaction is broadcast with valid credentials to be applied to an account.
From HF26 onward, this cost will be measured as well. And being an operation that is quite costly, it will impact to a higher degree the cheaper transactions, like custom jsons. But I assume in the same category are the votes and financial transactions, also cheap transactions, just not as utilized as custom jsons (especially the latter).
What does this mean?
For instance, it might mean that given the same pattern of using Splinterlands as today, more RCs might be required after the hard fork to pay for that activity. That's especially true for small accounts, for example, those specially created to rent cards out.
The good news: you won't have to delegate HP to those accounts, you can delegate only resource credits and use HP on accounts from where you curate and vote for governance.
Posted Using LeoFinance Beta
---
---