Do You Use Grammarly?
Now that it's weekend and the crypto markets calmed down a bit, probably with institutional investors taking a break until Monday morning, I decided to switch the subject entirely myself. After all, I'm not fond of writing market-related posts.
I wanted to present a tool I've been using for a while. It's a popular one, so you might use it as well or at least know of it.
It's called Grammarly, and I use the Brave browser extension (same as the Chrome one).
From its Wikipedia page, we learn that:
Grammarly is a cloud-based typing assistant that reviews spelling, grammar, punctuation, clarity, engagement, and delivery mistakes. It uses artificial intelligence to identify and search for an appropriate replacement for the error it locates. It also allows users to customize their style, tone, and context-specific language. It was launched in 2009 by Ukrainians Alex Shevchenko, Max Lytvyn, and Dmytro Lider. In 2018, Grammarly launched the beta version of its browser extension, which is optimized for Google Docs. As of 2022, it is available as a downloaded program for use with desktop applications, as a browser extension, and as a smartphone keyboard.
Grammarly Features
Grammarly has a free version - which I use - and two paid plans. I can tell you that the free version reviews spelling, grammar, and punctuation, but not clarity, engagement, and delivery mistakes.
I can tell from previous experience with WordPress plugins which provided some of the advanced tips Grammarly may come up with on the paid versions, that they are worth it, especially if you are not a very fluid writer (guilty as charged!). But I don't want to pay for it and continue to use the free version.
As you may have noticed from the list of features, this is a better option than a spelling checker, because it also alerts you when you make grammar mistakes (especially useful for non-native English speakers) and punctuation. Don't discard the last one, I noticed most of my errors were about punctuation in English, mostly commas used in the wrong places, as I would have used them in my own language. Another common mistake I make is using the wrong prepositions sometimes.
Examples of Usage
Here's an example of an extra comma I've added in this post which Grammarly reminded me to remove:


You can also easily check for synonyms of different words you want to use, without going to the search engine for that. You just double-click on the word you want to find synonyms for and pick one from the list if you want to. Here's an example: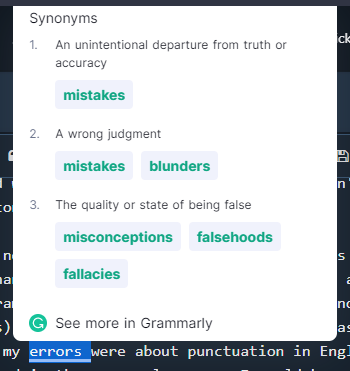 You need to enable this feature on the Grammarly extension because it's disabled by default: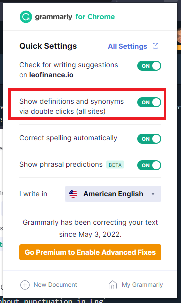 You don't always have to agree with the proposed changes, so you can dismiss them. Or if it's a term you use a lot and Grammarly suggests it's a spelling mistake, you can add it to your personal dictionary.
Also, some common typos Grammarly autocorrects without asking.
In the end, you can check what other suggestions Grammarly has: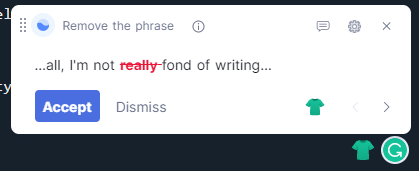 Closing Words
Grammarly can slow down the writing process a bit if you are a fast typer and have to go back to correct things often. But the end result is worth it because it's important to have no mistakes in your post (or as few as possible). A text without mistakes is easier to read by people but also ranks higher in search engines.
Posted Using LeoFinance Beta
---
---