Ethereum Merge From the Perspective of Someone Vaguely Interested in Ethereum

Let's face it, Ethereum doesn't cater to me, and I am in a large category of people/small investors Ethereum doesn't cater to.
And that's fine. We don't want everything in the crypto space to be suitable for everyone. That's impossible and would be bad if such a thing would be constantly attempted. That's why I don't have a problem when Splinterlands comes out with products that are not meant for me.
Back to the Ethereum merge.
Ethereum - From Proof-of-Work (PoW) to Proof-of-Stake (PoS)
So, Ethereum has been trying to switch from the Proof-of-Work to Proof-of-Stake consensus mechanism since almost its launch (Ethereum was launched in 2016 and I heard early mentions of switching to PoS come from 2017).
That - together with their high transaction fees - have often been a subject of jokes regarding Ethereum.
It looks like tomorrow (the time isn't exact) this process may be finalized. Unless something goes wrong, of course. And I don't want that, because we've had enough of this saga.
Now, what is this Ethereum merge?
What Is Ethereum Merge?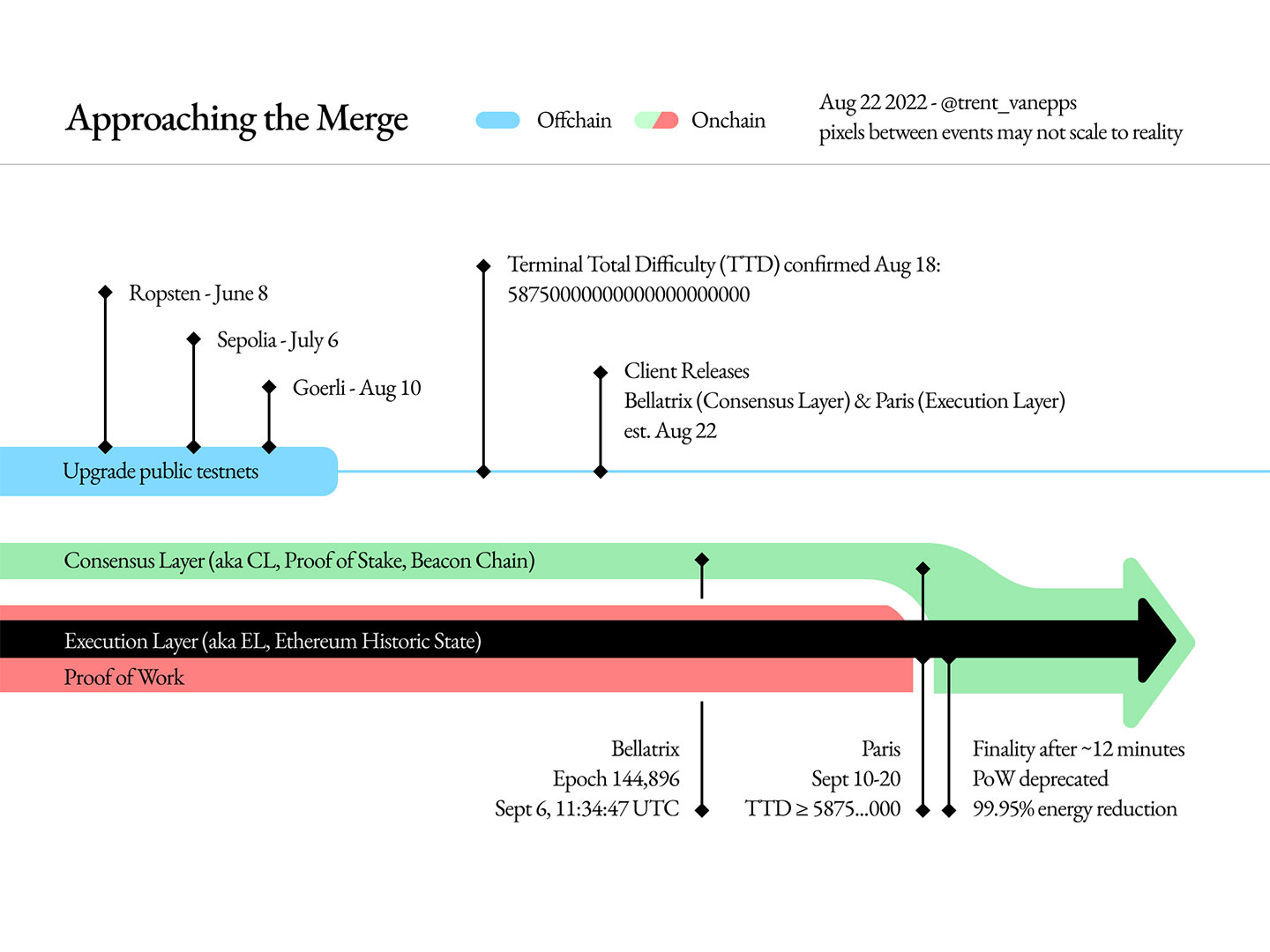 Source
Right now, Ethereum blockchain runs the mainnet on a PoW consensus, and there is a so-called Beacon chain that has been running in parallel as PoS for months. Currently, the PoW mainnet is the 'real' chain, the reference everyone points to as Ethereum.
When the merge happens the switch happens. The beacon chain - which is PoS - will become the mainnet for Ethereum. I assume the PoW chain will be abandoned, but I have no idea what will happen to it.
Will PoS be something good for Ethereum?
That remains to be seen. As PoS, Ethereum will definitely consume way less energy, which is the main point they are insisting upon. I believe what Ethereum had going on for itself has been security (of the transactions, not the smart contracts which introduce various risks). Will that be the same in PoS?
Ethereum was controlled directly or indirectly by 3 categories of entities in PoW:
In the PoS consensus mechanism, miners disappear as one of the controlling categories and stakers become very powerful instead. The remaining categories are:
I'm curious to see in what direction development on Ethereum will turn with miners out of the way, and practically opening the gate wide open for entities with huge amounts of money to jump into controlling positions. This was still the case in the mining operations, but a different category of people was involved in mining. I don't see many Wall Street boys buying up mining operations.
This could be a great thing for the portfolios of people holding Ethereum, if it happens. But having Wall Street-type entities in control of Ethereum is not a great perspective, in my opinion.
There is of course the argument that it's less expensive to become a block producer in Ethereum PoS than it is in PoW. Maybe it is, but in PoS rewards are distributed proportionally with the stake.
On Hive, we have different mechanisms that can improve distribution. Like the Proof-of-Brain mechanism. Also, DPoS allows for people with not the highest stake to become top block producers through delegation. You won't have those on Ethereum.
Posted Using LeoFinance Beta
---
---