Finally, level 75!
Not on Hive (I wish), but on Rising Star.
Why was level 75 important? Because a new mission got unlocked, that will allow me to advance to the next zone, the Country Tour one.
Now all I have to do is play the newly activated Band Auditions mission enough times to unlock 4 band members to be able to recruit them. There is an element of chance involved, because only 1 in 5 missions will unlock a slot. The bottleneck was reaching level 75 so I can play the mission, I have over 20x more fans than required.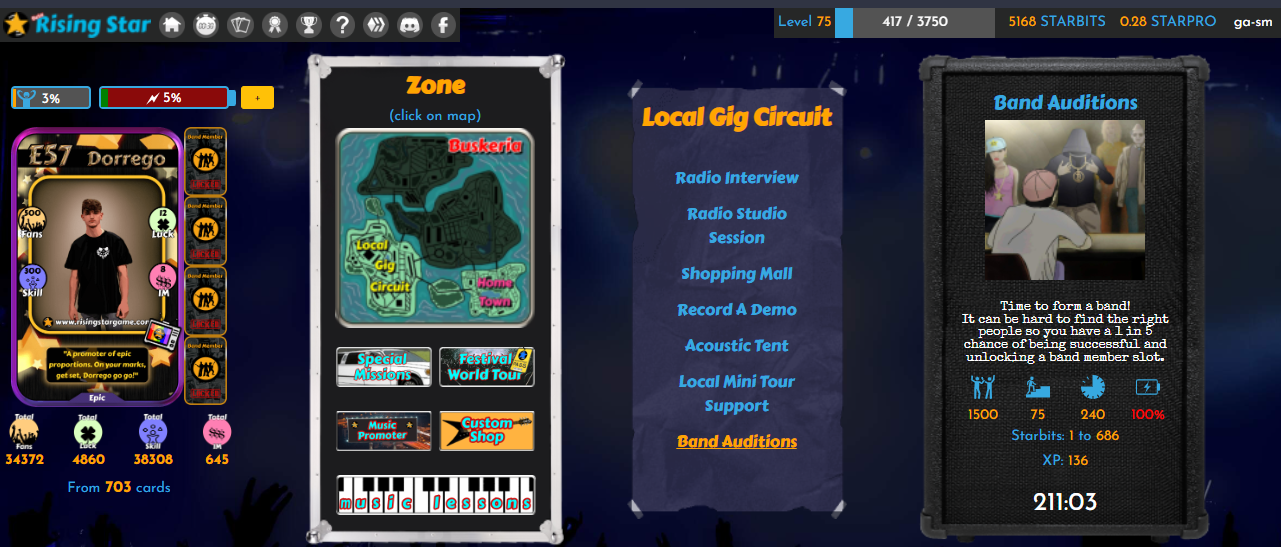 In fact, the experience is the only factor that cannot be controlled by pushing no matter how much funds into the game (unless you buy a Hive account entirely, I suppose, with everything associated with it).
Otherwise experience is gained by playing the game, in time. And the higher your rank, the more difficult it is to level up.
When you first join the game, to move to level 2 you need 50 XP. I don't have access to Illegal Busking details right now - the only mission you can play when you start the game - buy I believe you receive 10 XP for playing it. Or maybe it's up to 10, I don't remember. Anyway, one should be able to rank up to level 2 within the first day.
For the next level you need 100 XP. Twice as difficult, but still manageable, and easy to achieve. The way this progresses is by adding 50 to the required XP to level up at every level.
Here are some key levels I calculated using a spreadsheet, tracking backwards from my level:
| Level | XP Needed to Rank Up |
| --- | --- |
| 10 | 500 |
| 20 | 1000 |
| 30 | 1500 |
| 40 | 2000 |
| 50 | 2500 |
| 60 | 3000 |
| 70 | 3500 |
| 75 | 3750 |
| 80 | 4000 |
| 90 | 4500 |
| 100 | 5000 |
The formula for the required XP to rank up at each level seems easy:
required_XP_to_level_up = 50 * your_current_level
But that only says one thing: that the require XP to level up grows proportionally with the current level, while the means to gather XP grow to some extent, but certainly not proportionally with the level.
That's why it takes a long time to level up at higher levels.
For example, I am an active RisingStar player. I looked at my previous posts about the game and found one where I mentioned my level.
I was at level 45 then. And the post is from almost 6 months ago. So it took me 6 months to grow from level 45 to level 75. Roughly, that means 93000 XP (depends where at level 45 was I). Or 15500 XP per month. Or roughly 3900 XP per week. Or roughly 517 XP per day.
Looks like to reach level 100, 110000 XP are needed from the point where I am (level 75, going on 76). Sounds like about the year-end to reach level 100. Maybe sooner if I can earn more XP on the 3rd zone which I'll unlock soon enough, hopefully.
I saw people beyond level 150 at RisingStar. To reach level 150, you need 566250 XP.
Based on my experience from the last 6 months and rounding it up, I would have made roughly 400k XP since the launch of RisingStar.
So how come they did better?
Two possible explanations in my opinion. They optimized the game much better than I did and play more missions that give extra XP.
Or there are better XP rewards for the missions in the zones I haven't unlocked yet (seems logical).
Could be a combination of the two.
Anyway, this is the first time when I look at RisingStar from the perspective of XP numbers. Looks like I'll have to be more careful what missions I play from the XP point of view. So far I often optimized based on the length of the mission and choosing longer ones if I didn't want to be interrupted and shorter ones I interruptions were ok.
Posted using 1UP - Play2Earn & NFTs
---
---