I Missed 3 Days in March!
Yeah, I know, the title has no meaning to you... yet.
As people start to post less frequently during the bear market, guess what was on my mind? To investigate which was the last day when I missed my post. By the way, do you know an easier way to do that, other than scrolling through your posts? A "your daily posts streak" stat would be useful somewhere, especially when the activity drops.
And yep, I discovered it: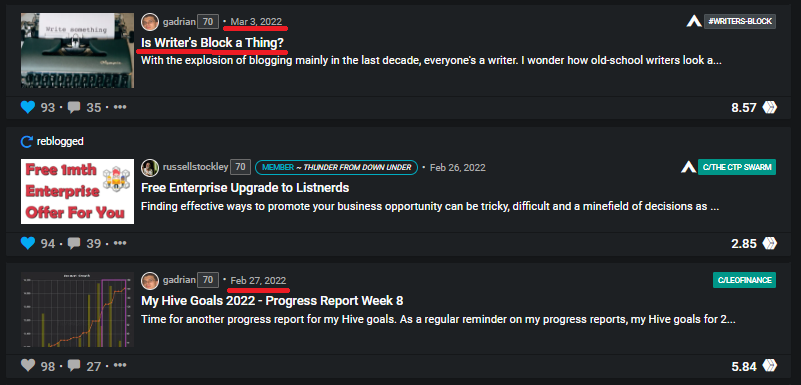 At the end of February and beginning of March, I missed 3 days in a row. Followed by a "writer's block" post, meaning I wasn't feeling very comfortable writing. I may have been affected by the war next to us, which had just started and, like all wars, kind of has this side-effect of messing up plans and making people emotional.
So, March 2nd... How long has it been since then? Four months and 2 days of daily posts!
Nice! I'm becoming at least a medium-term posting performer on Hive for that.
I remember a Crypto Maniacs podcast when @arcange was invited.
They were talking - among other things - about the possibility to have a 1-year daily posting badge.
@arcange said it would be very scarce, only @taskmaster4450 and potentially one other person would have it (at that time, for the year behind).
Yep, that would be a very difficult badge to get! But I'd still like to try before I get too lazy and give up on my daily posting routine.
3 other one-time badges could be:
90 days of continuous posting
180 days of continuous posting
365 days of continuous posting
Why the last one and not the yearly badges? Because your streak could start at any date and end 365+ days later. Doesn't have to start on January 1st. Yeah, maybe I'm biased because my streak was broken but I still have over 4 months of daily posting since then.
How can this daily posting help you with your goals of financial nature?
Well, there are the rewards. And they compound over time.
But other than that, they give you discipline. Feel like it or not, have something to say or not, you have to find something to write about.
Depending on your topics, regular posting can improve your research capabilities, creativity, capacity to discover retain and deliver information, communications skills, and many others.
Forget about how the bear market affected your portfolio! Post because discipline will make you a better investor.
Posted Using LeoFinance Beta
---
---