Is It Less Content on Hive These Days?
With a frontend like Veews barely launched, designed to discover personalized content, it would be quite a twist to see fewer posts on Hive at the same time.
But bear markets do have their strange effects. One of them is people who stop producing content as the dollar value of their author rewards drops and return in the bull market when that rises.
Many of us have shown over time that the correct approach should be to remain consistent no matter the market swings or even push harder during the bear market because that's when you earn more HIVE, even though their dollar value may not be the same as in the bull market.
But, on average, people still don't listen.
Anyway, where did I come up with this question in the title?
Now that my discord notifications for people I follow started working again, I noticed something. There are fewer notifications of people publishing new posts every day than they used to be. Many of them still post, but not as frequently anymore.
That made me curious. Is it just a change for some of the people I follow, or is it a general trend? So I checked out the daily stats by @arcange.
This is a comparative chart of the number of posts during the last 30 days and the average daily payout (in HBD):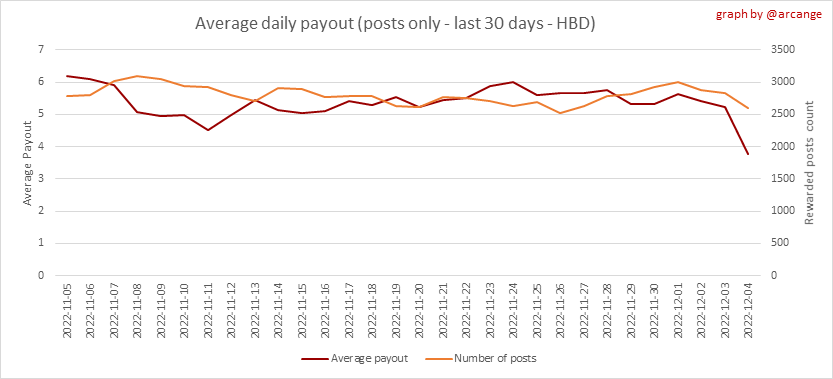 What this chart shows is that at the entire Hive level the number of posts fluctuates, but doesn't have a clear trend either up or down.
What we can also see from that chart is a significant drop in the average post payouts in HBD during the last few days (from almost $6 to slightly below $4).
I wonder what caused that. It's hard to understand what happened. It could have been a period when a large account (probably with a curation trail too) distributed many low-weight votes.
Initially, I thought it coincided with the launch of Veews, where people may be tempted to vote on many posts they like at lower weight, but those posts haven't reached payout yet. So, this isn't it.
Anyway, not very important that HBD value, as I mentioned at the beginning of the post. Just a remark after seeing the chart. And a better distribution is not a bad thing.
What is interesting is that some of the people I follow evolved from daily posting to less frequent.
They are still very involved in the ecosystem from what I know, which means they find their time better spent in a different way.
This strategy has its pros and cons. Unless you are a very prominent figure in the Hive ecosystem, the expression "out of sight, out of mind" describes quite well what happens when a content creator stops producing content (or does it infrequently).
The pro is that you can use the time to focus on something else, potentially with a higher added value to you or Hive.
In the past, I went through a period of less frequent posting. But at the time, alternatives on and around Hive weren't as rich as they are now.
So, maybe I'll revisit that option in the future. For now, I still feel comfortable blogging daily.
Posted Using LeoFinance Beta
---
---