Keeping Peg is Difficult for HBD While Bitcoin Crashes
After 24 hours of almost nightmare for UST as a stablecoin, reaching as low as 0.67 USD according to coingecho, one can be tempted to think defensively for HBD as well.
HBD was affected too, going down to as low as 0.90 USD during the same 24 hours and the same source.
During the same interval, the popular non-algorithmic stablecoins such as USDC, BUSD, DAI, or USDT kept their peg.
Since then, HBD is back at above 0.97 USD, but UST is still struggling at around 0.90 USD after a significant recovery in recent hours.
From what I understood from other people covering the topic, what triggered the crash of LUNA and UST was a single sale of 300m USD on Curve, after which followed a domino effect, until countermeasures where taken.
But that's as far as I want to go into the Terra LUNA and UST problems.
What else happened during the last 24 hours? This is what happened: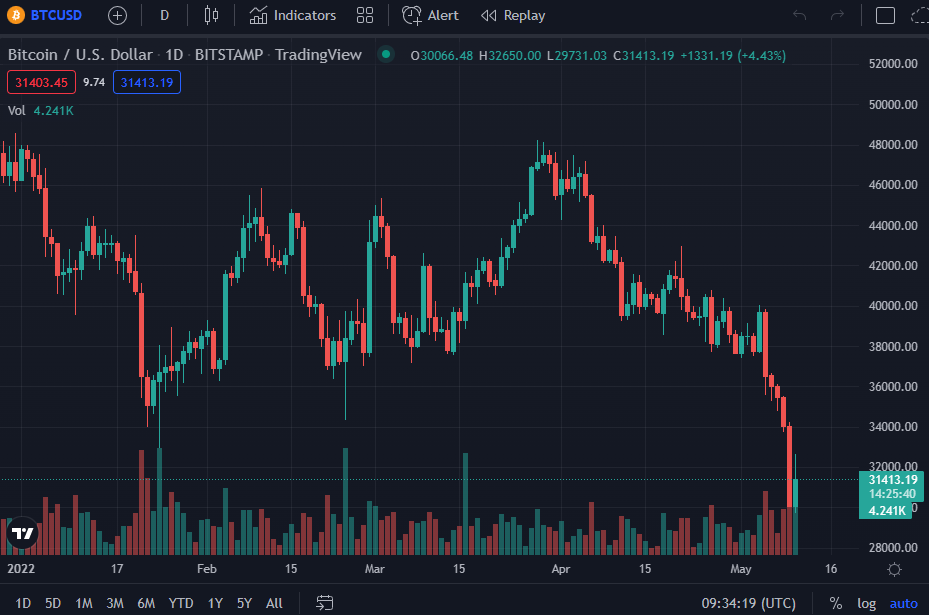 Bitcoin got hammered. Now, when something like this happens, some buy, others move to safety. I don't know what the entity that sold 300m UST used it for. Maybe they bought the dip or maybe they got cold feet and took their funds out of crypto. Who knows?
But they did make waves for the Terra ecosystem.
Now let's get back to our own Hive Dollars.
Hive Dollars (HBD) and Its Bitcoin Pairings
On the markets taken into consideration by aggregators like coinmarketcap and coingecko, HBD has pairings ONLY with bitcoin.


Now, HBD aims to be stable and bitcoin can be extremely volatile sometimes (such as yesterday, but it can be worse).
If someone holding HBD in one of the few CEXes where it's listed wants more bitcoin, they might sell HBD for bitcoin when the price of bitcoin crashes. That puts selling pressure on HBD on these exchanges. And the only way to arbitrage it is via the HBD/BTC pair, which might not be tempting when there is high volatility for bitcoin.
Technically, the same happens on Hive with the HIVE/HBD pair from the internal market, except on Hive we have the HBD Stabilizer which operates to reduce the volatility for HBD.
But what we do on Hive doesn't reflect on the price of HBD shown by coinmarketcap and coingecko, unless there is arbitrage happening.
The problem is who is going to do arbitrage between HBD on Hive and HBD/BTC when bitcoin is extremely volatile and mainly on one exchange - Upbit?
Transaction Volume Matters When Aggretators Pick Markets to Show?
Normally it should, obviously.
If we look at the image I linked above regarding markets where HBD is listed, we see two pairs with over 100k USD transaction volume in the last 24h, both on Upbit, and almost 6k USD on Bittrex. I don't know if the volume we see on Upbit is real or if there is some wash trading as well. But let's assume it's real.
The volume on our internal market in the last 24h is over 175k USD, as we can see from this header:


How can this volume not matter as well for determining the price of HBD on aggregators like coinmarketcap and coingecko?
Even more, we do have the wrapped version of HBD on Polygon as we know. The last 24h volume for pHBD-USDC LP was 18k USD, which is 3x more than Bittrex, even though the LP is still new and growing. Also, the current price for pHBD is 1.01, still offering a little premium to reflect the demand for liquid HBD.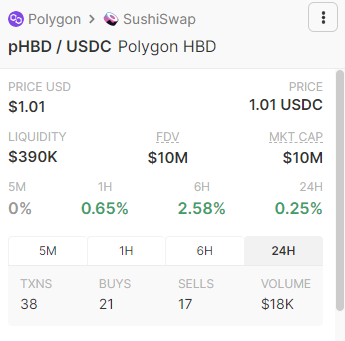 The pairing with a stablecoin for the wrapped version of HBD makes it easier to peg in times of turbulence, and that will only get better the deeper this pool will get.
So how come we don't see the internal market for HBD or the one on Polygon aggregated on... aggregators? I don't know. Actually, pHBD has a listing of its own, but that doesn't help HBD much.
I don't know if the internal market situation is encountered in other situations with other coins, but if we look at the markets for major stablecoins on coinmarketcap or coingecko, they will include their liquidity pools on major platforms like Uniswap, PancakeSwap, or SushiSwap (USDC has all three). They're also listed under the same token name, even though I assume they are different versions on each chain.
I wonder if we can do that for HBD, to aggregate or link together pHBD and HBD in the first stage under the same token name, so that all markets can be discovered from HBD and price be based on all of them. Not to mention bHBD will be coming and others will follow. Those should also come under HBD, in one form or another.
The same can and should be extended for the wrapped versions of HIVE if we can do it for HBD.
Posted Using LeoFinance Beta
---
---