Login to ThorSwap via TrustWallet (WallectConnect) for BSC and ThorChain Still Available?
If someone would ask me why I prefer to stick mainly to Hive, my answer would be simple: because there are only a few things you can effectively follow news on and have a good knowledge of.
That's the main reason, even though there are others.
At the beginning of every month I check on all my investments and update most of them. This month I had a surprise, the bad kind.
I have an LP on ThorSwap, BTCB:RUNE, from the time Thorchain was very popular, including on Hive. If I had been inspired, I would have withdrawn from this LP before RUNE tanked. But I wasn't, so I decided to wait it out until the alt season, hoping RUNE will recover as well, before I take it out.
Anyway, this month I had a surprise, as I mentioned. I was unable to log in to check my investment there.
Why? What I used as a login method was WalletConnect from Trust Wallet, to connect to Thorswap. Apparently - although I haven't found any piece of news in this regard - Wallet Connect only supports Ethereum and Avalanche, at least on Thorswap. This might not be related to WalletConnect, but to either Thorswap or Trust Wallet.
If I looked on the list of nodes on Trust Wallet, there is no mention of BSC anymore, but there is the BNB Beacon Chain.
If I look with ThorYield, I can see the LP is there as expected, but I can't see it in ThorSwap to make any changes to it. Since I don't know much about the ecosystem, I believe it means this is because I can't log in with the same wallet/login method as before. That's very disappointing despite not having a big amount there. I obviously want a way to access my LP if I want to withdraw it, for example.
Anyone knows if I'm doing something wrong or has a solution to my problem? Thanks in advance.
Anyway, as I was searching online for hints at least that there is a problem, I found this: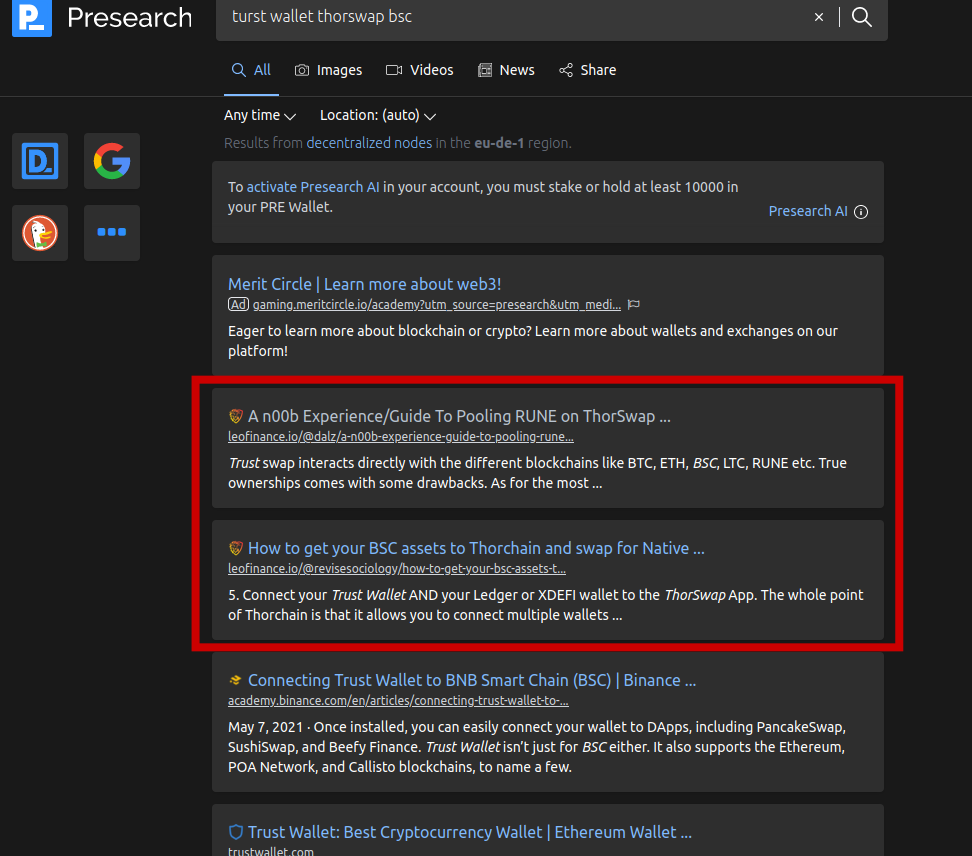 Damn, Leofinance is ranking well on Presearch for these keywords! First 2 results are Leofinance articles. Congrats for the team and authors, @dalz and @revisesociology!
Posted Using LeoFinance Alpha
---
---