Play Splinterlands and Forget About the Market! :)
As the markets are getting rekt in various ways these days, I preferred to write a positive post today, to keep that out of my focus as much as possible.
This post is about Splinterlands, an oasis of calm for me in an agitated crypto market, despite its tokens being dumped as well.
That is actually curious that I think of Splinterlands this way because as a player it sometimes frustrates me, as I'm sure anyone has such moments.
Here's an easy therapy (just my experience, I'm not a therapist!), if you get affected by what's going on in the markets. Play Splinterlands!
We are now 5 days away from the end of the season. Yesterday, about 20 hours or so ago, I completed my objective for this season: reaching Champions League 3. I think this is the earliest I've reached CL3 in recent history. My previous record was 5 days, but this is almost 6 days (5d20h). Of course, this was a very long season as well, and that matters a lot.
I immediately rented out what I could from my playing deck, remaining to do the same with the cards I used yesterday when the cooldown expires.
I believe there will be a time when I'll keep pushing my limits in the game again, but that time hasn't come yet.
Maybe after I max out the Chaos Legion set. Maybe after the new rewards for ranked games come into play. We'll see.
For now, I still think the best option for me is to rent out my playing deck as soon as I reach CL3. It would have been better if I were CL2 instead of CL3, to avoid gold at the start of the season, but that's still not a guarantee, because I'll meet only top players at the beginning of the season if I start in Diamond 2. So I might still end up in gold and build up from there.
In all these crazy market conditions, there's one thing that stood ground, and some even increased: the price of CL summoners.
Yesterday, I maxed another summoner, General Sloan, at a better price than we have on the market now: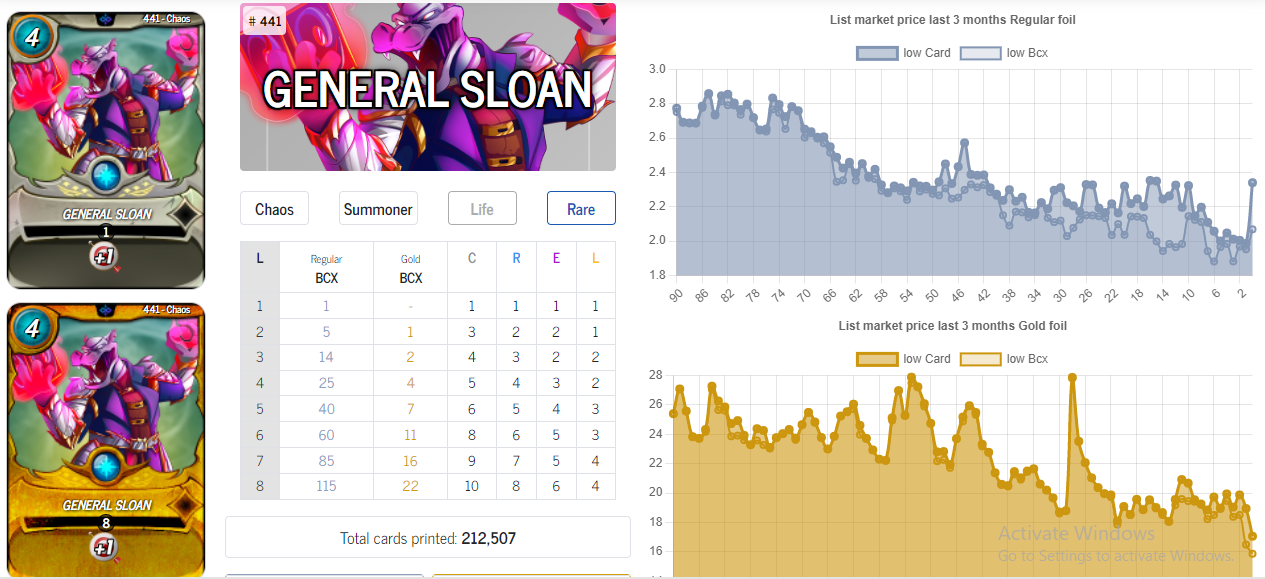 I'm not a big fan of General Sloan.
I'd rather use Selenia Sky for the +1 Range Attack bonus, and access to Dragon monsters, while costing only 3 mana instead of 4.
At the same time, General Sloan is a Life splinter summoner, which offers an alternative when you have this quest, although I wonder what quests will be in the future or if we will have these classic "quests" after the new reward system is rolled out.
It is also a +1 Range attack alternative if the Dragon splinter is disabled.
It's also a modern format summoner, while Selenia Sky only works in the wild format.
So, now I have 4 out of 6 summoners maxed. Two more to go before I go back to maxing monsters.
Splinterlands is a good distraction these times. But what to do now, that I rented out my playing deck? :)
I guess I'll go back to my bronze test account while I don't play my main account and see if I can make something out of it. I know people are juggling multiple accounts at the same time, but personally, I wasn't very good with that and it takes too much time to play more accounts on a daily basis (I tried that for a while).
Posted using Splintertalk
---
---