Small Improvement Request For Hive Keychain
Hive Keychain, the widely accepted browser-based extension providing full wallet transactions and governance operations for Hive, underwent a significant upgrade not too long ago.
I've taken a good look at it and wrote about it at the time.
Since then I've obviously used it a lot. And while V2 generally is a big improvement over V1, one small thing could have been done in V1 but no longer in V2 after the interface was changed.
Problem Description
After you power up some HIVE, if you want to add that amount to one of your existing delegations, you need to use a calculator and add the two amounts - the amount that is available to delegate and the current delegation - and then manually write the total as the updated delegation amount. Besides the inconvenience, that is prone to errors. Even more, the two amounts are on two different pages (you don't see the available HP on the Outgoing page).
Solution
In V1 there was a max link or button you could click on that automatically added the two amounts.
In V2, it could be something like this: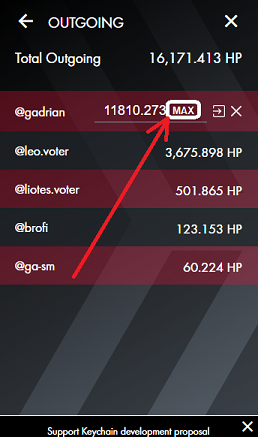 The available HP should be listed on the Outgoing page as well, to be easier visible at all times.
A "max" link exists if you want to delegate to a new account, which is not already on the list of outgoing delegations: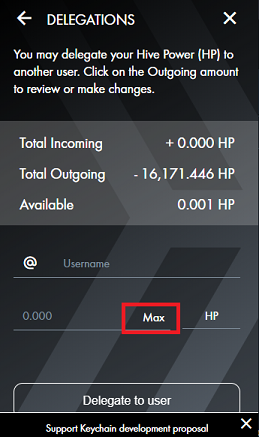 Final Words
This is something I run into quite often. But I believe it's an operation widespread enough to justify tweaking the interface a bit to make room for a "max" link. What do you think, @stoodkev?
Posted Using LeoFinance Beta
---
---